Bedroom Themes - Beyond Traditional
______________________________________
______________________________________
Selecting bedroom themes often becomes a back-burner project for many of us.
Whether it's due to budget limitations or time constraints, we always end up making a mad dash to close the bedroom door just before guests arrive.
Needless to say, most of our bedroom themes don't exactly create a feeling of personal sanctuary much less conjure any notions of romantic solitude. It's a well-known fact that in order to be productive we must be replenished.
This need for nourishment relates to the spirit as much as to the body.
Begin nurturing your own spirit by choosing from themes that create harmony and tranquility. Consider these ideas for creating a decor that both inspires and offers serenity.
The results of your efforts will not only be reflected in the room itself, but also in your refreshed perspective.
Simplicity Creates Serenity
Bedroom themes don't have to be extravagant and lavish to be genuinely pampering and comfortable. Try mixing a bit of the old with the new to create a unique decor from your personal favorites.
For example, check out this tranquil bedroom below. Notice that the colors are all cool and neutral. It's serenity is mostly due to the soft textures on the bed. The candle sconces on the wall also help to set a calming mood. I also like that everything isn't matchy matchy. See how the nightstands vary?
Takeaway Tip
It's perfectly fine to have two nightstands that don't match. In fact, it'll add more interest to your bedroom. However, to maintain symmetry and balance, you should go with two lamps that are the same.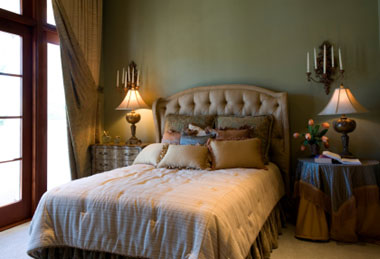 Now, perhaps you have a complete traditional bedroom suite. Sure its nice furniture but it limits your space considerably. Consider bedroom themes featuring less pieces of furniture in the room. Do you actually need two nightstands?
Of course, an essential element in bedroom themes are two nightstands ... unless for some reason one side of the bed is against a wall. For a less cluttered and still as practical in purpose as two nightstands, try some alternative pieces in the arrangement.
Before you shop for optional pieces to replace your nightstands, note the functionality that you require in that particular piece of furniture. In our personally envisioned themes most of us see the top surface dimensions as being large enough to accommodate a nighttime glass, an alarm clock, a reading lamp, a favorite book, and a pen with a notepad.
Nightstand drawers or lower shelves are adequate for storing personal items or an additional book or two. For the most part though, they end up as catch-all areas filled with endless papers, orphan socks, pocket change and other such clutter.
Your visions of bedroom themes will be changed forever when you begin looking at your nightstands as more of a decorative furnishing for your bedroom.
In other words, consider only the top surface dimensions as being required to function as a place for the telephone, the alarm clock and a nighttime glass.
Clean out the clutter that's in your current nightstands, keeping only the pocket change and absolute essentials. Store the items in your keep pile someplace else.
Alternative nightstands for various bedroom themes
Anyone on a shoestring budget will appreciate these possibilities.
Metal or iron planter - those with flat top surfaces work great. Used in bedroom themes they will create a streamlined effect
Wooden keg - these come in small, medium and large sizes.
Empty beer keg - again, these come in various sizes.
Plastic or wooden crates - can be covered or painted to match.
Bar stools - no backs or uneven surfaces, adjust the height by sawing the legs. Metal kitchen stools work well too. Use paint in an aluminum color for a modern stainless steel look. Sew a gathered skirt with elastic to fit it for a quaint or romantic look in bedroom themes depending upon the fabric you use.
If the pocket change you found in your nightstand expands your bedroom themes possibilities you may even want buy a new piece of furniture. When you look at potential substitutes for nightstands keep an open mind. You'll be amazed at discovering new possibilities in bedroom themes and concepts.
More Home Decorating Ideas - Recommended Reading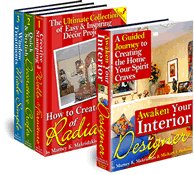 (1) The Awaken Your Interior Designer! Collection - Brought to you by Home Decorating Made Easy, this first of its kind collection of interactive guidebooks is guaranteed to help you decorate any room in your home faster and easier than ever before. You'll find lots of interior decorating ideas to create unique spaces that fit your family's lifestyle without spending lots of money.
Click here to go back to the home page for more great home decorating ideas! And to share these ideas about bedroom themes, click on the social buttons below.