Living Room Design Ideas - A Few Tips To Inspire You
____________________________________________
_____________________________________________
It can be daunting coming up with the right living room design ideas. There are, after all, many activities taking place in the living room that must be taken care of, and undoubtedly, you want to find ways of keeping everyone that comes to your living room happy.
What you must do is plan everything meticulously and this plan needs to be practical. It must also be able to accommodate different activities and it should create an aesthetically pleasing space, such as the one below.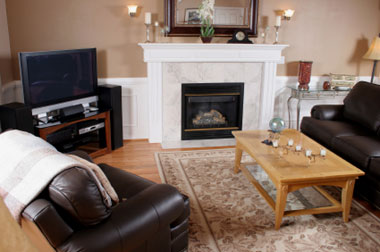 The best way to come up with living room design ideas is to first decide what kind of service your living room needs to offer and then you can start addressing issues of space. In fact, it pays to keep notes of all living room design ideas so that you can decide on which ones to keep and which to ignore.
You should, for example, decide whether your living room design calls for the room to be a place of leisure where you can quietly read a book or listen to music or even write letters. Or, is it meant to serve as an area for entertaining guests and viewing videos or playing card games. It might even have to serve as your work room where you can do your word processing and homework, and it can also be a mix of every one of these aspects.
Each kind of activity will demand different kind of lighting solutions and it will also require having to create sufficient storage as well as use the right kind of furniture to help make your living room look more modern or classic.
Each of these aspects must be incorporated into your living room design, and by listing every aspect, you will be able to succeed in focusing on only those aspects that need your attention.
The plan for your living room furniture needs to be created with plenty of thought as you want to create suitable focal point around which other furnishings can be used to create a more attractive and effective space. Typically, people use a fireplace as the point of interest, though in the absence of one, you can use a good looking window or an imposing item of furniture; or even a few well chosen paintings and even a nice attractive antique rug.
When it concerns designing a large double room, you may need to use more than one focal point and a good option is the television set which if chosen well can have a striking effect on your living room.
Next, it is important to select suitable design for your living room, which can be anything from a period theme or a certain kind of architecture, and if the space is mostly anonymous, then you can use architecture and furnishings together and which can also be period or contemporary by nature.
The Victorian era threw up many wonderful options and so this is a period that lends it well to your living room design ideas and in fact with a little bit of revving up of this theme, you can give your living room a look that is right for every season of the year.
For even more great living room design ideas, check out this helpful video.
Living Room Design Ideas - Video
Click here to go back to the home page for more great
home decorating
ideas! And share these living room design ideas with your friends. Use the social buttons below.