Decorating A Basement That Is Unfinished Or Partially Finished
________________________________________
________________________________________
Decorating a basement can either be a lot of fun or your worstnightmare, depending on what purpose you have been using your basement for until now.
However, even if you don't have a fully finished basement, and don't have the money to finish it doesn't mean you can't take advantage of the space you have.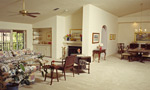 There is no reason why you should let your basement go to waste, and become the second attic in your home simply because it's a little rough around the edges.
3 Ideas For Decorating A Basement
Here are some great ways you can make decorating a basement more than just wishful thinking:
1. The Rustic touch – If your basement is partially finished and features basic wood paneling on the walls you can use this look to your advantage and create a rustic theme. If you are aiming for something rustic, invest in wooden furniture pieces and neutral upholstery.
Dress up couches with throw pillows and blankets that feature different pictures of wildlife or animal print. To warm up the atmosphere when decorating a basement, put down some area rugs that feature warm colors such as deep reds and oranges.
If you want to have fun with the theme you can even add a faux fur rug. In addition, include splashes of dark green to complete the rustic look and to add a feeling of relaxation to the space.
Use more task lighting than general lighting to create a cozy atmosphere. The best types of lighting include table and floor lamps.
2. The Eclectic Mismatch – If your basement decor is partially or completely unfinished there is no better decor theme than one based on your own personal eclectic style.
An eclectic theme is about mixing and matching furniture pieces, patterns and solids to create a diverse environment that together creates a theme.
For instance, you may be decorating a basement that has a wall unit, TV stand, end table, coffee table and desk made of wood.
Even though none of these pieces have the same design or are the same color, the fact that they are all made from wood unite them.
You can also create eclectic themes by focusing a room on colors.
For instance, if the color blue is your focal point when decorating a basement, and none of your furniture matches, use blue colored accessories to pull the room together. Add a blue throw blanket or pillows to the couch or chairs.
Put a rug with a blue pattern on the floor. Use blue lampshades, picture frames, candles, garbage pales, vases, etc.
3. Games and Fun – Decorating a basement doesn't have to be about creating a cozy area where you can relax and unwind. If you and your family enjoy games, make a game room or a play area for young children.
Decorate with bold primary colors and add fun lights such as Christmas or hanging lights to add energy to the gaming environment.
Put a large fuzzy carpet on the floor and include a toy box bench for storage. Other fun sitting furniture you can add to the room includes bean bag chairs, inflatable chairs, butterfly chairs and dome chairs.
You can make the most of any space even if it means decorating a basement that isn't finished. Don't let the look of your cold, empty basement intimidate you. Use your creativity to bring it to life.
__________________________________________
__________________________________________
More Home Decorating Ideas - Recommended Reading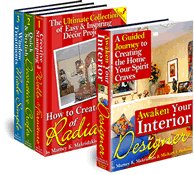 (1) The Awaken Your Interior Designer! Collection - Brought to you by Home Decorating Made Easy, this first of its kind collection of interactive guidebooks is guaranteed to help you decorate any room in your home faster and easier than ever before. You'll find lots of interior decorating ideas to create unique spaces that fit your family's lifestyle without spending lots of money.


Click this link to go back to the home page for more home decorating ideas. And please share these tips for decorating a basement with others by clicking on the social buttons below.