Fundamentals of Basement Decorating
_____________________________________________
_____________________________________________
Want some neat ideas on basement decorating? Many homes include an unfinished basement.
There often comes a time when a family wishes to utilize this extra space to meet its growing needs.
There are home improvement books and websites available to help you tackle the actual construction projects involved with finishing your basement. After you complete your construction tasks, the next step to consider decorating the basement.
While there may be a lot of small details to consider when doing any type of decorating, when you are getting ready to update your basement there are a couple of fundamental considerations that will help you shape the space to fit your needs.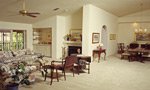 Whatever you choose to use your room for, these concepts will help make your basement decorating fun and easy.
Consideration One: Furniture
Perhaps you are thinking of turning your basement space into a game room. If you have older children, or if you are a grown-up child yourself, a game room is a practical yet exciting form of basement decorating.
Basement spaces are often one large room, and this provides the perfect space for a pool table, air hockey table, ping-pong table, or other large recreational items. Many of these come with a cover so they double as a card and game table.
If you incorporate one or more of these in your basement decorating project, all you need to add is a few chairs and you will have created a fun space for your family to enjoy.
Or maybe you are thinking more of a classic entertainment room. You may have visions of a big screen TV and a surround sound stereo.
Furniture that fits well with this arrangement includes a large sectional sofa or a smaller sofa with a couple of lounge chairs. Either way, comfortable seating is the key in decorating this style of room.
Consideration Two: Flooring
There are various flooring types that meet different needs in basement decorating. If you are using your basement for a game room, you may find yourself entertaining half of the neighborhood children and teens.
For this room, an easy to clean indoor/outdoor carpet would be well suited. This style of carpet used to be very limited in color, but today it is available in a wide array. Spills vacuum easily and many stains can be removed using a spray carpet cleaner.
And if you expect this carpet to get a lot of wear and tear, the indoor/outdoor style stands up well to high traffic and is also affordable enough to replace when necessary.
If you are leaning more towards an entertainment room with a large TV, your family members and guests may find themselves wanting to lie on the floor to play video games or watch your television. In this more relaxed environment, the carpet will see less traffic and more likely fewer spills.
A softer, more comfortable carpet would be better suited for this purpose. A plush carpet in this case will give your room a cozier feel while still meeting your needs.
To check out how someone did a beautiful makeover of their basement, watch the following video. I think you'll get a few ideas and a lot of inspiration.
Basement Decorating Ideas - Video
These ideas cover just the basics of basement decorating. Below are additional resources that can help you create a basement that your family will love.
More Decorating Ideas - Recommended Reading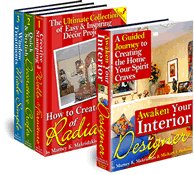 (1) *NEW* The Awaken Your Interior Designer! Collection Brought to you by Home Decorating Made Easy, this first of its kind collection of interactive guidebooks is guaranteed to help you decorate any room in your home faster and easier than ever before. You'll find lots of interior decorating ideas to create unique spaces that fit your family's lifestyle without spending lots of money.
I hope these basement decorating tips have been helpful. Click here to go to the home page for more great home decorating ideas!