Exploring Your Window Decorating Options
There are many aspects to take into consideration, such as window decorating, when you design the interior of your home. It may not have crossed your mind, but decorating your windows plays a significant role when you redo and change the look of a room.
That being said, you will find that a number of window treatment decorating options await you.
The way you choose to dress up your window really depends on the size, shape and location of the window, as well as the other colors and the style of the room it is in. Window decorating can be done on just about any budget, and if you are up for the challenge, you could even create the window coverings yourself.
To give you different ideas that you can think about when considering your window decorating choices, keep the following in mind:
Analyze your Window - Measure the window you are planning on decorating, and take into account its location in the room. If there will be times that you will require privacy, you will need to consider, blinds, drapes, curtains, shutters or shades.
However, if you don't need any privacy, you can spend less time worrying about using window decorating items that need to block out the possibility of prying eyes, or excessive sunlight.
Draperies - One of the window decorating choices you have are draperies. The vast majority of draperies are pleated and long, reaching to about floor length. The panels of the draperies are usually attached with hooks to a rod, and a hanging, hidden cord is used to open and close the drapes.
Due to the fact that draperies are pleated, they have a traditional or formal look to them that would suit the theme of a room that was done in a Victorian, traditional, or romantic style.
Curtains - Curtains for window decorating are a popular choice among many people because the fabrics, sizes, lengths, and styles a very versatile, and are often affordable, and even simple to make. Unlike draperies, curtains are usually lightweight, and can be attached easily to rings and tabs.
Another great aspect about curtains is that they can be simply drawn back by your hand; you don't need any special drawstrings or cords to open and close them.
Shades - Shades are a window decorating cover that are raised and lowered either with a spring or a cord. There are a number of different styles of shades.
There are those that roll-up, which come in a variety of colors, and those that are pleated or resemble a fan or balloon. There are even roman shades which are elegant and would be a perfect touch to the more regal styled room.
Shutters - Shutters add a unique window decorating look to a room, and for the most part, are one of the more expensive window treatments that you can purchase. The shutters that you may be interested in include plantation shutters, café shutters, and sliding shutters.
Blinds - Blinds are one of the most popular window decorating covers, due to their varying prices, and like shutters, they come in a variety of styles to suit whatever taste it is you may be interested in. For instance, you can choose from Venetian blinds, woven blinds, vertical blinds and more.
Keep in mind that window decorating is what you want it to be. You can select whatever fabrics, patterns, designs or colors you want. Just make sure that you choose the designs that best suit the look and theme of your room décor.
And for something a little different, check out this article on valance window treatments.
More Home Decorating Ideas - Recommended Reading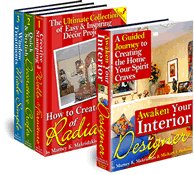 (1) The Awaken Your Interior Designer! CollectionBrought to you by Home Decorating Made Easy, this first of its kind collection of interactive guidebooks is guaranteed to help you decorate any room in your home faster and easier than ever before. You'll find lots of interior decorating ideas to create unique spaces that fit your family's lifestyle without spending lots of money.

I hope these window decorating ideas have been helpful. Click here to go back to the home page for more great home decorating ideas!



---