Valance Window Treatments
by HDME Staff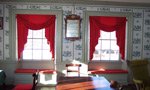 Should valance window treatments be a part of your home's decor? A well decorated room depends on the right window treatment to give it that final polished touch. Often, a valance makes up either part of or all of a window treatment.

It is the smaller details such as this that can make all the difference in bringing the room's decorations together or to giving the window treatment that truly professional extra. These little details turn a regular room into a well decorated, warm part of your home.

Valance window treatments can be a complete treatment all in themselves, for example, in a small kitchen sink window or basement window, but they can also complement other forms of window treatments very well. Valance window treatments can accent different kinds of blinds and shades, and can finish off the appearance to drapery panels or sheers.

Often, they soften the look of an existing window treatment, giving it more appeal and finish. They can also provide a practical purpose with additional privacy, shading, and insulation.

Choosing the right valance window treatments depends on the size of the window, whether it will be layering with other treatments, and your personal taste. There are, however, some basic overall rules that you can follow.

For example, if the window is a main focal point within its room, such as a bay window, a sliding door window, or another very large window, try to choose a valance that is appealing but that won't be so overwhelming that it draws the eye away from the rest of the room.

This is especially important if there are other large elements to the room such as a fireplace. When in doubt, err to the side of subtlety. This doesn't mean that you can't aim for drama in your valance, it just means that you need to be careful as to how striking the piece will be, allowing it to be an accent, not the center of attention.

For smaller window such as those in laundry rooms, bathrooms, or basements, the valance of choice is generally a standard skirt valance. These are very easy to find in stores that sell window treatments and drapery, but are also exceptionally simple to make.

Even with limited sewing skills, you can use a machine to create a rod pocket and neat edges using a piece of fabric that you like. Then the valance can be hung on just about any kind of curtain rod, from cafe style, to a basic lock-seam standard curtain rod, or a combination rod that allows you to hang both drapery and a valance at the same time.

This allows you not only a great deal of choice in the valance window treatments you choose, but also permits you a lot of freedom to decide how much you want to spend. Shopping around for the best prices, finding the quality you want, and deciding whether you'd rather make it yourself or buy pre-made can make all the difference to your valance window treatments budget.

The Big Question for YOU!
What type and style of valance window treatments are you seeking and why? And if you currently have such treatments in your home, tell us what you love or dislike about them.