Wallpaper Borders - Add Texture To Walls
_____________________________________________
______________________________________________
Perhaps you should consider wallpaper borders if you are looking to add more texture and design to your home. Whether you want simple patterns or elaborate scenes, you are sure to find a style perfect for your home. In the photo below, the room is completely wallpapered and there's a border around the upper edge that serves as an accent to finish the look nicely.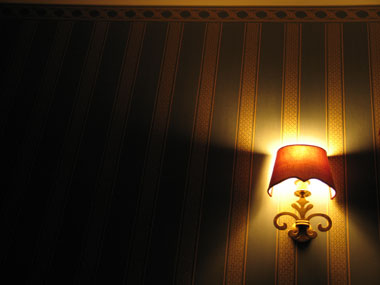 Use Wallpaper Borders For Color And Drama
Borders add an extra touch of color and drama to any room, making it feel more complete and more appealing.
No matter what your style or interest, there are sure to be wallpaper borders to express it.
Whether you are looking to complete the southwestern tone with a scene of cattle roaming over the horizon, or are looking for a simpler effect of flowers and vines, there is a border for you.
Borders allow you to finish a room in a way that paint can rarely accomplish. Unless you are highly skilled with a brush and can create a mural, wallpaper borders are the perfect alternative to a simple paint job. They can express your interests without extending your budget.
And, with a hug selection available, you are sure to find wallpaper borders that compliment your home. There are thousands upon thousands of types to choose from and, with a little looking, you'll find the perfect one.
Borders add new color and new drama to a room. Perhaps you don't want to repaint?
Perhaps you like the wall color but think it needs a little spicing up? Not a problem. Instead of repainting, why not just look for wallpaper borders? They can make a room look new, without you having to open up another paint-can. They also add texture to flat walls, giving depth to rooms that simple wall color could never do.
Of course, your situation may be different. Perhaps you are afraid to paint? Or perhaps you like your white walls but want to add touches of color? Borders fit your scenario as well. If your walls are white--by choice or by a fear of color commitment--wallpaper borders can add just the needed amount of drama.
Many people are still not sure of whether to use borders, however. They like the way they look but they fear the hassle of putting them up.
If you are one of those individuals, fear not: they're not as difficult as they seem. Wallpaper borders can be easily put up by even a novice.
And, if you are still uncomfortable with the idea, there are professional painters and paperhangers that could do it for you (this may be expensive, however, so use this option as a last choice).
Wallpaper borders are self-explanatory to put up and, if there is a problem, they can easily be removed.
So, with a huge selection to reflect your style and the ability to be simply put up, wallpaper borders have all the advantages and none of the problems of some decorating techniques. They create a new look for even the oldest paint jobs; they add texture and drama to any wall; they make your home seem complete. Why not see for yourself? Look into wallpaper borders today.
Click here for more great ideas to help you with your home decorating! Share this information about wallpaper borders by clicking on the buttons below.