Wall Light Fixtures - Selecting The Right One
by HDME Staff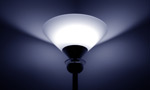 Looking for ideas around wall light fixtures? Regardless of what style one chooses to use when decorating the interior of one's home, there are always going to be places that could use a little extra light or where the right wall light fixtures can add to the decor to complete the room. Many people do not realize that there are three distinct classes of wall fixtures from which to choose. Here, we will look at each and some it there good and bad points.

The most popular style of wall light fixtures is the use of wall sconces. These fixtures tend to hug closely to the wall and often have the bulb in the top so that they seem to shine upward. This illusion is often enhanced by using a shade that mounts from below with its opening above. Wall sconces go well with virtually all classical styles of decorating and shades can be chosen with different influences so that they fit right into any decor.

The worst drawback of using wall sconces is that they often do not throw a great deal of usable light. This is partially because of their close proximity to the wall and partially a result of the shading used to hide the bulbs.

Wall lamps are very similar to standard table lamps with the exception that they are mounted on the wall. Most have a pivot arm that allow one to adjust the distance from the wall and position the light where it is most convenient for reading or other activities. These lamps have shades that can be chosen to match most types of home decor to maintain the aesthetic impression one wishes to give.

The drawback to wall lamps is much like that of using wall sconces. While lamps can normally be adjusted to change the distance to the wall, unless one has a chair of sofa directly under the fixture, the light cast will not be very bright or useful for any task that requires keen eyesight.

The final type is general wall light fixtures that do not fall into either of the above classes. Spotlights, indirect lighting fixtures, and other types of lights that can not accurately be described as lamps or sconces can be found in this class. The selection of wall light fixtures is quite large and one can spend a great deal of time evaluating different options before making a final choice.

It is impossible to outline the good and bad points of these general wall light fixtures because there are so many different types. However, one should examine the fixtures one is considering to determine whether they will provide the correct amount of light and decoration for the area where they will be used.

The Big Question for YOU!
What type and style of wall light fixtures are you seeking and why? And if you love your wall light fixtures, tell us about them.