Foyer Decorating
by HDME Staff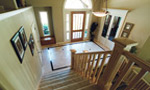 Struggling to come up with good foyer decorating ideas? Whenever a guest enters your home, and whenever you and your family members enter your home, the very first thing that is seen is the foyer decorating. It is the first impression when someone is visiting for the first time and, more often than not, it is the lasting impression.

For this reason, it is important to create a warm and welcoming foyer decor to show your taste and style to everyone who enters your home. This kind of project can be big or small, it's completely up to you.

When you want to start foyer decorating, begin by cleaning the area of clutter and dust, washing the floors and walls. Then, prime the walls so that you can paint them a fresh new color or simply add a fresh coat of the existing color if you already like what is there.

Next, you will want to decide upon the type of furniture that you will include in the entryway. This depends a great deal on the size of the space, as well as your style and your budget. Useful pieces to include in foyer decorating are a chair or bench where you can sit down to put on your shoes or boots, a table upon which you can add an attractive accessory or simply a place to leave your keys and the mail, a lamp, or a small chest of drawers for additional storage.

Once you have the overall layout and color scheme of the room laid out, you can start to look at the smaller touches. These can include window treatments, rugs for the floor, nonskid mats, and some tasteful accessories such as a painting, wall hanging, or other interesting and attractive decoration.

To make your foyer decorating project come together, start off with a plan so that you can form a clear and effective mental image of how the finished foyer decorating will look. This will help to keep you on track so that even when the work is only half complete, you will still understand how each part will contribute to the final product.

Don't forget to consider lighting. Depending on the height of the ceiling, you might be able to hang a light from there. Otherwise, wall lighting or a nice floor lamp can make sure that the entry areas are well lit and tasteful at the same time.

Don't forget that this will be the area where people will be removing shoes, coats, jackets, and other outdoor clothing. To keep the functional aspect of the foyer decorating, make sure to provide a designated place for shoes such as a mat, tray, or rack. If the coat closet is not right in the entryway, you may consider attractive wall hooks or a coat rack to perform that task.

The Big Question for YOU!
What's the biggest challenge you're facing when it comes to decorating your foyer? And if your foyer is already nicely decorated, tell us the key that makes it pop.