Give Your Living Room Decor A Makeover Each Season
Your living room decor is something you should change seasonally.
By changing the decor in the room you won't get bored of the atmosphere and will be much more inclined to spend your time in there.
Understand, changing the decor in your living room doesn't mean you get rid of all your furniture and re-paint your walls every season to create a new look.
Instead, it's about finding new ways to transform the look of your present living room by using different colored accessories.
The following are a few easy ways you can give your living room decor a face lift anytime you want without putting a hole in your wallet:
Rearrange furniture – The most important thing you can do when it comes to changing the look of your living room is to rearrange your furniture. If your furniture is lined up against the wall, try putting it on an angle.
If you have a large room, move the couch toward the middle. If you have two couches consider putting them together in a U-shape or an L-shape.
Play with the furniture in your living room decorating until you achieve your desired look. Don't be afraid to experiment!
Fresh coat of paint – When was the last time you painted your walls?
If it's been more than a few years, a fresh coat of paint will do wonders for your room.
You can brighten up your room with a light warm shade of yellow, or cool it down with a light shade of blue or green. Or to allow you the opportunity to achieve the full potential of living room decor diversity, paint the walls in a neutral shade such as taupe.
Accessorize – You would be surprised at how a new painting or a new centerpiece for your coffee table can change the overall look of your room.
An area rug is also a great way to change the environment and make it cozier, especially when it comes to the cooler seasons.
Changing your lamp shade(s) is another fantastic idea. Other great items you can add to change the look of your living room decor include plants, candles, different colored curtains, coffee table book, and drink coasters.
The magic of throw pillows and blankets – Believe it or not, but by simply changing the look of your throw pillows and adding a different colored or themed throw blanket can really change the look of your living room decor.
The great thing about changing the look of throw pillows is you don't even need to purchase a whole new set of pillows, you just need to change pillow covers. Consider using bright colored throw pillows for the spring and summer, and richer, darker shades for the fall and winter.
In addition to pillow covers, don't forget that you can always change the look of your couch if you use slipcovers.
You would be amazed at how just a little creativity can change the look of a room. Don't be afraid to visit thrift shops and shop in discount sections of stores to look for new accessories. You don't need to spend much to create a new look.
In most cases the simple rearranging of furniture, different throw pillows and putting up a new painting is all you need to transform old into new.
More Home Decorating Ideas - Recommended Reading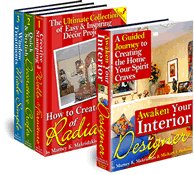 (1) *NEW* The Awaken Your Interior Designer! Collection - Brought to you by Home Decorating Made Easy, this first of its kind collection of interactive guidebooks is guaranteed to help you decorate any room in your home faster and easier than ever before. You'll find lots of interior decorating ideas to create unique spaces that fit your family's lifestyle without spending lots of money.


Visit this link for more living room decoration ideas. And click this link to return to the home decorating made easy home page.