Living Room Decoration Ideas
by HDME Staff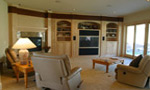 There are some great ways a person can add personality and life to a space in their home. Living room decoration ideas can be fun, whimsical, and reflect your unique and individual style. Deciding on the kind of decorations and accessories that you want to use in your living room will require some thought before you commit to a particular style.

Before you begin deciding on the specific items that you want to use to decorate your room, it will be important to identify your unique style and the mood that you want the room to reflect. Some people are most comfortable in a peaceful oasis where they can relax, read, and enjoy soft textures and colors.

Other people enjoy creating rooms that are whimsical and will be a welcoming and fun place for friends and family to enter when they visit. You may be a person who wants to begin a theme for their home in the living room and the objects and items in the space will be an introduction to the feel and look of the entire home.

Once you have decided on the theme and colors that you want to incorporate into your design, finding the items, objects, and furniture to create the room will be much easier. It will be important to measure the space and have a clear idea of the actual availability for larger pieces in the space.

Many people find that using blue painters tape to mark the actual space that will be taken by paintings, sofas, chairs, tables, etc., makes getting a visual representation of how space will be used very easy. Painters tape will not leave a sticky residue on walls and floors and is bright blue which makes it very easy to use and see.

It is important to take some time when planning the lay-out of art and photos. In a small group, groupings must be placed carefully on the wall to keep it from making the space look smaller. In addition, a piece of art that does not compliment the design will end up being the focal point when people come into the space. If you are going to use a piece of art as a focal point, placement will be very important to maintain balance in the room.

Once you begin to fill your room, a great way to test the look and feel of the room is to walk out of the home, clear your mind, then walk in with the eye of a visitor. Notice what your eye is immediately drawn to, the feel that you get when you walk into the space, and whether or not the space feels balanced. Adding or moving pieces as you go by using this technique makes employing effective living room decoration ideas very easy and a fun way to build a beautiful room.

The Big Question for YOU!
What's the biggest challenge you're facing with living room decorations? And if your room is beautifully decorated, then please share some of your best living room decoration ideas.