Finding Home Office Furniture That Works
Whether you work full-time at home or just have an office for late-night paperwork, your home office furniture has to serve one function above all: it must be practical.
As tempting as it is to purchase pieces that place style over function, you must not do that.
Instead, your home office furniture should send a message of service and simplicity. You will be working here, after all, so you need to find things that will make your job easier. Below, we will highlight some helpful tips to make selecting home office furniture simple.
One: pick pieces that fit your space. Whether you have a large area or not, you will still be limited for walls and any angles the room may posses.
Your home office furniture will have to conform to these angles and limitations. So, you need to choose pieces that will fit.
Measure your room beforehand to get the dimensions and it is recommended that you draw a faux-floor plan to decide where everything would fit best. That way, when it comes time to choose your home office furniture, you already have an idea of what you can use.
Two: pick pieces that you need, not that you want. Yes, it is nice to find pieces that look good. After all, you will be sitting in this space for extended periods of time; you don't want to have to work in poor looking environment.
That aside, you must place function over form. Your home office furniture should be comfortable and practical. You should never choose something simply because it looks good.
While this may be fine for an office you're rarely in, it will become a quick horror if you have to spend lots of time with it. You need to have a desk that allows you plenty of writing room, a chair that is made for long hours of sitting and plenty of storage containers that let you get organized. While minimalism may be the preferred style, it's not the most practical.
Three: pick pieces that can serve more than one function. If you are working with limited space, then you need to find ways to make every inch count. Combining pieces will let you do that.
When selecting home office furniture, look for clever pieces like a hutch. This combines your desk and some of your storage space, letting you save room for other needed things instead of having two separate entities. This will let you save floor space and create more room if it's needed for extra furnishings.
Your home office furniture must be useful above all things; it should not merely look good. Even if you entertain clients at home, you need to pick pieces that will serve you, not just possible taste.
Home office furniture should be chosen with care, taking into consideration the size and shape of the room and what will best suit it. Never buy furniture without first measuring your space, and never buy a piece without understanding its purpose and if it will work for you. Visit this link if you needs some info on buying a home office furniture desk and more .

More Home Decorating Ideas - Recommended Reading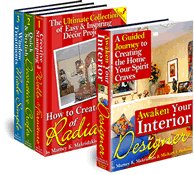 (1) *NEW* The Awaken Your Interior Designer! Collection - Brought to you by Home Decorating Made Easy, this first of its kind collection of interactive guidebooks is filled with lots of interior decorating ideas. Create the warm, inviting bedroom of your dreams easier and faster than ever before without spending lots of money.




Click here for more great interior decorating ideas!