Home Office Designs - Taking Care of Business
Home office designs are often overlooked. Most people assume that they only have to buy a desk, stick it in the corner of the room and, Viola!, they're done. Unfortunately, this kind of logic--while easy--won't work to give you an effective area.
Your home office lyout should be able to utilize your space and create a place perfect for business. That is your ultimate goal: to be able to work. You can't do that without proper home office designs. So, below, we will explain how to achieve them:
One: plan around the room. Unless you have the means to expand your area, you will have to learn to work around it. Your home office designs must incorporate all parts of the room, even those you may wish you didn't have.
If your room features odd angles or low ceilings, you will need home office designs that will maneuver around these obstacles. When done properly, home office designs will make an undesirable space quite functional.
Plan ahead! Do not just assume that every piece of furniture will work. Measure the room and get the dimensions so you'll know what to choose.
Two: make your space count. Home office designs should allow you to make every inch of your room work for you--there should be no wide gaps of unused wall space or cluttered spaces. You should be able to plan and make the area work.
Three: choose what you need. One key way to make your space work is not to "junk it up" with pieces you'll never use. Your home office designs should include what is essential, not what you think looks good.
You must remember that this is an office; you will be working here. You need to create a space that is functional, not just stylish. Create home office designs that incorporate practicality.
This can include choosing pieces that serve more than one function.
For example, if you were to buy a hutch, you wouldn't need separate space for a desk, cabinets and filing area. Instead, it is all right there. Moves like this will help you work more efficiently and save space.
Four: save style for last. Is having attractive pieces around nice? Yes. Is it necessary? Not really. Your home office designs should place function over form. Even if you entertain guests in your office, you need to think of the everyday use first.
This is a place of business, then a place of your personal likes. That's not to say that you can't find furnishings that look good. You can. With the wide selection of styles and fashions available, it's actually not that difficult.
But you should never chose a piece solely on the way it looks. Style is a secondary idea. Function is always first.
With these tips in mind, you will be able to design an office that is tailored to your needs, allowing you to work in comfort and practicality. Taking care of business has never been so simple.
Recommended Reading for more home decorating ideas - Books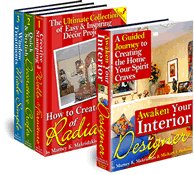 (1) *NEW* The Awaken Your Interior Designer! Collection- Brought to you by Home Decorating Made Easy, this first of its kind collection of interactive guidebooks is filled with lots of home decorating ideas. Create the warm, inviting bedroom of your dreams easier and faster than ever before without spending lots of money.



Visit this link for more home office solutions. And click here for more great ideas to help you with your home decorating!