Home Office Decorating - Making Your Work Space Work
Home office decorating is more than just slapping on a coat of paint and buying a new desk. It is about creating a space that will enable you to do your best and make a profit.
Home office design, when done properly, allows you to create an area of organization and function, yet still giving you the chance to add your personal style. Below, we will list some basic tips to let you create the ultimate home office.
One: understand what you need. Home office decorating should, above all things, incorporate elements that deal with your line of work. If you spend most of your time on the computer, than having a small desk with little work space would not be a wise choice.
Contemporary styles may look good with their minimalist appeal, but they will not serve you well if you need a great deal of maneuvering room.
If you handle large stacks of paper, then you will definitely need organizers and shelf space.
Chasing sleek looking folders may impress with a meeting, but they may not hold everything you need. Instead, you may have to chose a broader range of filing systems (shelves, filing cabinets, etc.). Your home office decorating choices should reflect your needs, not your desires.
Two: looks do count. Above, we may have given you the impression that only function matters. This is not entirely true. How something looks does have an impact on how you perform with that item.
If you are going to be spending a great mount of time in this area, then it needs have some style.
Home office decorating means finding pieces that serve a practical purpose, but can do so with a little flair. After all, if you have to stare at something for hours at a time, it should look good to you.
Three: personalize. When you have purchased the needed items (desk, chair, shelving, etc.), you can then look for extras to fill the walls and surrounding areas. While you want your home office decorating to send a message of professionalism--especially if you entertain clients there--you also want it to send a message of personality.
Your office should represent you, and all your needs. This includes the need to show off your interests. Home office decorating means learning to balance what you like and what you need.
Achieve that, and you will have the perfect work space.
Home office decorating is not difficult, if you follow these very simple suggestions. Many people forget, however, to place function over form. They see their home office as nothing more than a place to express their style.
While this is true in a small sense, this is--ultimately--a place of business. Your home office decorating style should support that.
Do not let the idea of working from home lull you into forgetting that you are working. Home office decorating should be more about business and less about the style. And, while the two should be blended to create a comfortable yet still practical space, never lose sight of your ultimate goal: to get work done.
Recommended Reading for home decorating ideas - Books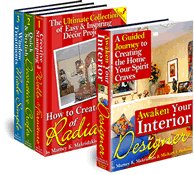 (1) *NEW* The Awaken Your Interior Designer! Collection- Brought to you by Home Decorating Made Easy, this first of its kind collection of interactive guidebooks is filled with lots of home decorating ideas. Create the warm, inviting bedroom of your dreams easier and faster than ever before without spending lots of money.



Visit this link if you'd like more home office setup ideas. And click here for more great ideas to help you with your home decorating!