Contemporary Bedroom Furniture: Building A Better Bedroom
___________________________________________
____________________________________________
With contemporary bedroom furniture, you do more than simply create a bedroom; you create a style. Your room will be the pinnacle of smooth lines and sleek finishes, basic necessities done right.
Contemporary furniture is perfect for those looking to banish the old ideas of comfort. Of course, many misconceive the meaning of a contemporary look.
They think of barebones rooms and strange pieces of art. This is not the case; contemporary bedroom furniture is beautiful, functional and will make the perfect addition to any home.
But, how do you use contemporary bedroom furniture? What is the basic element to create a stirring, yet simple, room?
Contemporary Bedroom Furniture Pieces
The first item: a bed. With contemporary bedroom furniture, you will find lower pieces; beds will not tower over the room, requiring lots of wall space for high headboards. Instead, they will be sleek and low, with straight edges.
You will cover them with crisp bedding done in neutral colors. Your bed will be very elegant and very simple, just like the room shown below.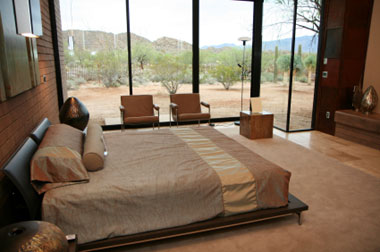 The next way to best use contemporary bedroom furniture is to find the perfect table or chest. These, usually, have curved edges, offering a subtle contrast to your bed.
They are, again, lower pieces and do not overpower the ultimate goal of streamlined elegance. Tables are, sometimes, made of glass and chrome. Many confuse these elements with being too cold or artificial; this is not true. Your contemporary bedroom furniture will seem elegant, not superficial.
Of course, the best way to highlight this elegance is to find suitable lighting. Your contemporary bedroom furniture does not simply include tables or wardrobes; it includes lighting as well.
Whether you chose overhead track lighting or floor lamps, go for very soft approaches, neutral shades and sleek bases. You want your room to be suitability lit, but not overpowered. Contemporary bedroom furniture should never seem overpowered by any part of itself; it should flow together in streamlined perfection.
Finally, the best way to compliment your contemporary bedroom furniture is to purchase accessories. While your walls may be done in black, tan, white or other soft tones, you can break these soothing neutrals with flashes of color.
Chrome, glass and other materials can be found in you accessories. Classic and modern meet. Also, by purchasing artwork, you can create eye-popping color. Highlight your room through clever paintings or pictures.
Let your contemporary bedroom furniture provide the simple elegance, while your accessories provide the needed touch of unusual.
Remember, though, your contemporary furniture should send the message of modern minimalism. You do not need to stuff the room with extras. Instead, create a crisp and simple environment.
Your bedroom should be a place of mediation and relaxation, not cluttered corners and too many unneeded things.
With these tips in mind, you can create a bedroom of perfect comfort and style. By using the simple appeal of contemporary looks, you make a room that is more than just a place to sleep; instead, it will be a place of peace.
Click here for more great ideas to help you with your home decorating! Use the social buttons below to share these tips on contemporary bedroom furniture.