Christmas Decoration Ideas
by HDME Staff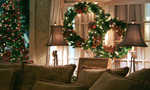 When your Christmas decoration ideas are truly outstanding, you can leave a tremendous impression on those who see them, as well as your own memories of the holidays that year. Christmas is a unique holiday in that there is decorating that can go on throughout the entire interior and exterior of your home, as opposed to only inside or outside, or just one room.

From the living room to the bathroom, the dining room to the kitchen, the rooftop to the front walk, there are Christmas decorations for every space.

However, if you are looking to do something special this year, you may wonder where you can find inspiration for Christmas decoration ideas, all you need to do is keep your mind and eyes open.

Great ideas are everywhere. They're in magazines, in store displays, other peoples' homes, photographs from previous Christmases, and surfing the internet. Even advertisements can show you the Christmas decoration ideas that some people have had and that you can mimic or that you can use as a jumping-off point.

The trick is to learn to look beyond the main focus of what you're seeing – in an ad, for example – and have a look at the decorating that is supporting the image.

There may be a central subject to a display, a photograph, or even when you're in someone else's home, but to find great Christmas decoration ideas, you need to see beyond that where the decoration inspiration is just waiting to be found. Look for lots of different elements. Themes, colors, arrangement patterns, images, styles, materials, and everything else that brings appeal to a layout that you find you enjoy.

Start by deciding on the place you'd like to decorate. For example, are you trying to find Christmas decoration ideas for your living room? Your dining room? The outside of your home? While keeping the entire home in mind, focus in on one space at a time so that the project is not as overwhelming.

Get creative in your materials and styles. Consider the following unique Christmas decorating ideas:


Create little bows out of ribbon that compliments your Christmas decor. Pin them all over your curtains to convert your window treatments into a festive alternative that still matches your room.

Use the same kind of decoration, but as it is represented all over the world. For example, figures of Santa/St. Nick/Chris Cringle from many different countries.

Get nostalgic. Think back to your childhood and look at old pictures to remember what decorations you used and then copy them, hanging paper cut-out snowflakes in the window and string popcorn for the tree.

Fill red, green, and gold glass bowls with old ornaments that don't have hangers anymore or that just don't fit on the tree.
Keep in mind that Christmas decoration ideas aren't just about the visual. This season is all about the senses, with decor that involves sound, textures, smells, and even tastes as well. The others senses also assist with decorations that are meant to be seen when the light isn't as bright. The daylight is short in the winter, so half of the visual decorating depends on lights that can be seen during the long hours of darkness. To support the lighting, the other senses can bring the experience a long way.
Don't forget that the earlier you start, the more time you will have to look for those great Christmas decoration ideas. You'll be able to pick out the styles you like, look around and find the best prices, and can even home-make some of your decor, simply because you'll have enough time in which to do it.
The Big Question for YOU!
What fun Christmas decoration theme or angle are you seeking this year? And please share some of your best Christmas decoration ideas from prior years.