How to Finish a Basement
by HDME Staff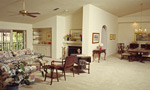 Want some tips on how to finish a basement? Finishing a basement is an enormous project but, at the same time, it can be a tremendously beneficial investment in your home that not only adds a whole new level of usable living space, but it also adds significant value to your home.

Your first major decision is whether you will be finishing it yourself or hiring a team of professionals to do it for you. Typically speaking, to have the "basic" job done, it should cost you between $20 and $25 per square foot for a professional to do the job.

No matter which you choose, before you start buying your materials and signing contracts, you?ll want to come up with a plan. If you feel daunted by this task or aren't sure how to draft a plan, a professional can work with you to come up with what you want, done within your budget.

The following are some tips on how to finish a basement that you can use to effectively complete your project in a realistic and practical way:

- Decide upon a use for your basement. What will you want to do in your basement? Will it be a playroom for the children? A media room with the big-screen television and surround sound? Or will it be where you keep the bar and entertain guests? One or several of these uses can be designed into a basement, depending on the space, budget, and the time in which you need it to be completed.

- Create a timeline of completion. Finishing a basement is a major home renovation project and will need a schedule in order to make sure that it will actually be completed. This doesn't mean that you will need to work on it every single day. Perhaps you live a very busy life. But if you intend to work on it on weekends, make sure that you have scheduled it in and will stick to that schedule. You should always have a good idea of what tasks are required, how much work is involved, how much time will be needed, and when each part of the project will be finished.

Keep a very detailed schedule and stick to it as much as possible, updating it regularly as you find out how long each task will actually take. Don?t forget to obtain all of the appropriate building permits ahead of each task. With a good timeline, you?ll be able to keep on top of the permits for each stage. Generally speaking, the order of specific tasks on how to finish a basement should be as follows:


Clear out the basement so that it is entirely empty and free of obstructions. You?ll need lots of room, and won?t want to risk falling over things. Also, finishing the basement is a messy job. Anything you leave down there while you work will get very dirty and risks damage.

Moisture/waterproof the walls and the floors

Install the sub-flooring

Lay out the walls for the various rooms in the basement

Install the framing for the ceiling, walls, and rooms

Rough-in the plumbing, electrical, cable, and phone lines (or hire an expert if you are not experienced in these tasks)

Have an expert inspect the plumbing and electrical work.

Install the insulation and the vapor barrier

Install the drywall, sanding and taping it, and then priming it so that it can be painted later

Install the flooring

Install the baseboards and the trim

Install the light fixtures

Paint the walls, baseboards, and trim.
- Educate yourself on how to finish a basement. Knowing something about design and construction is a good idea whether you?ll be finishing the basement yourself or hiring a pro to do it. The more you know, the more you can be certain that your money is being spent in the right places and you'll be able to gauge what kinds of materials are the right ones to use. Find this information online and in magazines, and talk to the people at home improvement stores.
- Carefully plan your budget. This is a vital part of finishing a basement. Naturally you will not be able to predict every penny, and none of it will be possible without first making a plan, but the decisions you make about how you?d like to finish your basement will decide what you use as your different materials, where you make your purchases, what tasks you will be doing yourself and which ones will require a contractor, and other major choices.
With these main decisions made, you will have a much clearer idea of how to finish a basement that you will be able to enjoy.
The Big Question for YOU!
What's the biggest challenge you're facing when it comes to finishing your basement? And if you've already completed such a project, tell us about it and any lessons learned.