Using Wallpaper and Borders For Your Room
For those looking to redo a room, wallpaper and borders can be the perfect solution. Not only do these change the look and feel of your home, but they can also provide an alternative to those uncomfortable with painting.
Wallpaper and borders let you finish your walls in the style you want, without overextending your budget or your time. They make the perfect compliments to any style and can be done by anyone, including you.
Wallpaper adds new texture to a room. Paint is nice and having color splashed on the wall always creates a sense of completeness; sometimes, however, this is just not enough.
Your walls can use more than just a solid color--they need drama, something to draw attention upward. allpaper and borders do this. They let your guests experience the entire room, from floor to ceiling.
Wallpaper is better than a simple paint job. They create contrast and substance to the walls.
When used correctly, they can make paint seem more dramatic, unlike when it is alone. They provide new details and colors, making the room seem better.
But, perhaps you don't even have paint on the walls (unless you count the standard white). Perhaps you are afraid of color, thinking it might be too much for the room or your furnishings to handle. Wallpaper and borders are the perfect solution for this scenario.
If you are uncomfortable with the idea of painting, or simply don't want a color on the walls, wallpaper and borders can create the right amount of drama without taking away from your idea of the room.
You don't need stark white walls, but you also do not need to slap on paint when you don't want to. Instead, wallpaper and borders let you play with the room in a new way, providing the amount of color and design you want, without the problems associated with painting.
And, with a huge selection to choose from, you are sure to find the perfect match to your style.
There is wallpaper and borders for every type of decorating. No matter if you like the heavy looks of victorian with their sprawling flowered prints and bold colors, or the simple picturesque appeal of country borders, you will find something to fit your room.
Wallpaper and borders are affordable and easy to put up; you do not need a professional to do this--and it will not cost you a great amount of money.
Of course, the larger the room, the larger the cost. This is only natural. Still, though, most don't find this a great expense and it is certainly worth the final amount when you see the finished product.
Your home will seem more complete and your rooms more stylish when you add wallpaper and borders. Whether you are looking to spruce up an old paint job or you're working with a blank wall, there is the right choice for you. You just have to go out and find it.
More Home Decorating Ideas - Recommended Reading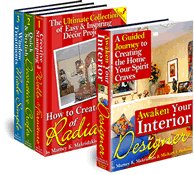 (1) *NEW* The Awaken Your Interior Designer! Collection - Brought to you by Home Decorating Made Easy, this first of its kind collection of interactive guidebooks is filled with lots of home decorating ideas. Create the warm, inviting bedroom of your dreams easier and faster than ever before without spending lots of money.


Click here for more great ideas to help you with your home decorating!