Five Effective Wall Painting Techniques
Finding some wall painting techniques may help you to liven up your home decor, if you are bored with the same old flat wall colors.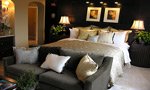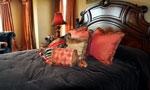 These are some of the easy wall painting techniques. Learn how to do the wall painting techniques for something unusual on your wall surfaces.
If you don't want to tackle them yourself, hire a professional to do the work and you do the artistic design.
Sponging is one of the simplest, yet most attractive of the methods for wall painting. The tools needed are water, plastic plates, a sponge and gloves. You begin with a base coat of one color. The secondary colors can be lighter in hue or can be dramatically contrasting colors. You dip the sponge in water, wring it out then dip it into the paint on the plates and wipe off the excess using the paper towels. The sponge is then daubed on the wall until it runs out of paint.
Another easy method to get a unique painting technique is called stippling. In this process the ends of a dry paint brush is dipped into paint and then repeatedly jabbed onto the wall. This method can also be used to remove layers of paint or glaze from the wall.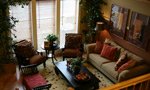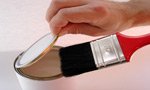 A technique similar to sponging is that of ragging. Using a rag in the same way as a sponge is the basis of the designs.
You can fold the rag into accordion folds for a different effect. Rag-rolling attaches the rags to the paint roller in order to give another unique look. The rags create a different pattern than the sponges, because there is no uniformity of the wrinkles and creases formed by the compacted bundle of rags.
Another of the wall painting techniques called stenciling consists of using a pre-designed or personally created stencil form to paint a repeated pattern on the base coat. The design can be almost anything from lettering to wild animals. Stencils are particularly popular in children's rooms, kitchens and bathrooms. They can be recognizable figures or images or they could be a design-only feature of the room.
Although stripes are fairly simple to accomplish, they take some preparation and taping off sections. Stripes that are varying widths and in shades of a color are very effective in adding depth to the room. You need to make certain that each section is dry before moving on to the next color or section.
Textured paints can be purchased, or you can add texture to your wall paint via various methods. Sometimes textures are substantive, other times faux surfaces are applied to the paint. They can look like wood, marble, stone or other surfaces. Using such methods doesn't require artistic talent, just the imagination to use paint colors in a creative way.
Wall painting techniques are easily learned in most cases from Internet sites, informational brochures available at your local paint dealer or from video educational software. If you view the steps for creating specialized techniques and apply them in your painting tasks, you can realize a completed wall that will be uniquely yours.
More Wall Painting Techniques - Recommended Reading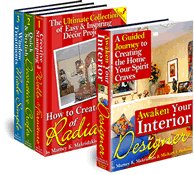 (1) *NEW* The Awaken Your Interior Designer! CollectionBrought to you by Home Decorating Made Easy, this first of its kind collection of interactive guidebooks is guaranteed to help you decorate any room in your home faster and easier than ever before. You'll find lots of interior decorating ideas to create unique spaces that fit your family's lifestyle without spending lots of money.
Click here to go back to the home page for more great home decorating ideas!