Tuscan Paint Colors
by HDME Staff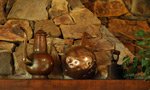 Ever considered the beauty of Tuscan paint colors for your home? The Tuscany region of Italy has gained a great deal of popularity in recent years. In fact, the culture of the region has begun to influence interior designs, even in the US. Many people are finding it easy to create a theme inside their homes with Tuscan paint colors.

Tuscan paint colors are all about the natural surroundings one can see in Tuscany. This is a region rich in terra cotta, brick, limestone, and vineyards. As a consequence, Tuscan colors tend toward the more natural, such as gold, green (all shades), gray, sienna, apricot, warm pink, and sky blue. These are only a few of the colors one might see in a Tuscan paint colors palette, but the trend toward the natural is clear.

Using a Tuscan theme when decorating allows a person to explore more color combinations and use more than just one main color for any given room. Even in rooms where one color is dominant, one may use different shades of that color to accent different areas in a room and draw attention to them.

One goal shared by many who choose Tuscan paint colors for their homes is creating a warm, inviting space that feels sunny and comfortable. To this end, a great deal of gold and yellow is seen in homes painted in a Tuscan theme.

Others tend to stay with more neutral colors, such as gray, sand, or terra cotta. These colors work well in public areas of the home where one wants to create an open space that reflects the outdoors. Of course, greens, blues, and pinks can be added as accents to bring the room to life in the eyes of visitors to the space.

One of the beauties of using Tuscan colors is that one is not nearly as limited in choices as he/she would be with more traditional or basic color schemes. Decorating in the Tuscan tradition actually allows one to be more imaginative in the use of color while creating a rustic charm that most find comforting.

A Tuscan paint colors scheme may be more basic and earthy than many other choices, but it also allows for more combinations of colors than most styles could incorporate without creating a space full of clashing colors and color schemes that create disharmony rather than harmony. The Tuscan style allows one to use many colors found in nature in a limited space to produce a theme that is charming, comforting, and harmonious. So go out and grab some Tuscan paint colors for your home.