Easy Ideas To
Re-energize Your
Table Lamps
While traditional wisdom has always held that it is best to have two matching table lamps beside your sofa, this is not a strict home interior decorating rule.
The key is to ensure that the lamps convey the same mood and visual weight (presence) within the room. If you're an interior decorating beginner, one way you can achieve this is by making sure that the top of the table lamps are of equal height from the floor.
So feel free to relax your thinking and have some fun. You might be surprised by the end result...
However, before I provide you with some table lamp ideas, let's quickly make sure that you are positioning them correctly. The bottom of your table lamps should be at eye level when you are seated, and the base should be about 38 - 42 inches above the floor.
Place them on the end tables at a comfortable distance from your shoulder. This does not necessarily mean they must be at the center of your end tables. Add personal touches to the end tables such as framed photographs, decorative boxes, figurines, small pants, etc.
Now that I've gotten that out of the way, let's have some fun…
Did you know that your table lamps will provide the first clue that your room is outdated? So be sure to keep an eye open to the latest Trends In Home Lighting. Don't worry, though, there are ways to reenergize your lamps without replacing them.
Try some of these ideas:
Change the lamp shade. Try a different shape or color.
Add a more decorative finial (this is the little screw on cap that attaches the lamp shade to the base). There are some really beautifully crafted finials in the marketplace. Try a ballerina or an elephant. There are many choices.
Attach fringe around the bottom edge of the lamp shade using hot glue. This would be an easy and fun crafts project to do with your children.
Paint the base. No, you don't have to be an artist. There are some great spray paints available that can give your table lamps the look of textured stone, antiques, hammered metal, aged bronze, and more.
Use a stencil to paint on geometric shapes or your favorite floral design. If you like this idea, I recommend that you check out Royal Design Studio where you'll find plenty of decorative stencils. You could even use the same stencil to make a border on the wall or around a fireplace.
Obtain faux jewelry pieces and hot glue them to the table lamp base. Again, your local crafts shop should be able to assist you.
On the other hand, if crafts aren't your thing, then do what I do to find out what's new in table lamps. I visit
Bellacor
for new ideas. The good thing about this site is that you can indicate your decorating style and it will provide you with numerous lamps that match your request.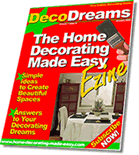 I hope this information on table lamps has been helpful.
Is having a warm, inviting home important to you? Then why haven't you grabbed your copy of DecoDreams, our FREE e-zine? Inside you'll find lots of unique ideas and time and money saving tips. So do your family, your home, and yourself a huge favor...Sign-up today!

And if you'd like to explore some excellent books on this topic, please check out the recommended resource links listed below.
Recommended Reading - Books
(1) Table lamps and more in…Lighting: Recipes & Ideas, Simple solutions for the Home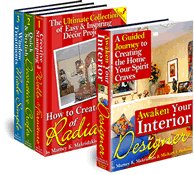 (2) *NEW* The Awaken Your Interior Designer! Collection - Brought to you by Home Decorating Made Easy, this first of its kind collection of interactive guidebooks provides a unique step-by-step approach for creating beautiful and inspiring rooms easier and faster than ever before. We've even included a whole book filled with easy, money-saving projects, such as re-energizing outdated table lamps.

(3) Right Light: Lighting Essentials For The Home


Click here for more great ideas to help you with your home decorating!



---
Copyright © All rights reserved.
ImagineQuest Information Products, Inc.
7667 W. Sample Road #233, Coral Springs, FL 33065
Phone 954-345-9972  Fax 954-346-5521
Contact Us


Thinking of starting a Net business and want a no muss, no fuss way of doing it? Visit SiteSell.com