Office Decorating Made Easy
If you work from home, you may want to begin thinking about office decorating.
There are many things you will need to consider if you decide to create an office in your home, but you will find that you can do office decorating on a decent budget.
The first aspect you will need to cover is finding the best or available room in your home that can act as your office space. If you do not have an entire room that you can use as an office, you may want to place your office desk in a room that is used less frequently such as a guest room, living room, dinning room or basement.
However if you do have a room to spare, many more office decorating options await you.
What to consider first - After you have picked out your space, and before you begin your office decorating, you need to think about all of the necessary furniture you require that will support the office supplies you need in order to work comfortably and properly.
For instance, if you have a computer, it is a good idea for you to obtain a proper computer desk. You will want a desk that is built ergonomically, so that it will accommodate your height and reach.
Although this is not a necessary office decorating item, if you will be at your computer frequently, it is highly recommended you take it into consideration. Nevertheless, once you have your desk, you will also need a computer chair.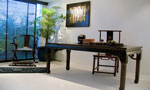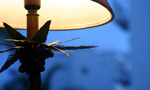 In addition, to the above essential office furniture items, you may also need an extra table for a printer, fax machine or scanner.
Then, depending on the space you have left, you may also wish to put a bookshelf in the room, or stackable furniture for storage, or maybe even a file cabinet to help you maintain organization.
Office Colors - When it comes to office decorating colors, it is a good idea to stay away from dark, vibrant, sharp or bold colors for your walls, especially if you plan on spending many hours in this room.
The reason is because, after a while, certain colors will begin to have a negative effect on your mood, which could lead to disruption of your work.
To avoid this from happening, it is a good idea to paint your walls a single light to medium shade of color. You will find that off-white, greens, soft yellows and specific blues are excellent choices for office decorating.
Office Accessories - It is not necessary for you to add many decorations to your office, simply because it is your working space, so the fewer distractions you have the better.
However, office decorating accessories that you can add to keep your office pleasant and inviting include a few wall decorations, such as a painting, family photographs, maps, awards, college degrees and so on.
You may also find that office decorating items such as plants, flowers and scented candles are like a breath of fresh air to the room.
In addition to these office accessories, if you have tiles or wood floors in your office, you may also wish to purchase an area rug, or a plastic floor covering to put underneath your computer chair, to ensure that it doesn't scratch your floor surface.
Besides the required furniture, all other office accessories can be easily managed on a low budget. With this in mind, have fun office decorating, so you can be sure to enjoy the working space you design.
More Home Decorating Ideas - Recommended Reading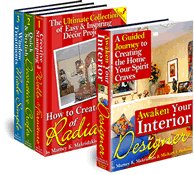 (1) The Awaken Your Interior Designer! CollectionBrought to you by Home Decorating Made Easy, this first of its kind collection of interactive guidebooks is guaranteed to help you decorate any room in your home faster and easier than ever before. You'll find lots of interior decorating ideas to create unique spaces that fit your family's lifestyle without spending lots of money.
I hope these office decorating ideas have been helpful. Click here to go back to the home page for more great home decorating ideas!