My daughter's new bedroom
by Clare
(Evans)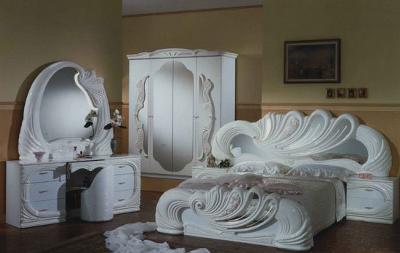 This is the lovely furniture set I gave mny daughter and how her bedroom looks with it...
Anne is having a Christmas eve wedding and since she's such a special girl, my husband and I wanted to give her the perfect gift. Her fiancée, Thomas, told us they still hadn't found a bedroom set they liked, so I told him we'd take care of that. I told Henry, my husband, about this and we set out in search for the most amazing bedroom set. It was not an easy task, since Anne doesn't like traditional furniture.

We walked around London for weeks until one day we found a showroom on Hoe Street, they had beautiful furniture and the representative there was absolutely nice, he directed us to www.furnitureULike.com where we browsed for a while until we found the perfect bedroom set for Annie. It's a white Italian style set with lots of mirrors and details, since it's all one set, each piece of furniture matches the rest, making the bedroom look royal.

The price had a discount, probably due to the season, so we made a great deal. They delivered it last week so we were able to set up the room and have everything ready for them to move in after the honeymoon.

We couldn't be happier cause we know both Anne and Thomas will love their wedding gift.

Join in and write your own page! It's easy to do. How? Simply click here to return to Your Decorating Story.