Marble Floor Tiles
by HDME Staff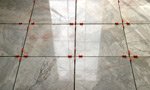 Marble floor tiles are striking, long-lasting, and add luxury to a space. For centuries, marble elements in a home have added the look of elegance and beauty just because they have been included in a room. This has not changed. Marble floor tiles not only add visual appeal, however, but also contribute a tactile element as they are cool, smooth, and soft. It is a pleasant material to use as it is easy to cut and shape, allowing for greater degrees of creativity and unique or custom results.


---------------------------------------------------- ----------------------------------------------------
This explains why it is used in so many places that are trying to extend an impression of luxury such as fine restaurants and hotels. If the only thing in a room that was changed was its flooring, using marble floor tiles, the entire space would be upgraded substantially in its attractiveness, sophistication, and artistic charm. With a small amount of effort, elegance is brought to an ordinary room with marble floor tiles.
This being said, marble floor tiles are not as commonly used as other options as they are indeed quite expensive. For many people, the price is prohibitive, leading them to opt for cheaper materials. However, just because you want marble floor tiles it doesn't mean that you need to use them in your entire home. You can lay them in a single space for special impact. An entryway or foyer, for example, gives a phenomenal first impression when marble floor tiles are used. Hallways can
also be improved with their use.
If it is within your budget to do so, marble floor tiles could make an exquisite change to your kitchen or living room, though, too. It is easy to clean and gives the spaces a feeling of tranquility and ambiance.
Marble floor tiles are available in glossy or matte, depending on the look you are trying to achieve and the upkeep you are willing to maintain. For example, while glossy is very stain-resistant, it is also more often used for accent pieces such as fireplaces, instead of large areas of flooring.
You will also want to get to know the various varieties of marble floor tiles, such as Tumbled, Honed, and Patinato, so that you can choose the right one for your space and taste. Though this may seem a bit daunting at first, it is also very interesting and allows you to obtain a better understanding of the important elements of your home.
While they are hard enough that they will not chip, break, dent, or crack from regular use, you can also clean it very easily with most standard cleaning products. No matter which marble floor tiles you choose, they will bring you durability and style for as long as you live in your home.
The Big Question for YOU!
What's your opinion of marble floor tiles? And if you've had them in your home for a while, tell us about any lessons learned from buying, installing, or maintaining them.
---------------------------------------------------- ----------------------------------------------------