How to Create a Guest Friendly Living Room
Does your living room need a mid-year makeover? One of the first things to think about when considering a redecorating project in your living room is what you use the room for.
In other words, what kind of living do you do in the room? Does it need to be kid friendly? Do you host a lot of social events? Or is it a cozy space for you and your pets to hang out and watch television? Deciding what the focus will be goes a long way in deciding what type of decorating style you will use.
Let's think about a living room used for a lot of social gatherings.
The initial rearrangements to tackle in your livingroom are seating areas. If you host a lot of people in your living space, you'll want to make sure you have adequate seating available for when you're guests are over.
This doesn't mean you have to have a huge sectional sofa in your living room built for a dozen people. What it does mean is that instead of a planter or statue in the corner of the living room you will want a nice decorative chair that can be pulled out when you do have company in your home.
And you will want to have a stack of comfortable cushions that can be taken out and used to sit on the floor around a coffee table. These little tricks provide instant extra seating without having your living room look like a conference room or doctor's lobby when it's just you at home with no guests.
Having company also means having plenty of table space in your seating area on which your guests can set beverages and small plates.
Another trick for creating a space in which guests can interact is to have an entertainment center that closes up, removing the television from the focal point of your living room. Sometimes your get-togethers may focus on conversation rather than television, but it's so easy to fall into the trap of turning on the tube when a lull in conversation arises.
Having a way to hide the television can help take away this impulse.
On the other hand, if you want watching television to be an option at gatherings try to create two areas in your room. One area can have seating that faces the television.
The other will have seating facing at least slightly away from the television and towards other seating. This will create a situation where guests can sit in the same room but not all gather around the tube. A good example of this type of setup is when the living area and dining area in a home are actually one long room.
By the way the furniture faces, two separate areas can easily be created without walls. One space is created with the sofa, chairs, and entertainment area, and one space with a table and chairs used for dining and doubling as a great seating area for social events.
So if you like to have gatherings at your home, give these tips a try in your living room. They're relatively easy to do, and they'll go a long way in making your living room guest friendly.
More Interior Decorating Ideas - Recommended Reading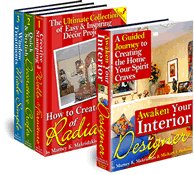 *NEW* The Awaken Your Interior Designer! CollectionBrought to you by Home Decorating Made Easy, this first of its kind collection of interactive guidebooks is guaranteed to help you decorate any room in your home faster and easier than ever before. You'll find lots of interior decorating ideas to create unique spaces that fit your family's lifestyle without spending lots of money.


BACK to the home page for more great home decorating ideas!