Interior Decorating Bedrooms On A Budget
by HDME Staff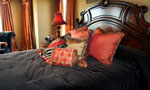 Interior decorating bedrooms on a budget requires planning and time. An individual who wants to achieve the same great look as professional designers will need to take the same steps as the professionals, then add a few extra steps to achieve the goal of a spectacular bedroom.

It will be important to have a clear idea of what you want to achieve with the design of the room. This is most easily accomplished by using a piece of grid paper and drawing out the layout of the room. By using a scale model, you can see how the furniture for interior decorating bedrooms will most effectively fit in the space. This will also be a great opportunity to add closet organizers in a small room that may not have enough storage space available.

Depending on the effect that you want to achieve when interior decorating bedrooms, planning on paint and accessories is a great idea. By picking up unique accessories, dressers, and other furniture and painting it with the colors you have chosen, you can easily create a matching design in the room very affordably.

There are many resources available where an individual can fine unique accessories for bedroom designs. Some people find that expanding their use of the linens used for bedding is a great way to make a room appear larger. It is important that when a pattern is going to be used in the room that it not be too busy as this will make the room feel less serene.

When planning the design, it is a good idea to have a solid foundation or base that is more neutral in color. Adding bright colors and patterns through the effective use of linens and accessories when interior decorating bedrooms will give you the ability to change the style of the room several times without the need to completely re-do the room.

Most bedrooms depend on lamps or other accessory lighting which can be a challenge when creating different feelings in a room. It is very easy to have soft lamps that provide the serenity you want and add a closet light where bright lighting will be needed. By segregating your lighting, you will not have bright bedside lamps that disrupt your relaxation, but will be able to find clothing or have a bright light when needed.

A great way to find new design ideas when you are thinking about interior decorating bedrooms is to visit new model homes. When designers stage model homes, they use the latest methods and techniques to make bedrooms look their best, appear functional, and stand out. This is a great opportunity to see how colors and designs work together when interior decorating bedrooms without investing in the items and experimenting in your own bedroom.

The Big Question for YOU!
What's the biggest challenge you're facing when it comes to decorating your bedroom on a budget? And if you've already decorated your bedroom, tell us about it and share some of your best cost-saving ideas.