Home Office Design - Ideas for Making Your Office Work
You'll need home office design ideas to make whatever space you have work, whether you run your own business or merely need a place to catch up on paperwork. Your home office should be functional and relaxing, an environment you could actually work in.
It should not be a jumble of papers, files, pencils and coffee cups. So, with these office design ideas, you will be able to get rid of the clutter and get to work.
No matter what the size of your room, the first home office design idea is to decide how best to use the space you have. You want enough room to work but you also must have everything within easy access of where your central point (usually your desk) will be.
The best home office design idea is to measure the room; find out what kind of dimensions you have to maneuver around. Then, move on to furniture that will fit those dimensions.
When purchasing furniture for your home office, keep one thing above all others: function. Sure, it's nice to have something that looks good, but looks won't help you succeed in business.
A necessary home office design idea: function over fashion. Buying a sleek new desk might send the impression of power but, if it's too small, you won't be using it to complete paperwork.
This is not to say that everything you buy will be big and nattractive--there are many styles to choose from that incorporate but style and practicality.
Just remember to make function your top priority.
Another smart home office design idea is to purchase space savers (shelves, cabinets, filing folders, etc). You need every inch of your room; you do not want to have stacks of papers piled in the corners.
Instead, you will want to purchase space saving objects to keep you organized and keep your floors clean. This home office design idea is a must.
Finally, try to find items that you need, as opposed to items that you want. There are many high-tech gadgets to play with and many fun extras to have around, but you must not succumb to the temptation of having it all.
The final home office design idea: buy the necessities, not the amenities.
Your office should be polished and professional, kept down to only what you must have.
With all the work you will be doing inside that room, do you really want to clutter your space with extras? Of course not. Yes, some "toys" can be fun and, yes, some may even have a genuine purpose; however, you won't need every item you see to create an office.
Buy only what will help you succeed with your business, not what looks impressive. This is, typically, the hardest home office design idea to follow, but it's one that should be remembered.
With these home office design ideas, you can create a room of order and function, a place where work can actually be accomplished. And that's what matters. To furnish your office check out this info about selecting a home office furniture desk
Recommended Reading for Bedroom Decorating Ideas - Books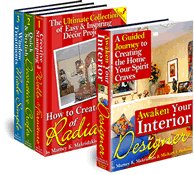 (1) *NEW* The Awaken Your Interior Designer! Collection - Brought to you by Home Decorating Made Easy, this first of its kind collection of interactive guidebooks is filled with lots of bedroom decorating ideas. Create the warm, inviting bedroom of your dreams easier and faster than ever before without spending lots of money.



Click here for more great ideas to help you with your home decorating!