Discount Wood Flooring Choices
by HDME Staff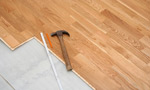 What's the best discount wood flooring, you ask? Anyone who has ever walked into a home with hardwood floors can attest to the fact there is nothing that can truly compare to the beauty of these carefully chosen and assembled floors polished to a high sheen. However, today there are different types of products available that have the look and durability of hardwood flooring at a much lower cost. Here, we will discuss some of the options available when one is looking discount wood flooring.

Of course, solid hardwood is the first wood flooring choice of most builders. This can be the most expensive unless one finds a special bargain on it, but the quality is well worth the price paid if the floor is properly installed. One can typically choose from oak, walnut, maple, or any of a number of other hardwoods depending on the particular grain and color one is looking for.

For those who want the look and feel of hardwood without the price, there are still other options. One discount wood flooring option that has caught on and is gaining in popularity is laminate flooring. With this product, a thin veneer of the wood one wants is attached to a backer to make tiles that one can lay in adjoining pieces until the entire floor is covered. Laminate flooring is much less costly than true hardwood and has the same appearance when properly installed and finished.

Bamboo is a natural woody plant that grows in tropical regions. While the canes are mostly hollow, they hold their shape well and have a nice even, tight grain. When treated in certain ways, bamboo can be flattened out of its round shape to produce very nice discount wood flooring material that can be stained to resemble many other types of wood that feature tight, uniform grains. One can even leave it its natural color if a lighter floor is desired.

Finally, cork is a lightweight wood that is known for its resilience. Most commonly used to seal wine bottles in the past, many decorators have found that having discount wood flooring built of cork creates many design opportunities in the home. The resilience of cork makes it a long lasting material that will stand up to traffic for many years.

When one is looking for discount wood flooring, there are many options to consider. Laminate is probably going to be the least expensive and full hardwood the most expensive. Yet, there is a wide price range there that can be filled in with bamboo and cork alternatives as well.

The Big Question for YOU!
What type and style of discount wood flooring are you seeking and why? And if you've purchased wood flooring before, tell us about your experience and any lessons learned when it came to buying or installing it.