Dining Room Decorating Ideas
by HDME Staff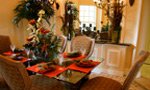 When people are looking for dining room decorating ideas there are a couple of quick tips that can turn an idea into a great look. Dining rooms can be very deceptive rooms in most homes because they are smaller than most people think and can easily be overwhelmed with a theme or decor. Therefore, the first step to creating a great dining room is to know the actual size of the room.

Most dining rooms are the same size as the 2nd bedroom in a home. After you have measured the space, go to the room in your home that is that size. Standing in a bedroom that is furnished will give you a good idea of the size and scale that you should be planning for in the space.

Before deciding on the type of furniture you are going to put in the space, give some thought to what the primary purpose of the room is. In some homes this area is used primarily to do homework and have special meals. Some of these spaces are not used at all, but rather hold a treasured dining set that has been passed down through the family.

The kind of decor and theme you will use in the space will be greatly affected by what the primary purpose of the room is. After you have identified it's function, think about what the focal point will be. While in the past, the table was the focal point in these spaces, this is no longer the case.

A family that uses their space for homework and family game night on a regular basis will not want a table that is ornate and cannot withstand the wear and tear that daily use, unrelated to eating can bring. The furniture must be able to hold up to painting, writing, and general "desk" duty.

Decorating this type of space will give a person a lot of flexibility. The placement of accessories should be considered carefully and as many pieces as possible should be functional in multiple ways. This type of room will be great when a piece such as a vase sits atop a box that can hold pencils.

Another great idea for this type of space is to laminate lined paper and make placemats. The placemats serve a dual function, they can be written on with dry-erase pens and wiped off very easily. And, they will protect the table when kids doing homework have a snack. After you have identified the style and are ready to begin decorating, adding your personal style and color to the room will help to bring the entire room together.

The Big Question for YOU!
What's the biggest challenge you're facing when it comes to decorating your dining room? And if you already have a beautiful room, tell us about it and share some of your best dining room decorating ideas.