Developing your own interior design ideas
by Andre
(London, United Kingdom)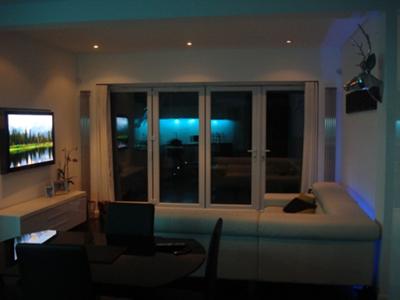 My most recent lounge, London
I am not, an interior designer. Well at least in terms of my profession. I work in a city in a completely unrelated corporate business. I do, however, have a passion for interiors and over the last 10 years I have had the pleasure and satisfaction of designing the interiors of 3 homes.

Ok, so these homes were mine, but I have always been pleased with the atmosphere and moods created by my own, sometimes expensive, sometimes cheap interior design ideas. To me, although having a bedroom or bathroom with your own personal touches is what is most important, it is also very gratifying when others compliment you on your work. If you are honest with yourself when it comes to your interior design ideas, then the results will be evident to your friends and family too.

The first thing I do to create my interior design idea is visualize. Whether you have a clutter filled bedroom, a 1960's aging kitchen, a lounge with the distinctive decorative taste of bygone owners or a whitewashed and recently plastered blank canvas of a room; visualize. See the lines of the room; see the shape and spaces you have to play with. What is the natural lighting like and how could this best be used to its optimum? What existing features does this room have that could be used to feature or theme the room? For example, I find older properties with fireplaces and sash windows offer great inspiration.

I once visited a friend's house where the copper piping was fixed above the floor boards and along the walls. Rather than try and blend these in by painting or hide them by boxing in, they were exposed and highly polished. Needless to say they created a very interesting draw to the eye.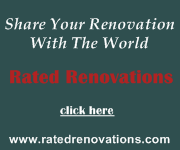 Secondly, know what you want the room to feel like. Do you want a calm and relaxed haven as a bathroom? Should your bedroom be a sanctuary? Is your lounge a place where you want to feel comforted and cozy? Knowing how you want to feel in each room is a great start as you can begin to incorporate the colors and features that create those atmospheres.

The previous owner of my last house fitted a modern and contemporary kitchen using cherry wood carcasses and metallic doors, but he had painted the walls a bright green! This was not to my taste, but I took a deep breath and opted to paint the exposed walls in a very dark, charcoal grey (I remember the guy at the paint store trying to persuade me not to use this color when he found out it was for my kitchen. I then introduced some white LED lighting behind a chrome wall fitted wine rack. The result, well it felt like we were in a trendy wine bar whenever we had guests!

Personalize - It's your house! Where do you like going on Holiday? What is your favorite pastime? What are your fondest memories? Why not take that picture of you on your favorite holiday and explore the colors in the scene. How could you introduce these colors into your bathroom? Why not think back to a place you loved to be when you were young. What furniture, artifacts, lighting could you use to remind you of that place and time?

What's important is to make your home a reflection of what you like about yourself and your life and don't be afraid to day dream.
Again, I do not have a single qualification when it come to creating or implementing interior design ideas, but I do have a life to use as my paint palette.

About me: I have since taken my passion for renovating property and turned it into a user generate website, where people like can me can upload images of their work and share the with the world so be sure to check it out at ratedrenovations.com. If you search for 'Andre' on the site you will see some of my more recent work.