Designs for Small Bathrooms - Creative And Affordable Ideas
___________________________________________
_____________________________________________
Looking for a few good ideas and designs for small bathrooms? Then read on for a few tips you can incorporate to create a bathroom that will match your decorating style. There's also a short video at the end that will give you some tips on how to transform if you can't remove the tile and other bathroom components.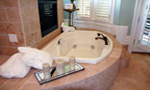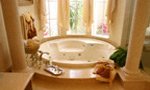 First of all, walls can be painted, papered, paneled or tiled, or a mixture of any of these.
Paper will need to be from a waterproof range, and paint should be a washable finish such as eggshell.
Tiled splash areas around bath and wash basin are a good idea. But if you decide to tile the walls completely, choose large tiles to add a greater sense of space. A wall of very small tiles will look too dense and visually confusing in a small room.
A solid run of obviously patterned tiles should also be avoided for the same reason - it's better to use mostly plain tiles and add a few patterned ones as an occasional feature.
Because designs for small bathrooms have a large proportion of wall space in comparison with the room area, they look better if this is broken up by creating a border line half-way up.
Wood paneling has taken over in popularity from tiles for this -and is particularly good if you have uneven wall surfaces you want to hide.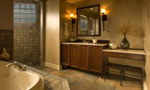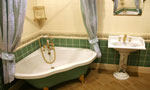 The paneling can be topped with a narrow shelf to provide extra storage for toiletries.
And extending it to box in the bath will give the whole room a neat, streamlined look.
Make sure that the wood is well sealed so that it won't be affected by damp and steam. Finally, be sure to paint it in a washable finish.
And if you're looking for something different, try these theme designs for small bathrooms...
Beach house bathroom theme
Go with light blues, aqua and plenty of white in your design. Hang white-painted or bleached wood paneling. Use shell-shaped soap dishes and other seaside-style accessories. For window and/or shower curtains, try plain white curtains, pale stripes, or simple checks. Install wooden duckboards on the floor.
Victorian bathroom theme
This style of room should really have an old roll-top bath, but you can still create the look with accessories.
Consider installing delft-style blue and white tiles. Decorate with plain white towels and patterned china. Seek out ceramic toilet handles. If you have the room, create an old world look with an antique washstand with an old-fashioned water pitcher and basin. Use big old-fashioned cross-head taps.
Caribbean bathroom theme
Use blues and greens with splashes of red and yellow for a tropical decorating style. Add lots of tropical plants (artificial plants would work fine). Hang mirrors with bright-painted wooden frames. Decorate with flying fish and parrot motifs on fabrics and accessories.
Spruce and nautical bathroom theme
Use dark polished wood paneling and toilet seat. Brass fittings are a must. Navy and white towels and tiles will help to define the nautical theme. Hang traditional striped wallpaper.
I hope you found the decorating and designs for small bathrooms ideas in this article to be helpful. And to learn how you can create the desired theme in your bathroom without any heavy remodeling, watch this video.
Decorating And Designs For Small Bathrooms - Video
Click here to go to the home page for more great home decorating ideas! And to share these designs for small bathrooms, please click on the social buttons below.