Decorating a Dual Function Home Office
_______________________________________________
_______________________________________________
Need some decorating ideas for a home office? Are you one of the many people who need an office in your home but you just don't have the space to dedicate a whole room? This article will help and be sure to check out the video at the end.
What often happens in this situation is that we tuck a desk and computer away in the corner of a room and never quite get it functional enough to fit our needs. If you are dealing with this decor dilemma, try this basic strategy to help you create your office space.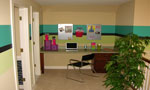 If your home office has to share a space with another room, a guestroom serves perfectly for this dual function.
Most guestrooms aren't used very often, so you probably think the space would be better suited for a home office anyway. But the first time you need a spot for your in-laws to sleep, you may wish you had opted for the guest bedroom after all.
So why not use some of these tips to share the space and make the most out of this room in your house?
Home Office Decorating Tips
One key to a home office is the desk. In a dual-purpose room, the best thing to remember is to find a desk just big enough to fit your needs. While you may look at those big corner desks and think of all the things you could do with that much space, ask yourself if a smaller desk would serve your purposes just as well.
Using a smaller desk in your home office will give you more space in the room for your other needs.
Closed storage space is another useful element of a shared home office. If you have books, computer paraphernalia, or other business items, consider decorating your room with a bookcase that has doors.
There are many styles available, most having a few open shelves on the top for your books and a space with doors at the bottom to store other items. This will help keep things that might otherwise cause clutter stored neatly out of sight.
If you have sensitive material, you can find a bookcase of this type whose bottom doors lock.
Filing cabinets are a must in almost all home offices, but for your shared space those metal office filing cabinets may not be the best. There are many wooden filing cabinets available, and you can find them to match the other furniture in your home office.
This will serve your office's functional needs while still offering the decorating touch you desire in a guestroom.
Purchasing a sofa bed instead of a conventional bed is another great way of decorating your dual function room. In the past, the words sofa bed may have conjured up the uncomfortable early versions where you could feel the frame through the thin mattress all night.
But sofa beds have come a long way since then and offer much more comfort.
Another option if you are still skeptical is a folding futon. These sit up to make a couch then fold flat to make a bed. Either way, you will benefit greatly from the added space this provides when you don't have guests.
Decorating to use the most of the space in our homes is often an ongoing task.
These home office design tips will help you create a room in your home in which you can work and live.
And to better utilize space in your dual function room, check out this video to learn how you can create your own desk. This is really cool.
Home Office Decorating - How To Easily Create A Desk
Related Articles - Interior Decorating Ideas
Recommended Reading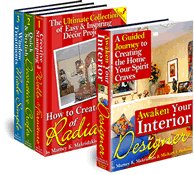 (1) The Awaken Your Interior Designer! Collection Brought to you by Home Decorating Made Easy, this first of its kind collection of interactive guidebooks is guaranteed to help you decorate any room in your home faster and easier than ever before. You'll find lots of interior decorating ideas to create unique spaces that fit your family's lifestyle without spending lots of money.


I hope these decorating tips have been helpful. Click here to go to the home page for more great home decorating ideas!