DecoDreams
~~~~~~~~~~~~~~~~~~~~~~~~~~~~~~~~~~~~~~~~~~~~ DecoDreams E-zine
Your Guide to Creating Beautiful Spaces, FAST!
-----------------
September 20, 2004
Issue #023
~~~~~~~~~~~~~~~~~~~~~~~~~~~~~~~~~~~~~~~~~~~~ ~~~~~~~~~~~~~~~~TABLE OF CONTENTS~~~~~~~~~~~~~~~
o Featured Article

1) Take A Dream Vacation Without Leaving Your Home!

o Turning Ideas Into Action

1) Marney answers your question about kitchen decorating

o Today's Quote

~~~~~~~~~~~~~~~~~~~~~~~~~~~~~~~~~~~~~~~~~~~~ ~~~~~~~~~~~~~~~~ FEATURED ARTICLE ~~~~~~~~~~~~~~~
-------
---1---
-------

Take A Dream Vacation Without Leaving Your Home!
Marney and I say it throughout all our books: your home should inspire you. And what better to get inspired than to treat your home like a getaway to your favorite location!
If there is a location or culture that you love, it's very easy to decorate your home in a way that reflects your love for that place. True success comes when you can create that atmosphere - while keeping the room comfortable and livable in the every-day life of your family.
You don't have to re-do an entire room from top to bottom to create a magical, enchanting getaway. There are simple tricks that can be integrating into your rooms to make your home the getaway of your dreams in day, or even in a few minutes!
Here are some ideas for ultra-quick decorating projects to create your perfect getaway!
To create the charm of the English Countryside...
Find mixed patterns of floral china at a thrift store, and place teacups, teapots, and small plates on display in a display case or on wooden shelves. China plates can also be hung on the wall using plate hangers.

Do a quick makeover on your furniture by adding slipcovers in floral patterns.

Add large several large bouquets of flowers (real or artificial) throughout the room, in ornate vases tied with organdy ribbons.

Cover a single wall with toile wallpaper.

Add full-length curtains in heavy fabric to windows.
To create the flamboyance of Mexico...
Add bright color to the room - but you don't have to paint the entire space. Painting a single wall in a color such as turquoise, fuchsia, or golden yellow can bring a Mexican spirit to the entire room.

Add Aztec-designed throws to chairs.

Hang brightly colored paintings of abstract sunsets, pueblos, and the Mexican plains.
All three of these tips are integrated into the home office shown here, which sings with fiesta spirit while remaining entirely functional.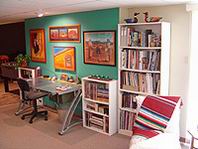 To create a peaceful Asian ambiance...
In living rooms, use floor cushions for seating, instead of chairs.

Go to a used bookstore to find books of Asian text, and make you own art by framing pages from the book in sleek, simple black frames on a red background. In addition to pages of Asian text, single Japanese or Chinese characters, or artistic Japanese brush lettering are bold choices that will instantly add Asian influence to the room.

Place artificial orchids in simple glass vases on mantles and book shelves.

Use decorative folding screens with Asian designs behind large furniture pieces, such as beds, dining room tables, or sofas.

Hang bamboo shades on the windows.
To create an exotic African atmosphere...
Add throw pillows and throw blankets in animal prints to your sofa, chairs, or bed. Don't be afraid to mix animal patterns - the more diversity, the better!

Add reproduction carved wood collectibles to walls and shelves, such as small sculptures, carved animals, totem poles, and masks.

Place rustic braided rugs or animal print area rugs on the floor.
To create the romance of Italy...
Hang framed prints or posters that reflect the Italian countryside, or consider buying a ready-made mural for one wall. You can find some great posters at AllPosters.com. and check out Murals My Way for some of the most vivid and inspiring scenic imagery you'll find anywhere!

Have your friends save wine bottles for you, and display them in a rustic hutch, or along shelves at the top of the room. You can even make your own "Italian" labels on the computer, and print them out and glue them over the existing labels!

Add throw pillows in jewel tones to sofas and beds, and throw blankets in deep rusts, terra cottas, and warm ochre.

Paint a faux finish on a single wall to create the look of peeling plaster or weathered stone.
You get the idea! You can think of endless ideas of your own, as well! Just think of your home as a blank canvas for the getaway of your dreams, and add bits of that atmosphere, little by little.
~~~~~~~~~~~~~~~~~~~~~~~~~~~~~~~~~~~~~~~~~~~
~~~~~~~~~~~TURNING IDEAS INTO ACTION!~~~~~~~~~~~~~~


-------
---1---
-------


ASK THE DECORATOR
DecoDiva, Marney Makridakis, answers your question about kitchen decorating.
QUESTION: I'm completely redoing my kitchen and I'd love to have a Tuscan-style kitchen. Any thoughts or suggestions? I can't redo the flooring. Will that limit me considerably?
ANSWER: Congratulations on making over your kitchen! A Tuscan-style kitchen is a classic choice, one that is both elegant and cozy.
Terra cotta tiles are a natural for this style, but since you can't do the flooring, consider using terra cotta tiles as a backsplash or along the wall just above the counters. On other walls not adjacent to counters, opt for a faux paint finish that looks like stone, cracking plaster, or simply built-up textures of paint.
Avoid using wallpaper, and go for natural paint or tile on the walls, instead.
For the cupboards, chicken-wire cupboard door fronts will evoke the look you're going for, immediately. You can also add sturdy pine standalone storage pieces, and a big farmhouse table or island in the center of the kitchen, with a thick braided rug underneath.
Marble countertops are ideal, and marble-style countertops in acrylic are an effective, more affordable alternative.
To really perfect the style, it's all about details! Use copper pots, tin accents, bunches of hanging herbs and dried flowers. At the top of the wall, adjacent to the ceiling, add thick, rustic wooden shelving and place wine bottles on them.
Have a great time - you're in for an exciting adventure!
--------------------------------------------
-----------Recommended Resources---------
Get Organized Now!
Before you begin any decorating project, do yourself a HUGE favor and get clutter under control. Doing this alone will make a room appear larger, and you'll feel more relaxed. The crown jewel is that you'll getmore time back into your day. Click here to learn more...
------------
"How to Make Roman Shades"
I reviewed this ebook and it's the best you'll find on how to easily create roman shades on your own. Step-by-step diagrams and easy, yet detailed, instructions will have you making beautiful roman shades in no time at all. Even sewing beginners will find the process easy to follow. Just think of the money you'll save!
~~~~~~~~~~~~~~~~~~~~~~~~~~~~~~~~~~~~~~~~~~~~~~~~~~~~~~~~~~~~ TODAY'S QUOTE ~~~~~~~~~~~~~~~~~
"Throw your dream into space like a kite, and you do not know what it will bring back, a new life, a new friend, a new love, a new country."
- Anais Nin
****************************************************************************************
Wishing you all the best,
Michael J. Holland - President
Home Decorating Made Easy
Copyright ©
P.S. Don't forget your fr*ee chapters of Awaken Your Interior Designer. You'll get 72 pages, filled with lots of ideas and photos to put you on the rightdecorating path.Click here to download your copy right away
P.P.S. If you're thinking of starting a part-time or full-time business for crafts or home decorating, be sure to download our complimentary ebook called From Passion to Cash: How to Make Money With Your Passion of Crafts and Decorating. You'll find lots of helpful ideas to get you going in the right direction. ~~~~~~~~~~~~~~~~~~~~~~~~~~~~~~~~~~~~~~~~~~~~