Custom Home Decor And Personalized Photo Wall Art
by Stephanie Jebard
(Charlotte, NC)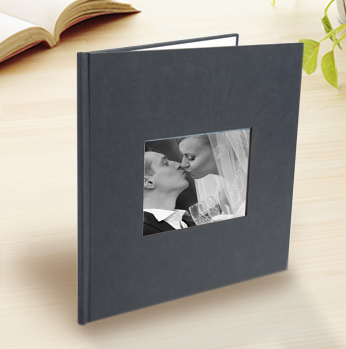 Photo album for custom home decor
Custom home decor is the latest of many interior design trends and one that is here to stay.

Whether you're redesigning your home or helping clients find their decorating style, it's about infusing more individual personality into the space you call home.

One of the most popular, easiest, creative and effective ways to accomplish this is with the use of personal photos. Billions of photos are snapped, uploaded and shared online every month. When decorating or redecorating spaces, people select photos and personal images that mean something to them for display on their walls and around their homes. For years, picture frames and canvas prints have occupied center stage in home decor, without actually being considered 'decor'. They were more keepsakes than creative expressions.

However, today's photo personalization technology combined with the digital photo sharing explosion and innovative product catalogs has changed this view.

Photos, today, are not merely an part of the background but the central element in personalized wall art and custom home decor accents.

Photos Create Custom Home Décor

There's no shortage of photos in any home, thanks to digital cameras and the ease with which we can now take and share digital photos. You probably have hundreds of them stored on a CD, on your computer or on an image sharing site. Facebook alone is estimated to be hosting over 60 billion photos.

As enticing as online photo sharing is, there's something about turning photos into physical gifts and displays that can't be achieved with mere online sharing. Now, what if you could choose the best among your digital photos and turn them into tasteful photo accents and personalized wall art for your space?

Canvas prints are not new to us, but have you really considered them as home décor accents and not just ways to display your photos? With a little creativity, you could decorate your whole house with photos as the central theme. Seasons, colors, family, modern, nature, travel – whatever you decide as your theme, you can pull it off with photos on canvas and other wall art.

Imagine turning your pictures into incredible accents for every room. These include tabletop, countertop and desk accessories like desktop organizers, photo mouse pads, photo mugs, photo coasters, personalized water bottles and more. Additionally, you could also create stunning wall accents like canvas prints, framed posters, mounted prints, photo calendars, tile murals and more that weave your favorite visuals into your walls in an elegant, fashionable manner.

Whether your taste in décor is traditional or modern, eclectic or Asian-inspired, you can easily use photo accents to incorporate your ideas into your space.

Photo Accents For Every Room

The beauty of personalization is that it blends with any décor and room. If you're looking to lend a classier feel to your living room, a wrapped canvas and mounted prints are perfect choices. A keepsake box would add a touch of personalization to your bedroom while providing handy storage for your earrings and other valuables on your dresser or night stand.

A growth chart wall cling is perfect for the family room or your child's bedroom – where you can actually watch your kids grow…personally! Frameless photo panels are also great addition to a child's room, as they are durable displays with no frame or glass. Photo calendars and photo magnets make your kitchen a little brighter, while helping you stay on track with the family's upcoming schedule. The fact that you can add your photos to all of these items is what truly differentiates your home décor from everyone else's.

Personalized home accents are easy to create online, affordable and give your existing digital photos a new purpose and platform. So, go ahead and create custom home decor with personalized photo accents.
----
Stephanie Jebard is the copyright owner of this article.

Stephanie Jebard is a home décor enthusiast and blogger who believes that the combination of inspiration and personalization leads to spectacular interiors. She recommends high quality personalized wall art such as photo canvas prints, framed posters, mounted prints and other custom home decor items from www.homedecorbyme.com.