Ceiling Lighting Fixtures
by HDME Staff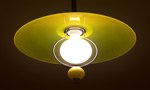 Whether you're completely redecorating your home or you're just looking to bring new light into a single room, ceiling lighting fixtures allow you to accomplish your goal at the flick of a switch. Though you may not spend a lot of time thinking about them, and you may not even look at them all that often, the sources of artificial light in your home can have quite an impact on the overall appearance of your room's decor.

When you choose the right ones, you will bring out the most in the rest of the decorating you have done, while adding the appropriate lighting for the space. This does mean, however, that you will need to do some browsing in order to ensure that you are making the right choice when you make your purchase.

Though there are many different kinds of ceiling lighting fixtures, the main ones are those that are recessed into the ceiling (such as pot lights), those that hang down from the ceiling (such as chandeliers or track lighting), those that hug to the ceiling (flush mount lighting), and those that serve other purposes as well (such as ceiling fans). Deciding which one is right for your space depends on a number of different factors.

For example, the height of the ceiling is critical to deciding on the proper ceiling lighting fixtures for a room. If you are looking for basement lighting and your ceiling is only seven feet high, that makes a chandelier quite impractical and a ceiling fan downright dangerous. There, pot lights or a flush mounted fixture might be better suited.

On the other hand, if you have an area that is open to a second story, a tiny recessed pot light or flush mount light would not only look silly but also would not be able to provide enough lighting to the area. It is in this type of space that the chandelier or ceiling fan could offer a more appealing result.

Of course, you also need to consider your own personal style. While some people may love simple globe lights hanging from ceiling fixtures in their kitchens, others would require something with a bit more flair or extravagance. When deciding on the right ceiling lighting fixtures for a room, have a good look at the overall style the room already has.

Don't forget to consider such elements as the types of metals already present in the room. For example, if you are looking for lights for your kitchen, and all of your kitchen hardware is brushed nickel, a similar looking metal finish might look very attractive within the space. Conversely, a striking bronze piece may look jarring or odd as it does not blend with the rest of the room's décor.

Have a look around at what is offered in several different lighting stores and home renovation stores and you'll start to discover what is available and what looks suit your room's ceiling and style; as well as your budget.

The Big Question for YOU!
What type and style of ceiling light fixtures are you seeking and why? And if you love your ceiling light fixtures, tell us about them.