Bay Window Treatments - A Few Thoughts
by HDME Staff
(South Florida)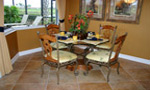 Looking for bay window treatments? Bay windows are undoubtedly a beautiful addition to any home. Unfortunately, having them in a home creates a complication in dealing with the space inside the bay and choosing the right window treatments. Here are a few thoughts on bay window treatments that may prove helpful.


---------------------------------------------------- ----------------------------------------------------
One of the most popular uses of the bay area inside the windows is the creation window seats. These areas can be used as storage for books or small knickknacks, a place for children to play, or even a place to sit and read with plenty of natural light. You can have cushions upholstered in a color that matches the drapes or trim around the windows.
There are several different options for bay window treatments available, if one prefers to use curtains or drapes to cover their bay windows. You could use a single drape or a pair of drapes that covers the bay completely, individual curtains or pairs of curtains on each window, sheers or heavy drapes, or a combination depending on one's mood, wooden shutters, and more options exist for one to choose from when considering treatments for their bay windows. Each has its own unique charms and contributes to the room in its own way.
Bay window treatments that involve sheer curtains allow more light to enter the windows while maintaining privacy. They can be paired
with a set of heavier drapes to block out the light when desired to make energy savings increase. Having individual curtains or drapes for each window helps to enlarge the room where the bay windows are located and include it in the bay area.
A single curtain that closes across the entire bay, or a pair of drapes that covers the bay can create a special stage effect, creating a unique place to display special items or a quiet corner separate from the rest of the room for reading.
You can also use pull down shades or blinds as bay window treatments, depending on the rest of the decor in the room. The truly important concept when choosing bay window treatments is to decide how the windows will fit with the rest of the room and to choose colors that match well whether covering each window individually or covering the entire group as a single unit.
Ideally, one should attempt to match the window dressings used in the rest of the room if there are more windows. The entire affair should complement the room's decor in a positive manner.
The Big Question for YOU!
What type and style of bay window treatments are you seeking and why? And if you've installed bay window treatments in your home, tell us about your solution and any lessons learned from buying or installing them.
---------------------------------------------------- ----------------------------------------------------