Antique Victorian Furniture
by HDME Staff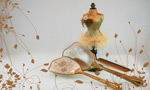 Antique Victorian furniture has reached a much different place in the market recently, which has collectors and investors scrambling to decide what to do. While many people have declared that this is the ideal time to buy, others say the exact opposite and would recommend avoiding such a purchase. The following are some of the perspectives from the experts regarding antique Victorian furniture and whether or not it is worthwhile to add it to your decor at the moment.

It is true that the prices of antique Victorian furniture are lower now than they have ever been. This is the reason that so many experts say that now is the best time to buy ? while the prices are low. They are predicting that within the next two to three years, there will be a sharp increase in the price of these same pieces, by about sixty percent. This means that you will not only have a lovely piece of antique Victorian furniture, but also an investment piece that you can choose to keep or resell.

This being said, other experts advise against buying antique Victorian furniture because they say that the current low prices of the pieces are only one more stage in an ever-downward slide. They believe that the pieces might have reached a point that they are permanently devalued as people?s tastes are changing, so buying antique Victorian furniture now will only mean purchasing pieces that will never be considered a good financial investment.

That being said, if you are simply looking for a nice piece of antique Victorian furniture that will suit the décor of one of your rooms, regardless of its investment value, then now remains a good time to buy because you can obtain what you want at the lowest price it has ever been, and enjoy the luxury and elegance of furniture that would have been significantly pricier only a few years ago. If the value of the style does happen to increase once more, that is simply a bonus.

This being said, there has been an upward turn in the purchasing of antique Victorian furniture. It is on the rise once more precisely because the prices have fallen so low and individuals who couldn?t afford it at one time, or who felt that it was too risky as an investment piece, now have enough money to take in a lovely piece or two.

With the prices so low, you could turn an entire room into an antique Victorian furniture themed space, which may increase in financial value, but will certainly uphold its style and panache in its own unique way. If this is the style you like, then take advantage of the fact that the real thing currently costs less than replicas. The style will be yours at no risk whatsoever.

The Big Question for YOU!
What Victorian furniture and furnishings have you purchased recently, and how reasonable were the prices? Share the details of how you found your treasure.