"Finally! Step-by-Step Decorating Guidebooks Show You Exactly -- With 1037 Color Photos and Illustrations -- How to Create Beautiful and Inspiring Rooms Faster and Easier Than Ever Before...100% Guaranteed!"
"Now, You Can Discover the Never-Before-Revealed Techniques and Proven

"Tools, Not Rules"

Strategies of a Home Decorating Expert, and Award-Winning Artist and Crafts Designer!"

"These books are wonderful! The spirit that infuses them is loving and joyful, and the tips they offer are concrete and easy to implement. Suggestions, skills, and systematic approaches combine to make a fun read and useful guidebooks. You can get moving toward the home of your dreams right now!"

- Robin Kreutzberg
Paradise Valley, AZ
---
Date:

From:

Michael J. Holland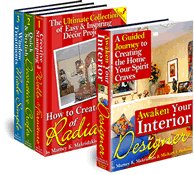 Dear Friend,

You are minutes away from being able to create the kind of rooms seen on TV decorating shows and in home magazines...even if you've never hung a pair of curtains before!

Decorating expert and award-winning artist, Marney Makridakis, and I have packed almost everything we know into The Awaken Your Interior Designer! Collection, including over 1000 photos and illustrations.

This is a New "First-of-its-Kind"Approach

Experience our unique all- in-one interactive approach the moment you download your copy of The Awaken Your Interior Designer! Collection.  These four unique electronic books (eBooks)  work in seamless harmony with each other to make you the decorating expert of your neighborhood.

Imagine how proud you'll be when people start asking YOU for decorating advice after touring your drop-dead gorgeous home.

Once we introduce you to our secret  "Tools, Not Rules" philosophy, you'll have everything you need to become the expert that you always wanted to be no matter what size home or budget you have.

Stop throwing your hands up in frustration.  Quit spending more than you need to on decorating.  Start inviting friends and family over to see your home instead of them watching those decorating people on TV.

We know that you're short on time.  That's why our collection is filled with so many useable ideas that you'll never have to look anywhere else. It truly is the only resource you'll ever need to create beautiful and inspiring rooms.

Want some specifics? Take a look at this...

Click here for a small sample of decorating questions you'll get answered.

Click here to see some before and after photos of projects that you can accomplish.

The Secret to Your Success...

The Awaken Your Interior Designer! Collection covers everything you need to know for confident and successful decorating.  Here's how it works...
Interactive learning surveys. They will help you identify your decorating preferences and personalize your journey through the e-guidebooks.
Unlock the creativity within you. The BEST tool for easily creating inspiring rooms can be found inside YOU. The AYID! Collection shows you how to use your inner guide to create your dream home…room by room…at your own pace.


Photographs of "regular" homes. If you lived in the perfect millionaire's mansion, then you probably wouldn't be visiting us today. That's why we include photos of  "real" homes, just like yours, in living color. You'll be shocked by the steady stream of ideas that you can use right away.


Time-saving tips and techniques. Enjoy the helpful sidebars that disclose tips, shortcuts, and secrets you never knew…and won't find anywhere else. Also, there are over 800 links to helpful online resources and to suppliers of many of the items shown in the photos.


Money-saving do-it-yourself projects. Create beautiful and stylish home décor items for a fraction of what it would cost you to buy them at regular retail prices. You'll get projects and ideas for enhancing just about any area of your home. These projects produce results that are so stunning, you may end up making and selling items.

No decorating or artistic experience required. All you need to bring is a desire to create a unique, comfortable home that reflects your family's lifestyle.
That's 6 outstanding reasons for letting us help you get started right now! Plus, of course, the 7th oustanding reason:

"The satisfaction of watching your friends and family drool all over themselves while they beg you to tell them how you did it!"

"I expected the books in this series to be nice but nothing special. I thought they were "just ebooks", so there would be no way that they could rival home decorating books that are published in print. Was I wrong! I have been pleasantly surprised by the amount of information presented in the books -- they really do cover absolutely everything you need to know to decorate with style and ease! What's more, they are pure joy to read, written in a fun and friendly style that can make anyone excited about decorating."

-Deborah Eger
Pleasantville, NY




The Awaken Your Interior Designer! Collection
comes to you complete!
There is nothing else to buy.

Here's what's included...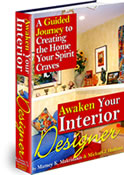 1) Awaken Your Interior Designer: A Guided Journey to Creating the Home Your Spirit Craves, by Marney K. Makridakis and Michael J. Holland

This 329 page volume walks you through every step of the decorating process in an orderly manner. It's packed with over 300 color photographs of REAL homes to fill you with inspiration and ideas.
(Click here to see this volume's Table of Contents.)

After working with this e-guidebook for only a very short time...
Your family will greet the day with crisper breath and lighter steps, energized by their new surroundings!
You'll FINALLY rediscover your life, bringing a calm inner peace to ALL of your activities…because you'll KNOW that your home is serving all of your emotional needs!
You'll have FUN! The information is presented in a casual, witty style that should keep you entertained and encouraged the whole way. After all, we're your biggest fans!
(Click here to see just a few of the helpful aids you'll find inside.)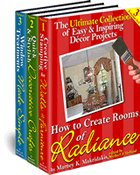 2) How to Create Rooms of Radiance: The Ultimate Collection of Easy & Inspiring Décor Projects (3 Volumes)

Inside, you'll get everything you need to complete quick and stylish décor projects for walls, furniture,windows, and accessories. You get clear step-by-step instructions, photos, and supply lists to ensure your complete satisfaction every time.

Just look at everything that's included:
Volume 1: Creative Stamping For Walls & Furniture
(Click here to see this volume's Table of Contents.)

Rubber Stamping is all the rage. You've probably seen colorful designs stamped on fabrics, cards, or small objects.

However, in this 129 page volume (225+ color photos), Marney takes stamping to a new level. You get 15 exciting projects that no one has ever seen except in this book. Discover how to enhance your home by giving it that "one-in-a-million" look with very little time and money.

As an added bonus, Marney has included 12 original stamping designs along with simple instructions to make your own stamps...even out of potatoes!

Volume 2: Quick & Stylish Decorative Crafts
(Click here to see this volume's Table of Contents.)

Want to dress up an old lamp? Or, make "no-sew" slipcovers?If you'd like to add style and flair to a room, but don't have the money to spend, this 118 page volume (275+ color photos) is for you.

It contains 20 step-by-step projects and over 300 ideas of different ways to use the techniques in your home. If you did each project ONLY ONCE, you could save over $6,200.

Volume 3: Window Treatments Made Simple
(Click here to see this volume's Table of Contents.)

Have a window treatment in mind, but don't know if it fits your decorating style, personality, or window type? Then these 117 pages of window treatment magic (150+ color photos) is just what you need.
Order now and start transforming your home to mirror your soul like you've always wanted it to be. Everything you've ever longed to know is waiting inside to help you create a truly dazzling space.

"These books blew me away and dramatically exceeded my expectations. It's unbelievable how much information is packed in Awaken Your Interior Designer -- so much that I doubt I'll ever need to buy another decorating book again, ever! The other books have totally original and unique projects with easy instructions and fabulous results, and I can't wait to try them all. Thank you for inspiring me to make my home beautiful and showing me how easy it can be."



- Deana David
Carmel, NY

All the national surveys report that people are spending more time in their homes than ever before. Home Improvement and Decorating TV shows, as well as the Do-It-Yourself Superstores, have never been more popular.

Everyone deserves a beautiful home. And I don't think it should cost an arm and a leg for you to create one. 

That's why now is the time to turn your home into the breathtaking, awe inspiring reflection of your soul that you've always dreamed it could be.  And you won't pay a penny more than $27 to do it!

And when you order right now, you'll also get five exclusive bonuses. Please note that if you decide to place your order later, I honestly can't guarantee that these bonuses will still be available. So, don't take a chance and miss out.

EXCLUSIVE BONUS #1

You get our eBooklet called Getting the Knack of Knick-Knacks: How to Effectively Arrange Your Mementos and Decorative Accents. Ever turn the pages of magazines or catalogs and wonder how they were able to perfectly group trinkets, vases, picture frames, etc., on side tables, coffee tables and display shelves?

Discover the simple techniques used by professional designers who get paid $100 per hour or more to provide this service! You'll be amazed as you transform your rooms in less than 10 minutes!

EXCLUSIVE BONUS #2

You get Home Is Where The Art Is: How to Select Artwork for Your Decorating Style. This eBooklet takes the guesswork out of selecting art. Learn the secrets to bringing your walls to life.

EXCLUSIVE BONUS #3

Our eBooklet, Light Up Your Style: How to Select Lighting Options that Match Your Decorating Style, will help you avoid the lighting mistakes that could cost you hundreds of dollars.

EXCLUSIVE BONUS #4

Our eBooklet, The Top 20 Ways to Add Personality to Your Bathrooms and Powder Rooms. When it comes to decorating, the bathroom is usually last on the list. Now, you have a resource that it filled with lots of easy ideas that you can implement right away.

EXCLUSIVE BONUS #5

An extra 5% discount off ALL products offered by DecorateToday.com, one of the Internet's premier online stores. Their prices for wallpaper, fabric, window treatments and more are already up to 85% below regular retail. Plus, they provide FREE shipping within the continental United States. Click here for complete details.

I'm so confident that you and your family will benefit from these eBooks that I'm extending a 100% Risk-Free guarantee...

Here's our FULL 60-Day Money-Back
Satisfaction Guarantee

It's simple -- If, within the next 60 days, you don't feel that these amazing books will provide you with endless inspiration and time- and money-saving ideas for years to come, I will give you 100% of your money back. Absolutely NO questions asked.

You have nothing to lose. And you have a re-energized, peaceful, joyous life to gain!

Are You Ready To Make
Your Decorating Dreams Come True?

The Awaken Your Interior Designer! Collection is available for instant download. You can start decorating right away.

For only  $27 you can be instantly on your way to being the talk of the town. Heck, you'll probably easily recoup this amount by taking advantage of just a few of the 500+ money-saving tips found inside.

From now on, every time you look around your new dream home, you'll know that it reflects your priorities in life and that it is giving your family the peace and comfort you know they deserve.

So what are you waiting for?

Let the journey begin.

(Note: These are high-quality ELECTRONIC books, not paper.)




Click Here Now To Order By Credit Card
Using Our SECURE Server




Wishing you all the best,

Michael J. Holland

P.S. Want more proof that The Awaken Your Interior Designer! Collection delivers in a big way? No Problem! We used the eBooks to answer actual decorating questions that were submitted by visitors to our web site. Click here and carefully read how the books put ideas into action!

P.P.S. The Awaken Your Interior Designer! Collection truly is the only resource on the market today that provides...ALL the tools, ALL in one place, ALL for one price, and ALL tied together into a straightforward, integrated, step-by-step process that really works.Get your copy today!

P.P.P.S. Please click here if you've decided not to order.