~~~~~~~~~~~~~~~~~~~~~~~~~~~~~~~~~~~~~~~~~~~~~~~~~~~~~~~~~~~
DecoDreams
Your Guide to Creating Beautiful Spaces, FAST!
-----------------
June 15, 2003
Issue #006
~~~~~~~~~~~~~~~~~~~~~~~~~~~~~~~~~~~~~~~~~~~~~~~~~~~~~~~~~~~
THE MISSION...DecoDreams is the home-decorating-made-
easy.com e-zine that delivers interior decorating tips,
ideas, and solutions to enhance all rooms of your home.
Staying on top of what's hot in decorating has never been
so easy or fun!
~~~~~~~~~~~~~~~~~~~~~~~~~~~~~~~~~~~~~~~~~~~~~~~~~~~~~~~~~~~
DON'T FORGET Your Friends!...If you like DecoDreams, please
do a friend and me a huge favor and "pass it along"...


...or ask them to subscribe by visiting
Home Decorating Made Easy.com ~~~~~~~~~~~~~~~~~~~~~~~~~~~~~~~~~~~~~~~~~~~~~~~~~~~~~~~~~~
***********************ACKNOWLEDGEMENT********************


Diversity of creative ideas has always been the
hallmark of home decorating. That's why I've asked
designer, artist, educator and writer, Marney
Makridakis, to share her own unique brand of
decorating advice in our "Ask the Decorator" column. I
think you'll enjoy her wit and original insights.


Submit your questions to Marney by clicking here. ~~~~~~~~~~~~~~~~~~~~~~~~~~~~~~~~~~~~~~~~~~~~~~~~~~~~~~~~~


> TABLE OF CONTENTS


o News


1) Updates to Web Site

2) DecoDreams Goes to Semi-monthly


o Featured Article


1) How to Bring the Outdoors In!


o Turning Ideas Into Action!


1) Ask the Decorator
- Marney Makridakis, The DecoDiva, Answers
Your Question About Wall Murals


o Today's Quote


~~~~~~~~~~~~~~~~~~~~~~~~~~~~~~~~~~~~~~~~~~~~~~~~~~~~~~~~~
~~~~~~~~~~~~~~~~~~~~~ NEWS ~~~~~~~~~~~~~~~~~~~~~~~~~~~~~~~


Happy Father's Day to one and all! Don't tell me that
you gave the customary necktie. Hmmmm, my guess is
that the readers of DecoDreams shared something filled
with a bit more warmth and creativity.
In any event, I hope you make or made today a special
one for your dad or husband.

-News--
---1---
-News--


Updates to Web Site



Next time you visit the Home Decorating Made Easy web
site, you'll notice a few changes. We've modified the
colors, reorganized the articles, and added an
affiliate program.
For those of you with a web site (or even those
thinking of starting a full time or part-time web
business), you'll want to check out how our affiliate
program could provide some s e r i o u s cash!
You can learn more by visiting:
Home Decorating Made Easy - Affiliate Progam

-News--
---2---
-News--

DecoDreams Goes to Semi-Monthly
If you've enjoyed reading the monthly issues of
DecoDreams, you're about to get your Christmas gift
early! That's because starting next month, DecoDreams
will be issued twice each month.
Now you'll get double the amount of helpful decorating
tips and ideas. Plus, more of your decorating
questions will be answered by the decorating diva
herself, Marney Makridakis.


~~~~~~~~~~~~~~~~~~~~~~~~~~~~~~~~~~~~~~~~~~~~~~~~~~~~~~~~~
~~~~~~~~~~~~~~~~~ FEATURED ARTICLE ~~~~~~~~~~~~~~~~~~~~~~~~~~~~


-------
---1---
-------


How to Bring the Outdoors In!



In today's busy world, we want our homes to be
relaxing, peaceful, restful, and balancing. We want
to have a place where we can escape from life's
tensions and just relax and be ourselves.
We want to create a space where our family members can
say, "Ah, it's GOOD to be home," and mean it.
While there are many ways to create a feeling of
delightful tranquility in your home, one of the
fastest shortcuts to a peaceful and harmonious
atmosphere is to bring elements of the outdoors into
your home's interior.
You've probably heard the phrase, "bring the outdoors
in" on home decorating shows and in magazines. The
results look great, of course, but perhaps you've
wondered how you can create a peaceful oasis, working
with your home's existing décor and a reasonable budget.
You can forget the idea that a home must have a Rustic
interior style in order to make decorative use of
elements in nature.
You can add special touches of nature to rooms
decorated in absolutely any decorating style! And
without breaking your budget!
You will be surprised at how some simple décor changes
and additions can lift your mood, instantly!
My top 5 favorite ways to "bring the outdoors in" are
listed below. Read through them and just imagine what
is possible in your home!
1. Use Wood
Wood brings an unmistakable earthiness to a room,
whether it is in the form of a mahogany console in a
Traditional-style living room or a pine table in a
casual kitchen.
Wood can come alive in your room in its flooring and
furniture, but also in moldings, built-in shelving,
light fixtures, picture frames, and decorative accents.

Here at Home-Decorating-Made-Easy.com, we receive many
questions about wood selection...
Individuals have written with questions about mixing
and matching different woods, or selecting which wood
will be most effective for their rooms.
We promote a "tools, not rules" approach...so you're
not going to hear any stuffy, hard-and-fast rules
about wood selection. But there are two very simple
tools to help you out.
First, keep in mind that woods that are light in color
(pine, birch, and light oak and redwood) will make a
room seem bigger and more expansive.
Dark woods (mahogany, cherry, dark oak) will make a
room seem smaller, warmer, and cozier.
When you remember this tool, you'll be able to select
wood that can actually make a difference in how your
room appears. In general, darker woods lend
themselves to a more formal atmosphere, while lighter
woods have an airy, casual feel.
Speaking of casual and formal environments, another
simple tool to remember is that furniture and
accessories in matching wood (e.g., a room furnished
primarily in oak) makes a room more formal than a room
that mixes and matches different woods.
Neither approach is right or wrong...it's all a matter
of style and personal preference.
2. Add Plants
Plants are a quick, inexpensive, and easy way to bring
the outdoors inside. Plants make a room feel cozy and
warm, and they also can add a splash of color to rooms
decorated in neutral color schemes.
If plant care isn't your thing, you can still get the
same effect with artificial plants. Artificial trees,
bushes, silk leaves, flowered garlands, and wreaths
all bring an earthy touch of greenery to a room.
You can even make your own ficus tree by following our
easy instructions at Home-Decorating-Made-Easy.com.
3. Use Nature-themed Artwork
The artwork you select for your room is instrumental
in setting the room's tone. Create the sense of an
oasis or retreat by selecting art that transports your
soul – a lush countryside landscape...a black and
white mountain range…a rose garden at sunset.
In addition to adding atmosphere, hanging framed
landscapes is a great trick for small spaces, as it
gives the impression of added windows and open space.
4. Decorate with Murals
While originally used as a form of communication and
prayer, the use of murals as a decorative device dates
back to the ancient Roman and Minoan frescos.
Today, trompe l'oeil (French for "trick of the eye")
murals, such as the one shown in this bathroom, are
very popular in homes of all styles, as they open a
room to the beautiful outdoors in a magical,
enchanting way.
If you're not an artist and don't want to hire a
professional painter, check out Marney's alternative
suggestions below, in the Ask the Decorator section.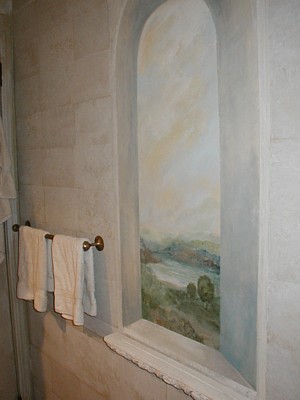 5. Look to the Elements
A foolproof way to bring the essence of the outdoors
into your home is to look to nature's elements: earth,
air, fire, water.
For earth, emphasize stone or brick work (such as that
on a fireplace) with lighting or furniture placement.
Use accessories decorated with gems or stones to
ground your décor. Add a simple stone mosaic to an
existing piece of furniture to give it an earthy appeal.
For air, promote a feeling of openness in your room by
using crisp, cooling colors, adding effective window
treatments to frame your windows, and use artwork that
depicts natural landscapes and open sky.
For fire, use lamps and other light fixtures to create
a warm, inviting mood. Specialty tinted light bulbs
are a wonderful way to cast a glow in any room, and
they are now quite affordable at local home
improvement stores.
And, of course, nothing can compare to the natural
spark that comes with a working fireplace.
For water, consider adding a fountain to your room.
You'd be surprised at how relaxing the musical sound
of falling water can be.
Tabletop fountains range from being small and subtle
to elaborate and dramatic. Many combine with light
fixtures to create an ambiance of pure bliss and
harmony.
-------Side Bar-------
If you like these ideas, you'll find lots more in our
unique new decorating ebooks called The Awaken Your
Interior Designer! Collection. Even better, you'll
learn, step-by-step, how to quickly pull your ideas
together and create beautiful and inspiring rooms
easier and faster than ever!
You'll also find out why Deana David of Carmel, New
York says, "…It's unbelievable how much information is
packed in Awaken Your Interior Designer – so much that
I doubt I'll ever need to buy another decorating book
again, ever!..."
For a full description, visit:
-------Side Bar -------

~~~~~~~~~~~~~~~~~~~~~~~~~~~~~~~~~~~~~~~~~~~~~~~~~~~~~~
~~~~~~~~~~~~~~TURNING IDEAS INTO ACTION!~~~~~~~~~~~~~~~~~~~~~~~


-------
---1---
-------


Ask the Decorator
DecoDiva, Marney Makridakis, Answers Your Question On
Wall Murals


Question: My husband and I honeymooned in Italy, and
I have dreamt of a mural of the Tuscan countryside in
our dining room.
The problem is that I have no artistic skill and doubt
I'd have the patience to take a course or read a
how-to book. Hiring a professional isn't in my budget.
A friend said that I could blow up my own photographs
from my honeymoon, but that seems unfeasible. Since I
can't have a mural in the room, can you suggest any
alternatives that might create a Tuscan look and feel?
Answer: Wait, not so fast! You can have a mural.
There are a few options that will work well with your
budget and lifestyle.
You can select a "ready to hang" mural from the
wallpaper department of your local home improvement
center. These products are pre-pasted to be hung like
wallpaper, but they look like hand painted murals.
There also are murals that are of photographic
quality, designed to create the look of a true-to-life
view or scene.
Skeptical? Take a look at www.custommurals.com for the
portfolio of both the photographic and hand painted
mural designs offered by Tara Graphics Custom Murals.
Their offerings are so diverse, you're bound to find
exactly what you're looking for to recreate that
honeymoon magic.
In fact, companies such as Tara Graphics often can
create a pre-pasted mural that is customized to
replicate a photograph that you provide.
This process usually costs $5-$6 a square foot. While
that's more expensive than a ready-made mural hanging,
it is considerably less expensive than hiring a
professional to paint your favorite honeymoon spot on
your wall.
If you think that creating a mural yourself might be
fun, but you're worried about the difficulty involved,
consider a stenciling project.
For example, Jan Dressler Stencils (www.dresslerstencils.com)
offers a large variety of mural-scale stenciling kits
that will make the experience easier than you could
imagine.
If you're very limited on time, this obviously isn't
the solution for you…although you'd be surprised at
how calming creating an artistic masterpiece can be
when you use stencils...all the hard work is done for
you!
Of course, you could create a gorgeous Italian
ambiance through selection of colors, fabrics,
furniture, and accents. But if your dream is to have
a mural in your room, there are options that make it
easy and affordable to go for it!
~~~~~~~~~~~~~~~~~~~~~~~~~~~~~~~~~~~~~~~~~~~~~~~~~~~~~~~~~~~ ***************** TODAY'S QUOTE ***************************
"Prosperity is a great teacher; adversity a greater."
-Horace
*********************************************************** ***********************************************************
Wishing you all the best,
Michael J. Holland - President
Home Decorating Made Easy
Copyright © 2003
P.S. Don't forget your fr*ee chapters of Awaken Your
Interior Designer. You'll get 72 pages, filled with
lots of ideas and photos to put you on the right
decorating path.Click here to download your copy right away
P.P.S. If you're thinking of starting a part-time or
full-time business for crafts or home decorating, be
sure to download our complimentary ebook called From Passion to Cash: How to Make Money With Your Passion of Crafts and Decorating. You'll find lots
of helpful ideas to get you going in the right
direction. ~~~~~~~~~~~~~~~~~~~~~~~~~~~~~~~~~~~~~~~~~~~~~~~~~~~~~~~~~~~