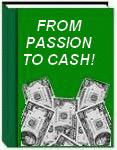 FREE eBook
How To Turn Your Love
Of Decorating Or Crafts
Into Cash!

Do you have a passion for decorating or crafts and would like to earn a part-time or full-time income?
If so, our FREE eBook, From Passion to Cash: How to Make Money With Your Love of Decorating and Crafts, will answer your most burning questions.
I doubt if you've thought of all the wonderful options presented in this revealing eBook.
To get your copy, all you need to do is subscribe below to our FREE e-zine, DecoDreams. DecoDreams delivers useable home decorating tips and ideas directly to your e-mail box each month.
Once you confirm your FREE subscription, you get full access to all back issues. Just select the most recent issue and at the bottom of it you'll find a link to the "From Passion to Cash" eBook download page. That's it!
You'll be in business in less than 5 minutes...
Click here for more great ideas to help you with your