The Home of Your Dreams Will Finally Be Yours!
The Awaken Your Interior Designer! Collection (AYID! Collection) gives you everything you need to immediately have a greater sense of peace and joy in your home.
This set of 4 eBooks guides you down a spirited decorating journey that will change your life in truly amazing ways. Marney Makridakis and I teach you exactly how to create beautiful and inspiring rooms in the order you need to know each decorating step.
Never again will you feel exhausted or frustrated because a decorating book didn't have the information you needed.
We reveal all the little secrets that make the difference in the look and feel of a room. The confidence you gain will, from now on, allow you to spend less time decorating and more time living!
We just wish we could see your face as you magically transform your home according to your own shining personality and vision.
"I expected the books in this series to be nice but nothing special. I thought they were "just ebooks", so there would be no way that they could rival home decorating books that are published in print. Was I wrong! I have been pleasantly surprised by the amount of information presented in the books -- they really do cover absolutely everything you need to know to decorate with style and ease! What's more, they are pure joy to read, written in a fun and friendly style that can make anyone excited about decorating."

-Deborah Eger
Pleasantville, NY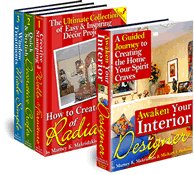 The Awaken Your Interior Designer! Collection is the Complete Package
These interactive eBooks, which contain over 1000 images and 700 pages, are the first of their kind. They are fully tailored to meet the personal needs of you and your family. Through the interactive decorating process, you'll find the information you need quickly and easily. Decorating will be a joy, not a chore.
Here's what's included:
1) Awaken Your Interior Designer: A Guided Journey to Creating the Home Your Spirit Craves
(329 pages - Click here to see the Table of Contents)
This volume contains over 300 color photographs of REAL homes to fill you with inspiration and ideas. What's more, most of the photographs offer links to Web sources where you can buy items shown in the photographs.
This saves you time and money. So, before you know it, you and your family will be living in the home you've always wanted.
2) How to Create Rooms of Radiance: The Ultimate Collection of Easy & Inspiring Décor Projects
This three volume set gives you everything you need to complete quick and stylish décor projects for walls, furniture, windows, and accessories. Included in the set are:
Clear step-by-step instructions, along with photos and resource lists, ensure you that you'll get these easy techniques right, every time.
You'll be pleasantly surprised and excited about the decorating skills and talents that you never knew you had. Finally, decorating one room or your entire home will be easier than you ever imagined!
Order today and you'll also receive the following four bonus eBooklets and an exclusive shopping discount:
Getting the Knack of Knick Knacks: How to Effectively Arrange Your Mementos and Decorative Accents

Home Is Where the Art Is: How to Select Artwork for Your Decorating Style

Light Up Your Style: How to Select Lighting Options that Match Your Decorating Style

The Top 20 Ways to Add Personality to Your Bathrooms and Powder Rooms.

An extra 5% Discount off all DecorateToday.com Products. Click here for complete details.
You have to admit that this package is a treasure trove that really can enrich your life! Just reach in and the right decorating gem is there, waiting to help you create truly dazzling spaces.
So, Let the Journey Begin...
The Awaken Your Interior Designer! Collection is available for instant download. You can start decorating right away.
The price for this entire set is only $35.97.
UPDATE: You've arrived at this page just in time to take advantage of a special marketing test: through midnight on , I've dropped the price to just $27 (for a limited time only). I'm doing this to see if the increase in sales outweighs my lower profit margin. If it doesn't, and you buy the collection after this date, expect to pay the normal price of $35.97.
When you consider the lifetime of self-confidence, pride, and inspiration that you'll gain, this is a small investment for such an invaluable resource. In addition, you should easily recoup this amount by taking advantage of just a few of the 500+ money-saving tips found inside.
From now on, every time you look around your new dream home, you'll know that it reflects your priorities in life and that it is giving your family the peace and comfort you know they deserve.
Our 90-Day Money-Back Satisfaction Guarantee
Our guarantee is simple. If, within the next 90 days, you don't feel that these amazing books will provide you with endless inspiration and time- and money-saving ideas for years to come, I will give you 100% of your money back.
Absolutely NO questions asked.
You have nothing to lose. And you have a re-energized, peaceful, joyous life to gain!
So what are you waiting for?
Let the journey begin.

Click Here Now To Order By Credit Card
Using Our SECURE Server

(Note: These are high-quality ELECTRONIC books, not paper.)
Wishing you all the best,
Michael J. Holland

P.S.Click here if you've decided not to order.
P.P.S. The Awaken Your Interior Designer! Collection truly is the only resource on the market today that provides...ALL the tools, ALL in one place, ALL for one price, and ALL tied together into a straightforward, integrated, step-by-step process that really works.Get your copy today!
P.P.P.S. If you'd like a few more specifics about The AYID! Collection, try these links:
A Sample of Decorating Questions You'll Get Answered.
"Awaken" Before & After Photos
"These books blew me away and dramatically exceeded my expectations. It's unbelievable how much information is packed in Awaken Your Interior Designer -- so much that I doubt I'll ever need to buy another decorating book again, ever! The other books have totally original and unique projects with easy instructions and fabulous results, and I can't wait to try them all. Thank you for inspiring me to make my home beautiful and showing me how easy it can be."


- Deana David
Carmel, NY