~~~~~~~~~~~~~~~~~~~~~~~~~~~~~~~~~~~~~~~~~~~~~~~~~~~~~~~~~~~
DecoDreams
Your Guide to Creating Beautiful Spaces, FAST!
-----------------
May 04, 2004
Issue #019
~~~~~~~~~~~~~~~~~~~~~~~~~~~~~~~~~~~~~~~~~~~~~~~~~~~~~~~~~~~
THE MISSION...DecoDreams is the home-decorating-made-
easy.com e-zine that delivers interior decorating tips,
ideas, and solutions to enhance all rooms of your home.
Staying on top of what's hot in decorating has never been
so easy or fun!
~~~~~~~~~~~~~~~~~~~~~~~~~~~~~~~~~~~~~~~~~~~~~~~~~~~~~~~~~~~
DON'T FORGET Your Friends!...If you like DecoDreams, please
do a friend and me a huge favor and "pass it along"...


...or ask them to subscribe by visiting
Home Decorating Made Easy.com ~~~~~~~~~~~~~~~~~~~~~~~~~~~~~~~~~~~~~~~~~~~~~~~~~~~~~~~~~~
***********************ACKNOWLEDGEMENT********************


Diversity of creative ideas has always been the
hallmark of home decorating. That's why I've asked
designer, artist, educator and writer, Marney
Makridakis, to share her own unique brand of
decorating advice in our "Ask the Decorator" column. I
think you'll enjoy her wit and original insights.


Submit your questions to Marney by clicking here. ~~~~~~~~~~~~~~~~~~~~~~~~~~~~~~~~~~~~~~~~~~~~~~~~~~~~~~~~~


> TABLE OF CONTENTS


o News


1) Kid Rooms and Crafts Is Steadily Growing
2) New eBook for Sew-ers
o Featured Article


1) Decorating In Bold Colors
o Today's Quote


~~~~~~~~~~~~~~~~~~~~~~~~~~~~~~~~~~~~~~~~~~~~~~~~~~~~~~~~~
~~~~~~~~NEWS ~~~~~~~~~

-------
---1---
-------


Kids Rooms and Crafts Is Steadily Growing
If you have kids and have never visited our newest Web
site or if it's been a while, you're in for a real treat.
Kids Rooms and Crafts.com is the little sister decorating
site to Home Decorating Made Easy. It's dedicated to
offering lots of fresh ideas for decorating children's
rooms.
But it also has an extra twist. You see, we've added a
large section of decorative craft projects that you
can complete with your child and save money doing it!
There's simply no other Web site on the Internet like
Kids Rooms and Crafts.com. And now, our little sister site
has grown to include well over 70 pages of helpful
tips and ideas! WOW!
So check it out if you need ideas for decorating your
child's room. And if you don't have kids, but know
someone who does, feel free to forward this issue of
DecoDreams to them.
~~~~~~~~NEWS ~~~~~~~~

-------
---2---
-------


2) New eBook for Sew-ers
If you're handy with a sewing machine and needle, my
good friend Jennifer Thoden recently released a new
ebook called "How to Make Window Valances".
It's an absolutely wonderful follow-up to her first
popular book called "How to Make Roman Shades".
Jennifer has a knack for making it a snap to sew your
own window valances. Step-by-step instructions and
simple diagrams help to guide you to sewing success.
I recommend both books if you simply enjoy sewing as a
hobby or if you're looking to save money.



~~~~~~~~~~~~~~~~~~~~~~~~~~~~~~~~~~~~~~~~~~~~~~~~~~~~~~~~~
~~~~~~~~~~~~~~~~~ FEATURED ARTICLE ~~~~~~~~~~~~~~~~~~~~~~~~~~~~


-------
---1---
-------


Decorating In Bold Colors



Recently, a lot of questions have been submitted to
home-decorating-made-easy.com that concern tricks and
tips for making bold color choices. Since getting
past "color fear" is one of the biggest challenges for
new home decorators, I'm happy to be getting these
questions about vibrant, unique color schemes.
So congratulate yourself for moving beyond those white
walls!
To answer many of these questions, I thought I'd offer
a few tips for working with bold, bright, or unusual
color schemes in your home:
1. Use black with conscious care
Black is a dramatic color that can be used very
effectively in many situations. With primary colors,
it can be wonderfully crisp and contemporary.
With deep, intense colors such as burgundy, forest
green, and navy blue, it can be rich and dramatic. But
there are a few colors that do not mix well with
black, and it's a good idea to know them, right off
the bat.
First of all, it's virtually impossible to make orange
and black look like anything but Halloween, so unless
you are decorating a teenagers' room, it's best to
avoid this pairing. The same goes for variations of
orange, such as rust or pale peach.
The other colors to avoid pairing with black are pale
pastels, such as pale blue and pale green. Even if
used in small doses, black will overpower these colors
completely and you'll be left with a room that feels
empty of any color scheme, altogether! Pale pink,
however, can work with black for a fun, vintage,
art-deco look.
Finally, since it is hard to avoid a "honey bee"
association when you pair yellow and black, the only
way those two colors tend to work well is if they are
used to create a cozy, country, cottage-like
environment. This combination is very hard to pull
off in formal or romantic rooms.
2. Use a tried-and-true formula for mixing brights and
pastels
If you want to combine bright primary colors with pale
pastels, your best bet will be to select pastel
versions of secondary colors, rather than other
primary colors. Don't worry, I'll break this down to
make it easier:
Red, blue, and yellow are primary colors. When mixed
together, those colors make the secondary colors:
orange, green, and violet.
Bright red looks much more harmonious with pale
orange, green or violet, rather than with pale blue or
pale yellow.
The pale secondary colors are a better balance for the
intensity of the primary color.
Take a walk through a fabric store, or look at a
clothing catalog, to see color schemes in action.
You'll notice that combinations of a bright primary
color with a pale secondary color are very common.
It's a "formula" that works consistently. While this
is not a "hard and fast" rule, it is something to keep
in mind if you're nervous about working with new colors.
3. Keep accessories to a minimum
If you want to express yourself with a bold and bright
color scheme, it's best to choose your accessories
wisely so that the room is not too overpowering for
its visitors. Even with very bright colors, like
those shown in this casual living room, the eye needs
a place to rest.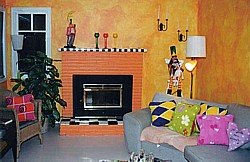 In this example, a variety of bright colors are used
as accents, but they are placed strategically in small
groupings, such as the pile of funky pillows on the
sofa, and the trio of colored goblets on the mantel.
Other accents, such as floor lamps and wall sconces,
are neutral in color.
Remember, too much color in too many places can weigh
down a room. The choices explained here allow this
room to maintain its light, fun mood.
4. Remember your focal point
This photo also is a good example of the importance of
having a clear focal point in a room with a bold color
scheme. Here, the vivid walls set the stage for the
dramatic focal point of the whimsically bright fireplace.
Upon entering the room, there is no question that the
eye will go to the fireplace, first.
When visitors enter a brightly-colored room, they
should be impressed by the impact of the color scheme,
not overwhelmed by it. Clarifying a color scheme
ensures that their vision will be directed when they
enter the room.
Whether conscious or not, they will most likely take
in the fireplace, and then scanning the rest of the
room to enjoy its energetic vitality.
5. Distribute "weight" among colors
This tip holds true with any color scheme, but it is
especially important when using vivid colors. Let's
say that your color scheme consists of a vibrant
eggplant purple, a deep scarlet red, and kiwi green.
If you used all three of these highly-saturated colors
in equal amounts, the scheme could come across as
overwhelming or shocking. So just make a few choices
to ensure that the colors are distributed in a way
that promotes balance.
One color should be used the most heavily in the
room - this is called your focal color. You can think of
this one color as the pulse of the room. It is the
visual pull that brings us into a room and helps our
eyes move around it freely.
Let's say that in our example, the eggplant is the
focal color. We use it for our walls color and as the
main color in the patterned fabric in the upholstery
and window treatments.
Once the focal color is determined, it is easy to add
the rest of the colors in your scheme to the mix.
Select different "weights" for the other colors,
making some colors more prominent, and others used
sparingly in small amounts.
Our eggplant-colored room could have a scarlet red
chair, and scarlet could also be included in the
patterned fabric used for the window treatments, and
in a throw blanket that is placed on the eggplant sofa.

Finally, we add the kiwi into the picture in small
amounts, as an accent color. Perhaps we add a kiwi
throw pillow, some kiwi-colored curtain tiebacks, and
a lampshade with kiwi beads and fringe. The result is
a dynamic room that sings of vivid colors, while
remaining balanced and comfortable.
~~~~~~~~~~~~~~~~~~~~~~~~~~~~~~~~~~~~~~~~~~~~~~~~~~~~~~
~~~~~~~~~~~~~~TURNING IDEAS INTO ACTION!~~~~~~~~~~~~~~~~~~~~~~~


-------
---1---
-------


ASK THE DECORATOR
DecoDiva, Marney Makridakis, Answers Your Question
About Faux Finishes


QUESTION: I'm interested in creating a leather-like
finish on my wall, but I've read the instructions for
various products and it seems apparent that this is a
two person job (and I'm the only who will be doing
it.) Is there a maroon faux finish that one person
can do that might look like the leather look I'm
going for?
ANSWER: There are lots of faux finishes that a single
person can do, but it would be tricky to get the
leather look that you are going for without a second
person to help out with the extra glazing and layering
steps required for that particular looks. There's an
alternative, though, and it might surprise you...you
can use your computer to create a "faux" faux finish. :-)
If you're computer savvy, you can use your favorite
image software to create the look you're going for,
and then print it out on a high-quality photo quality
paper with a matte finish.
Then use decoupage medium (such as Mod Podge or Royal
Coat) to apply the papers to your wall. No painting
is necessary!
If you're intrigued by the technique but a little
nervous about how successful you might be, try Favour
Media's new product, the Just Faux Fun kit (available
at home improvement stores), to guide you through the
process. The kit includes a CD-ROM with over 100
printable finish designs that you can print from your
home computer, and alter as you like.
The kit also includes all the necessary supplies and
instructions for applying the printouts to your walls
and other surfaces effectively, so that no seams or
ridges show, and it looks like you painted it yourself.



----------Recommended Resource----------
Get Organized Now!
Before you begin any decorating project,
do yourself a HUGE favor and get clutter
under control. Doing this alone will make
a room appear larger, and you'll feel more
relaxed. The crown jewel is that you'll get
more time back into your day. Click here to
learn more...
http://www.homedecoratingmadeeasy.com/get_org_now.html
------Recommended Resource------
"How to Make Roman Shades"
I reviewed this ebook recently and it's
the best you'll find on how to
easily create roman shades on
your own. Step-by-step diagrams
and easy, yet detailed, instructions
will have you making beautiful roman
shades in no time at all. Even sewing
beginners will find the process easy
to follow. Just think of the money
you'll save!
http://www.homedecoratingmadeeasy.com/sew_roman_shades.html
~~~~~~~~~~~~~~~~~~~~~~~~~~~~~~~~~~~~~~~~~~~~~~~~~~~~~~~~~~~ ***************** TODAY'S QUOTE ***************************
"When one door of happiness closes, another opens;
but often we look so long at the closed door that we
do not see the one which has opened for us.
- Hellen Keller
*********************************************************** ***********************************************************
Wishing you all the best,
Michael J. Holland - President
Home Decorating Made Easy
Copyright © 2004
P.S. Don't forget your fr*ee chapters of Awaken Your
Interior Designer. You'll get 72 pages, filled with
lots of ideas and photos to put you on the right
decorating path.Click here to download your copy right away
P.P.S. If you're thinking of starting a part-time or
full-time business for crafts or home decorating, be
sure to download our complimentary ebook called From Passion to Cash: How to Make Money With Your Passion of Crafts and Decorating. You'll find lots
of helpful ideas to get you going in the right
direction. ~~~~~~~~~~~~~~~~~~~~~~~~~~~~~~~~~~~~~~~~~~~~~~~~~~~~~~~~~~~