~~~~~~~~~~~~~~~~~~~~~~~~~~~~~~~~~~~~~~~~~~~~~~~~~~~~~~~~~~~
DecoDreams
Your Guide to Creating Beautiful Spaces, FAST!
-----------------
April 06, 2004
Issue #018
~~~~~~~~~~~~~~~~~~~~~~~~~~~~~~~~~~~~~~~~~~~~~~~~~~~~~~~~~~~
THE MISSION...DecoDreams is the home-decorating-made-
easy.com e-zine that delivers interior decorating tips,
ideas, and solutions to enhance all rooms of your home.
Staying on top of what's hot in decorating has never been
so easy or fun!
~~~~~~~~~~~~~~~~~~~~~~~~~~~~~~~~~~~~~~~~~~~~~~~~~~~~~~~~~~~
DON'T FORGET Your Friends!...If you like DecoDreams, please
do a friend and me a huge favor and "pass it along"...


...or ask them to subscribe by visiting
Home Decorating Made Easy.com ~~~~~~~~~~~~~~~~~~~~~~~~~~~~~~~~~~~~~~~~~~~~~~~~~~~~~~~~~~
***********************ACKNOWLEDGEMENT********************


Diversity of creative ideas has always been the
hallmark of home decorating. That's why I've asked
designer, artist, educator and writer, Marney
Makridakis, to share her own unique brand of
decorating advice in our "Ask the Decorator" column. I
think you'll enjoy her wit and original insights.


Submit your questions to Marney by clicking here. ~~~~~~~~~~~~~~~~~~~~~~~~~~~~~~~~~~~~~~~~~~~~~~~~~~~~~~~~~


> TABLE OF CONTENTS


o News


1) Time to "Spring" In Action!
o Featured Article


1) Tricks to Dress Up Hallways, Stairways, and
Corridors


o Today's Quote


~~~~~~~~~~~~~~~~~~~~~~~~~~~~~~~~~~~~~~~~~~~~~~~~~~~~~~~~~
NEWS ~~~~~~~~~~~~~~~~~~~~~~~~~~~~~~~

-------
---1---
-------


Time to "Spring" Into Action!
Now that old man winter is making his exit, it's time
for you to "Spring" into action.
Spring marks the time for renewal and regeneration.
For this to happen in your home, you must first
clear out the clutter and discard old clothing,
furniture, papers, etc., that have served their
purpose.
You'll be amazed at how this will help to clear your
mind and make your home feel more spacious and
re-energized.
If you need a system to help keep clutter under
control and turn your home into a smooth running
machine, just check out the Get Organized tool in
the Recommended Resources section near the end of this
issue.
In the meantime, enjoy our feature article and have a
wonderful day! :-)



~~~~~~~~~~~~~~~~~~~~~~~~~~~~~~~~~~~~~~~~~~~~~~~~~~~~~~~~~
~~~~~~~~~~~~~~~~~ FEATURED ARTICLE ~~~~~~~~~~~~~~~~~~~~~~~~~~~~


-------
---1---
-------


Tricks to Dress Up Hallways, Stairways, and Corridors



Hallways, passageways, corridors, and stairways can be
decorating nightmares if you don't have a few tricks
up your sleeve. Well it's time to come out of the
dark, so to speak! Here are a few easy-to-implement
tools and tips that are sure to help you manage
decorating the hallways in your home - whatever their
size or shape:
If your hallway is very dark and narrow...
Paint the walls with warm colors such as
pumpkin orange, rustic rust, burnt red, or sunny
apricot. In addition to providing warmth, these vivid
colors also add drama to small corridors.

Add "artificial windows" by hanging mirrors or
large paintings and photographs along the walls. For
a special project, you can make a "window" of your
own! Just mount a mirror into a discarded window
pane, add curtains, and hang it on the wall.

If you select a light color for the walls,
choose a semi-gloss finish to allow for maximum light
reflection, which will expand the space.

Make the hallway feel warmer and more inviting
by adding small touches, such as a bench or
comfortable chair, or placing a vase of flowers on a
small table.
If the ceiling is very low (below 9') and the hallway
feels confining...
Paint the ceiling two shades lighter than the
walls to give the feeling of expansiveness.

To further lengthen the perception of the
walls, you can continue the wall color all the way
over the top and bottom moldings.

If wallpaper is more your style, choose a
pattern with bold vertical stripes in dark colors, as
this lengthens the walls (you also can paint stripes
or vertical designs on the wall for the same
effect).
If the ceiling is higher than 9 ft. and makes the
hallway seem too lofty...
Paint the ceiling one shade darker than the
walls. This will allow the light to reflect evenly
throughout the room, which will make it seem more
cohesive.

Install a picture rail one-third of the way
down from the ceiling. This will draw the eye to the
lower part of the room, and it also provides an
interesting space to display knick-knacks. You also
can paint a wide horizontal band in a contrasting
color, starting one-third of the way down, to create a
similar effect.
If the hallway is very wide (too big to be a hallway,
but too small to be a room)...
A large hallway is most effective when it is
treated as a "transitional room". Brainstorm with
your family to see if the large hallway can serve any
specific function. Is there something that would make
it feel and act more as a room, in and of itself?
Would it help to have a reading chair, a desk, or a
play area? See if there is a purpose that this space
can fulfill that you hadn't even thought of, yet.

Go the extra mile and install attractive
overhead lighting. An attractive light fixture will
elevate a large hallway to its proper place of being
a "transitional room".

Make the hallway as cozy as possible by
adding "living room" elements to it such as lamps,
tables, and even chairs or sofas. Narrow loveseats or
chaises (such as the pair shown in this photo) are
perfect furniture choices for "filling up" a large
hallway and making it feel stylish and inviting.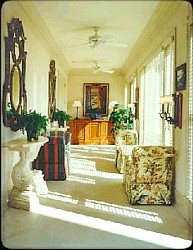 If the hallway has a lot design flaws (cracks, small
holes, uneven trims) which seem to be all the more
obvious because the space is so small...
Select paint in an unshiny (matte) finish to
camouflage design flaws, or apply a dry-brush faux
finish to hide the imperfections.

Hang plenty of artwork to hide wall flaws
completely and detract from other imperfections in the
hallway. Hang same-sized framed pieces symmetrically,
in a "gallery" style, to increase the perceived length
of the hallway, and hang smaller groups of varied
pieces to make the hallway seem cozier.
If the hallway gets a lot of use and you're concerned
about the durability of your décor choices...
If you paint the walls, just be sure to
protect the finish with a coat of clear polyurethane
varnish to protect it.

The best carpet to use in high-traffic areas
is highly twisted pile or dense loop pile.
If your hallway seems boring and without
personality...
Install interesting or elaborate moldings
where the wall and ceiling meet, or create a chair
rail.

Add some natural elements to the space, such
as hanging plants (real or artificial), candles, or a
working tabletop fountain.

Paint a mural on the wall to create an
environment of your choosing! The sky is the limit...
the Tuscan countryside, the Grand Canyon, an
English garden, or outer space!

Create a collage on your walls using
interesting papers and decoupage medium, such as
ModPodge or Royal Coat. Some ideas to try: sheet
music, record covers, old photographs, recipes,
postcards, seed packets, love letters, handmade
papers. Make color copies of your original items to
be sure you have enough papers to cover your space,
and that you won't ruin anything of value.

Go three-dimensional and hang an interesting
collection on the walls. The antique tools hung on
the hallway wall shown here are a great source of
interest for all who pass through.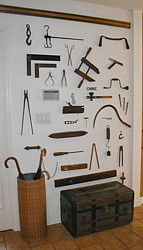 ~~~~~~~~~~~~~~~~~~~~~~~~~~~~~~~~~~~~~~~~~~~~~~~~~~~~~~
~~~~~~~~~~~~~~TURNING IDEAS INTO ACTION!~~~~~~~~~~~~~~~~~~~~~~~


-------
---1---
-------


ASK THE DECORATOR
DecoDiva, Marney Makridakis, Answers Your Question
About Decorating Under Stairways


QUESTION: I'm having trouble deciding what to put
under the stairs leading to the 2nd floor from the
formal living room. The formal living room has cream
walls and is done in tan and gold upholstery with
cream and sand accents. The formal living room is
also open to the formal dining space which repeats the
gold and cream color scheme. All furniture in the two
rooms is dark teak, so I've decided to do the banister
and rails of the stairs in dark teak too.

But what do I put UNDER the stairs? Statues and more
furniture are not an option, since we have enough of
them already. I need something simple yet
sophisticated enough to fit in with the rest of the
room. Can you help me?

ANSWER: Your home sounds beautiful! My solution is
to place a ficus tree or other large standing plant
under the stairs. It will be subtle enough to blend
in with the rest of the formal living room, but also
hold its own to fill the space. If you don't want a
real tree (for example, if it will cause problems with
pets), you can make your own artificial silk ficus
tree by following Michael's easy instructions at
http://www.home-decorating-made-easy.com/kitchen-
decorating.html.
His instructions are for a 9-ft. tree, but you can
adjust the size as needed to fit under you stairway.
Whether real or artificial, you can add to the tree's
sophistication by planting the tree in a planter or
large vase that matches the décor in the living room.


----------Recommended Resource----------
Get Organized Now!
Before you begin any decorating project,
do yourself a HUGE favor and get clutter
under control. Doing this alone will make
a room appear larger, and you'll feel more
relaxed. The crown jewel is that you'll get
more time back into your day. Click here to
learn more...
http://www.homedecoratingmadeeasy.com/get_org_now.html
------Recommended Resource------
"How to Make Roman Shades"
I reviewed this ebook recently and it's
the best you'll find on how to
easily create roman shades on
your own. Step-by-step diagrams
and easy, yet detailed, instructions
will have you making beautiful roman
shades in no time at all. Even sewing
beginners will find the process easy
to follow. Just think of the money
you'll save!
http://www.homedecoratingmadeeasy.com/sew_roman_shades.html
------Recommended Resource------
"Artella Words and Art"
DecoDiva, Marney Makridakis, has a wonderful new Web
site and she is holding a Spring Wings Special with
big savings on magazines, e-courses, and handmade gift
item. Check it out for information and products to
improve your home and your life. Be sure to click on
the big sunflower icon for Artella's current specials.
http://www.artellawordsandart.com
~~~~~~~~~~~~~~~~~~~~~~~~~~~~~~~~~~~~~~~~~~~~~~~~~~~~~~~~~~~ ***************** TODAY'S QUOTE ***************************
"The secret of health for both mind and body is not
to mourn for the past, worry about the future, or
anticipate troubles, but to live in the present moment
wisely and earnestly."
- Buddha
*********************************************************** ***********************************************************
Wishing you all the best,
Michael J. Holland - President
Home Decorating Made Easy
Copyright © 2004
P.S. Don't forget your fr*ee chapters of Awaken Your
Interior Designer. You'll get 72 pages, filled with
lots of ideas and photos to put you on the right
decorating path.Click here to download your copy right away
P.P.S. If you're thinking of starting a part-time or
full-time business for crafts or home decorating, be
sure to download our complimentary ebook called From Passion to Cash: How to Make Money With Your Passion of Crafts and Decorating. You'll find lots
of helpful ideas to get you going in the right
direction. ~~~~~~~~~~~~~~~~~~~~~~~~~~~~~~~~~~~~~~~~~~~~~~~~~~~~~~~~~~~