~~~~~~~~~~~~~~~~~~~~~~~~~~~~~~~~~~~~~~~~~~~~~~~~~~~~~~~~~~~
DecoDreams
Your Guide to Creating Beautiful Spaces, FAST!
-----------------
November 03, 2003
Issue #013
~~~~~~~~~~~~~~~~~~~~~~~~~~~~~~~~~~~~~~~~~~~~~~~~~~~~~~~~~~~
THE MISSION...DecoDreams is the home-decorating-made-
easy.com e-zine that delivers interior decorating tips,
ideas, and solutions to enhance all rooms of your home.
Staying on top of what's hot in decorating has never been
so easy or fun!
~~~~~~~~~~~~~~~~~~~~~~~~~~~~~~~~~~~~~~~~~~~~~~~~~~~~~~~~~~~
DON'T FORGET Your Friends!...If you like DecoDreams, please
do a friend and me a huge favor and "pass it along"...


...or ask them to subscribe by visiting
Home Decorating Made Easy.com ~~~~~~~~~~~~~~~~~~~~~~~~~~~~~~~~~~~~~~~~~~~~~~~~~~~~~~~~~~
***********************ACKNOWLEDGEMENT********************


Diversity of creative ideas has always been the
hallmark of home decorating. That's why I've asked
designer, artist, educator and writer, Marney
Makridakis, to share her own unique brand of
decorating advice in our "Ask the Decorator" column. I
think you'll enjoy her wit and original insights.


Submit your questions to Marney by clicking here. ~~~~~~~~~~~~~~~~~~~~~~~~~~~~~~~~~~~~~~~~~~~~~~~~~~~~~~~~~


> TABLE OF CONTENTS


o News


1) A Quick Update...
o Featured Article


1) Window Treatment Magic!


o Turning Ideas Into Action!


1) Ask the Decorator
- Marney Makridakis, The DecoDiva, Answers
Your Questions About Window Treatments


o Today's Quote


~~~~~~~~~~~~~~~~~~~~~~~~~~~~~~~~~~~~~~~~~~~~~~~~~~~~~~~~~
NEWS ~~~~~~~~~~~~~~~~~~~~~~~~~~~~~~~

-------
---1---
-------


A Quick Update...
Can you believe it's Fall already? Time sure flies
when you're having fun.
Anyway, before I let you get to the feature article, I
wanted to fill you in on a new Web site that's coming
soon.
Yep, we've started pulling together lots of great
articles for a site dedicated solely to decorating
children's rooms.
Who knows, this could be the start of something
bigger. Maybe a site dedicated to just decorating
bedrooms, kitchens, or...well, the sky's the limit!
But for now, we'll just focus on one project at a time.
The plan is to launch the new Web site later this
month. So keep your eyes on future issues of
DecoDreams for the official announcement.
That's all for now. I hope you enjoy this issue's
feature article.


~~~~~~~~~~~~~~~~~~~~~~~~~~~~~~~~~~~~~~~~~~~~~~~~~~~~~~~~~
~~~~~~~~~~~~~~~~~ FEATURED ARTICLE ~~~~~~~~~~~~~~~~~~~~~~~~~~~~


-------
---1---
-------


Window Treatment Magic!



People often ask us how they can make a quick and easy
change in a room with very little work and money. I
have two words for you - window treatments.
Window treatments can serve a lot of practical
functions. They can promote privacy, control the flow
of natural light, and provide insulation.
Obviously, window treatments can also serve aesthetic
functions. They can define the decorating style of a
room, highlight an attractive view, influence the
perception of space in a room, and tie together a
color scheme.
This article will cover some great ways that helpful
treatments can be used to solve some pesky decorating
dilemmas.
Problem #1: You have a small room with low ceilings.

Solution: Hang full-length drapes to elongate
the perceived height of the walls. For the maximum
effect, hang the drapes from a point above the actual
window by adding a tall cornice or topper.
Problem #2: You have a room with mismatched
furniture.

Solution: Unify the room by choosing fabric in
a coordinating color scheme for the window
treatments. Then use bits of the fabric throughout
the room in others ways.
For example, you could use the fabric to make matching
throw pillows for the various furniture pieces, cover
a lampshade, or create an artistic wall hanging.
Problem #3: You have an odd-shaped room with
multiple windows.

Solution: Hang matching treatments in each
window to unify the room and provide visual balance.
This can be applied in both formal and casual rooms.
Take a look at the "before" picture, below. In this
casual home office, the color and faux finish on the
wall are full of energy and personality.
However, in combination with the odd shape of the
room, they seem a bit imposing. The dynamic walls
draw attention to the fact that the room is oddly
shaped.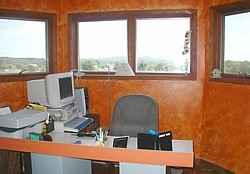 As you can see in the "after" picture, below, by
simply adding some quick no-sew window treatments in
each window, the room is instantly unified and the odd
shape no longer sticks out.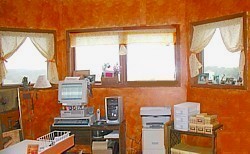 A few rearrangements of furniture and accessories
further enhance the open flow created when the window
treatments were added.
Problem #4: You have a window that displays an
unpleasant view.

Solution: If your window looks out to the air
conditioning compressor or the garbage pick-up spot,
hanging blinds or a shade ensures that the interior
remains undistracted in its décor.
Keep in mind that blinds allow you to use the window
for light control, while shades do not.
Now don't worry…when I say "blinds", I'm not just
talking about the metal mini-blinds that are so
readily available.
There are probably a lot more types of blinds than you
realize. In fact, there's most certainly a blind to
match any decorating style. Here are some examples:
European Country - Wooden slotted shutters (also called "Plantation shutters")
American Country - Wooden blinds painted in a bright color
Casual Contemporary - Metal blinds or mini-blinds
Formal Contemporary - Oversized canvas or metal vertical blinds
Rustic - Natural wooden blinds
Traditional - Plantation shutters
Casual Romantic - Canvas blinds or plantation shutters
Traditional Romantic - Canvas paneled blinds
Spiritual - Metal mini-blinds
Eclectic - Anything!
Problem #5: Your room feels too dark.

Solution: Sometimes, a formal room full of
beautiful wood and upholstered furniture pieces can
make a room feel dark and heavy.
In fact, the quality of a room's perceived lightness
or heaviness is often the difference between formal
living rooms that feel "off limits" and formal living
rooms that feel relaxing and livable while maintaining
their elegance.
To lighten up any room, hang drapes in white or light
colors. In warm seasons and climates, white sheers or
gauzy fabrics hanging from a valance bring light and
airiness to a room, even when the drapes are shut.
In cold seasons or climates, you can lighten a room by
using neutral solid fabrics for window treatments.
Imagine how floor-length velvet drapes in a soft,
creamy beige color would bring life to a living room
full of Louis IX antique furniture, dark oil
paintings, and a cherry wood floor.
Problem #6: Your living room or dining room does
not feel formal enough.

Solution: If you enjoy a casual lifestyle but
want add some elegance to a living room, dining room,
or bedroom, simply hang floor-length drapes from a
window. This is one of the quickest ways to give a
room an entirely different look.
Likewise, if you want a room to feel a little more
casual than it does now, get rid of long drapes and
replace them with short curtains or a simple window
topper without curtains.
~~~~~~~~~~~~~~~~~~~~~~~~~~~~~~~~~~~~~~~~~~~~~~~~~~~~~~
~~~~~~~~~~~~~~TURNING IDEAS INTO ACTION!~~~~~~~~~~~~~~~~~~~~~~~


-------
---1---
-------


Ask the Decorator
DecoDiva, Marney Makridakis, Answers Your Questions
About Window Treatments


QUESTION: I want to make my home more enjoyable to
come home too after work! I have a couch and loveseat
with throw pillows in the colors of burgundy, hunter
green, navy blue, khaki, and a small stripe of white.
I am painting my walls khaki, and our window trim is white.
We have wood blinds hanging on our window. What color
of window treatment would look nice and fresh? I am
so sick of the colors in my couch. I've had had it
forever but can't recover or buy new. Please help!
ANSWER: As stated in the above article, adding window
treatments is one of the easiest and least expensive
ways to give a room a brand new look. I would
encourage you to select a fabric for your window
treatment that combines white, khaki (or shades of
khaki, such as tan or cream), and just one of the
colors on your couch and loveseat.
Unless your room is very small, I would look for a
large-scale pattern, such as large navy blue flowers
on a white background, or a thick bold plaid of white,
tan, and hunter green.
With a large pattern, the eye will automatically be
drawn to the fresh new window treatment, and you'll
welcome the new focal point. Add a window topper,
such as a valance or a hard cornice covered in the
fabric, to bring more emphasis to the window.
If your room is small, I would suggest a smaller-scale
print using the same colors (i.e., a subtle floral
pattern or a thin plaid or stripe).
Do not use solid fabrics without a pattern - solid
white will be too much of a contrast with the dark
colors in your furniture, and solid colors will make
the room feel too heavy.
With fresh new curtains, your old color scheme will
take on new life. Enjoy!
QUESTION: I have just completed a brand new kitchen
extension which is now more like a grand room - once
you enter the front door you see my new kitchen, as
well as the living room to the left. My kitchen
cabinets are maple and the countertop is a verdigris
color.
The walls are a beige color with a white cathedral
ceiling. My living room was done in a burlap color
with one contrasting wall done in terra cotta. I love
the southwest and have decorated using this theme. My
question is, what should I do with the two windows in
the living room as well as the five new windows in the
kitchen.
I am trying to do this soon because I don't like it
when you're in the kitchen and people driving by can
see right into the house.
ANSWER: You have two basic needs: a need for privacy
and a need to bring a sense of unity to these two
large connected rooms. With your Rustic theme, wood
blinds are the perfect solution.
By installing matching wood blinds in all seven
windows, you'll immediately tie the space together in
a way that fits the décor of both your new kitchen and
your Rustic living room.
If cost is an issue, you can purchase blinds in
unfinished wood or in a wood veneer, and paint them in
a faux finish to create the look of any natural look
you choose.
You can further dress the windows in each room by
adding window treatments. I would suggest creating 5
identical treatments for the windows in the kitchen,
and 2 identical treatments for the windows in the
living room. The technique is to select two fabrics
with colors and patterns that directly oppose one
another.
For example, in the 5 windows in the kitchen, you
could use fabric with bold verdigris green rustic
botanicals on a khaki background. Then, select an
identical (or very similar pattern) for the living
room, with a khaki botanicals on a verdigris background.
This is a lot easier than it may sound, because many
textile companies manufacture directly opposing
fabrics for this very purpose! Just take a look
around the fabric aisles at your local fabric store
and let your imagination enjoy all the possibilities.
----------Recommended Resource----------
Get Organized Now!
Before you begin any decorating project,
do yourself a HUGE favor and get clutter
under control. Doing this alone will make
a room appear larger, and you'll feel more
relaxed. The crown jewel is that you'll get
more time back into your day. Click here to
learn more...
http://www.homedecoratingmadeeasy.com/get_org_now.html
------Recommended Resource------
"How to Make Roman Shades"
I reviewed this ebook recently and it's
the best you'll find on how to
easily create roman shades on
your own. Step-by-step diagrams
and easy, yet detailed, instructions
will have you making beautiful roman
shades in no time at all. Even sewing
beginners will find the process easy
to follow. Just think of the money
you'll save!
http://www.homedecoratingmadeeasy.com/sew_roman_shades.html
------Recommended Resource------
~~~~~~~~~~~~~~~~~~~~~~~~~~~~~~~~~~~~~~~~~~~~~~~~~~~~~~~~~~~ ***************** TODAY'S QUOTE ***************************
"There is only one corner of the universe you can
be certain of improving, and that's your own self."
- Aldous Huxley
*********************************************************** ***********************************************************
Wishing you all the best,
Michael J. Holland - President
Home Decorating Made Easy
Copyright © 2003
P.S. Don't forget your fr*ee chapters of Awaken Your
Interior Designer. You'll get 72 pages, filled with
lots of ideas and photos to put you on the right
decorating path.Click here to download your copy right away
P.P.S. If you're thinking of starting a part-time or
full-time business for crafts or home decorating, be
sure to download our complimentary ebook called From Passion to Cash: How to Make Money With Your Passion of Crafts and Decorating. You'll find lots
of helpful ideas to get you going in the right
direction. ~~~~~~~~~~~~~~~~~~~~~~~~~~~~~~~~~~~~~~~~~~~~~~~~~~~~~~~~~~~