~~~~~~~~~~~~~~~~~~~~~~~~~~~~~~~~~~~~~~~~~~~~~~~~~~~~~~~~~~~
DecoDreams
Your Guide to Creating Beautiful Spaces, FAST!
-----------------
October 01, 2003
Issue #012
~~~~~~~~~~~~~~~~~~~~~~~~~~~~~~~~~~~~~~~~~~~~~~~~~~~~~~~~~~~
THE MISSION...DecoDreams is the home-decorating-made-
easy.com e-zine that delivers interior decorating tips,
ideas, and solutions to enhance all rooms of your home.
Staying on top of what's hot in decorating has never been
so easy or fun!
~~~~~~~~~~~~~~~~~~~~~~~~~~~~~~~~~~~~~~~~~~~~~~~~~~~~~~~~~~~
DON'T FORGET Your Friends!...If you like DecoDreams, please
do a friend and me a huge favor and "pass it along"...


...or ask them to subscribe by visiting
Home Decorating Made Easy.com ~~~~~~~~~~~~~~~~~~~~~~~~~~~~~~~~~~~~~~~~~~~~~~~~~~~~~~~~~~
***********************ACKNOWLEDGEMENT********************


Diversity of creative ideas has always been the
hallmark of home decorating. That's why I've asked
designer, artist, educator and writer, Marney
Makridakis, to share her own unique brand of
decorating advice in our "Ask the Decorator" column. I
think you'll enjoy her wit and original insights.


Submit your questions to Marney by clicking here. ~~~~~~~~~~~~~~~~~~~~~~~~~~~~~~~~~~~~~~~~~~~~~~~~~~~~~~~~~


> TABLE OF CONTENTS


o News


1) Just in Case You Were Wondering What Else We've
Been Up To...
o Featured Article


1) How to Spice Up Your Kitchen!


o Turning Ideas Into Action!


1) Ask the Decorator
- Marney Makridakis, The DecoDiva, Answers
Your Question About Painting Vinyl Flooring


o Today's Quote


~~~~~~~~~~~~~~~~~~~~~~~~~~~~~~~~~~~~~~~~~~~~~~~~~~~~~~~~~
NEWS ~~~~~~~~~~~~~~~~~~~~~~~~~~~~~~~

-------
---1---
-------


Just in Case You Were Wondering What Else We've Been
Up To...
Hi,
The one thing that you may not know about my little
company, ImagineQuest Information Products, is that
the creative juices are always flowing with the goal
of coming up with new information and ideas that will
improve your life and lifestyle.
I'd like to share two nuggets that may be of interest
to you. First, sometime next month, we will be
launching a new Web site dedicated to decorating
children's rooms.
Just like Home Decorating Made Easy, you'll get fresh
ideas for creating bedrooms that your kids will love.
I'll share more with you about this Web site in future
issues of DecoDreams.
Second, I've received a number of questions from
people wanting to start their own business online.
That's the reason why Marney and I created the free
ebook, From Passion to Cash, which gives you ideas for
starting your own decorating or crafts business.
That ebook inspired me to create a more comprehensive
ebook, on a myriad of high demand, low competition
businesses that people can start on the Internet,
right now.
So, if you (or someone you know) have been struggling
with trying to come up with a theme or Site Concept
for an Internet business, then check out my latest
ebook, Strike It Niche! - 70 Easy-to-Use Blueprints for High
Demand, Low Competition Businesses You Can Start
on the Internet, Today!


~~~~~~~~~~~~~~~~~~~~~~~~~~~~~~~~~~~~~~~~~~~~~~~~~~~~~~~~~
~~~~~~~~~~~~~~~~~ FEATURED ARTICLE ~~~~~~~~~~~~~~~~~~~~~~~~~~~~


-------
---1---
-------


How to Spice Up Your Kitchen!



When it comes to home decorating, perhaps no room is
as tricky as the kitchen. We want our kitchens to be
inviting and stylish, yet most of them don't have the
space for the "regular" decorating elements such as
furniture, light fixtures, artwork, carpets and rugs,
etc.
This can make decorating the kitchen a real puzzle.
Just because you can't bring upholstered furniture
into a kitchen doesn't mean you can't make it warm and
inviting. Keep these things in mind when decorating
your kitchen:
1. Define your style
With all of the accessories and hardware, kitchens can
be visually confusing. If you select a decorating
style for your kitchen and choose color schemes,
accessories, and artwork that go with that style, it
will immediately unify the room and make it more
attractive.
Certainly, you can make the decorating style of your
kitchen match that of the rest of your home.
But by its very individual function, the kitchen is
naturally set apart from the rest of the home.
Therefore, it's a great room to play with…so feel free
to decorate the kitchen in a style that contrasts with
the rest of your home.
For example, imagine a Formal Contemporary home that
boasts a Rustic-styled kitchen. Or a Traditional home
with a fun and quirky American Country kitchen.
Selecting a style for your kitchen will offer instant
direction and inspiration with your decorating
choices. You can start with what you already have in
place.
Love your dark wood cabinetry? How about adding some
moiré wallpaper and tassels on your kitchen chairs to
give it European Country flair?
The paint on your cabinets starting to peel? Make it
work by going Casual Romantic (a la "Shabby Chic").
A unifying style for the kitchen is a sure way to
bring out a kitchen's decorating potential.
2. Keep to a limited palette
Another way to tie a kitchen together is to select a
limited color scheme and decorate within it.
Selecting two colors and a third accent color is an
easy way to get it right.
When you stick to a limited color scheme, your kitchen
will look finished, not thrown together. Just as I
stated previously, you can work with what you already
have.
Take the main focal colors in your existing kitchen
and then take away the items that don't fit in that
scheme.
If you're on the other side of the spectrum and your
kitchen is laid out in pure white, add some colorful
towels, seat cushions, cabinets or shelving to make
your kitchen come alive.
As an extra bonus, limiting the color scheme for your
kitchen makes shopping a snap. If your colors are
navy blue and yellow, you know exactly which toaster
or dish towels to buy.
3. Decorate around a personal collection
A fun way to decorate a kitchen is to build it around
a theme. To get ideas for themes, you can look at
your own collections.
What things do you already enjoy collecting? How
could you use them in the kitchen?
Once you get your imagination going, you'll uncover
lots of ideas for ways to utilize your collection in
your kitchen. Wallpaper, fabric, art posters, themed
accessories, and window treatments are great ways to
incorporate a theme.
Here are some fun and ways that a collection might
inspire a theme for the kitchen:
Floral chintz china
A specific flower (i.e., sunflowers or roses)
Maps or postcards
Butterflies or birds
Roosters or other farm animals
Lace
Teddy Bears
Music
A Disney character
Cats, Dogs, or Horses
Americana
Dolls
Trains
License plates
Board games
Collectibles from a particular era
4. Be inspired by your favorite restaurant
You can really have fun by decorating your kitchen to
resemble a restaurant or café of your favorite style.
Here are some ideas to get your started:
Trendy Greenwich Village bistro
1950's diner
Italian bistro
Mexican/spanish restaurant
Pizza parlor
Ice cream parlor
French café
Coffee shop
Upscale modern eatery
European butcher shop or cheesery
Health food café
Bakery
Winery
Chinese/Japanese/Vietnamese/Korean restaurant
5. Think outside of the kitchen box
You can add a lot of flair to a kitchen's design by
brining in unexpected elements from other rooms in the
house.
For example, add a chandelier to the kitchen ceiling
to bring instance elegance to your kitchen.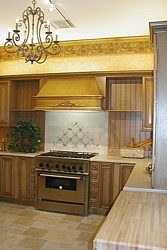 Also consider using decorative lamps, in place for
traditional over-the-counter lighting.
Bring a decorative throw rug in the kitchen to
instantly warm the room and make it feel cozy. An
oriental rug under a kitchen table or in a hallway
entering a kitchen creates a sophisticated atmosphere.
If you have a large kitchen, consider bringing in an
easy chair or loveseat. Not only will furniture
pieces make the kitchen seem cozy, but you'd be
surprised how functional they will become.
Your family and friends will love hanging out in the
kitchen while someone is preparing a meal.
If you love the look of lush, formal fabrics, don't
leave the dramatic window treatments in the living room.
Adding an impressive cornice or valance atop a single
kitchen window can bring a stylish formality to a
kitchen that will really make a statement.

~~~~~~~~~~~~~~~~~~~~~~~~~~~~~~~~~~~~~~~~~~~~~~~~~~~~~~
~~~~~~~~~~~~~~TURNING IDEAS INTO ACTION!~~~~~~~~~~~~~~~~~~~~~~~


-------
---1---
-------


Ask the Decorator
DecoDiva, Marney Makridakis, Answers Your Question
About Painting Vinyl Flooring


QUESTION: In a brand-new, never-lived-in apartment,
the kitchen floor in an otherwise all-white kitchen
is uglification-in-action beige and white vinyl.
Estimate to rip up and install ceramic tiling is
$1400+. Do you have an other ideas? Can I paint over
them and seal? Do I roughen them first somehow. I
want to use a brighter color (i.e., cobalt blue or
fire engine red). Don't know if this is in your
purview, but I would appreciate help.
ANSWER: Since your apartment is brand-new, you are
in luck! Yes, you can paint over vinyl, if the vinyl
is in excellent condition. But it will require some
specialty products to get the job done:
An alternative to using urethane paint is to use a
highly durable interior paint, topped with a floor
sealer such as Flecto Varathane Water-Based Diamond
Wood Floor Finish is http://www.flecto.com/product.asp?frm_product_id=62&SBL=1).
This option will do the job, but it will not last as
long as using the urethane paint.
Here are the steps to create your new flooring:
Wearing gloves, clean the vinyl floor with an
ammonia-based cleaner.
Sand it with 100 grit sand paper.
Use a roller to apply the primer-sealer. Allow
to dry overnight.
Use a paintbrush to apply a coat of urethane
paint. If a second coat is needed for adequate
coverage (as might be required to a get a solid fire-
engine red), allow the first coat to dry overnight
before adding the second coat.
You can consult your home improvement store or paint
dealer for further suggestions.
----------Recommended Resource----------
Get Organized Now!
Before you begin any decorating project,
do yourself a HUGE favor and get clutter
under control. Doing this alone will make
a room appear larger, and you'll feel more
relaxed. The crown jewel is that you'll get
more time back into your day. Click here to
learn more...
http://www.homedecoratingmadeeasy.com/get_org_now.html
------Recommended Resource------
"How to Make Roman Shades"
I reviewed this ebook recently and it's
the best you'll find on how to
easily create roman shades on
your own. Step-by-step diagrams
and easy, yet detailed, instructions
will have you making beautiful roman
shades in no time at all. Even sewing
beginners will find the process easy
to follow. Just think of the money
you'll save!
http://www.homedecoratingmadeeasy.com/sew_roman_shades.html
------Recommended Resource------
~~~~~~~~~~~~~~~~~~~~~~~~~~~~~~~~~~~~~~~~~~~~~~~~~~~~~~~~~~~ ***************** TODAY'S QUOTE ***************************
"What lies behind us and what lies before us, are
tiny matters compared to what lies within us."
- Ralph Waldo Emerson
*********************************************************** ***********************************************************
Wishing you all the best,
Michael J. Holland - President
Home Decorating Made Easy
Copyright © 2003
P.S. Don't forget your fr*ee chapters of Awaken Your
Interior Designer. You'll get 72 pages, filled with
lots of ideas and photos to put you on the right
decorating path.Click here to download your copy right away
P.P.S. If you're thinking of starting a part-time or
full-time business for crafts or home decorating, be
sure to download our complimentary ebook called From Passion to Cash: How to Make Money With Your Passion of Crafts and Decorating. You'll find lots
of helpful ideas to get you going in the right
direction. ~~~~~~~~~~~~~~~~~~~~~~~~~~~~~~~~~~~~~~~~~~~~~~~~~~~~~~~~~~~