~~~~~~~~~~~~~~~~~~~~~~~~~~~~~~~~~~~~~~~~~~~~~~~~~~~~~~~~~~~
DecoDreams
Your Guide to Creating Beautiful Spaces, FAST!
-----------------
September 02, 2003
Issue #010
~~~~~~~~~~~~~~~~~~~~~~~~~~~~~~~~~~~~~~~~~~~~~~~~~~~~~~~~~~~
THE MISSION...DecoDreams is the home-decorating-made-
easy.com e-zine that delivers interior decorating tips,
ideas, and solutions to enhance all rooms of your home.
Staying on top of what's hot in decorating has never been
so easy or fun!
~~~~~~~~~~~~~~~~~~~~~~~~~~~~~~~~~~~~~~~~~~~~~~~~~~~~~~~~~~~
DON'T FORGET Your Friends!...If you like DecoDreams, please
do a friend and me a huge favor and "pass it along"...


...or ask them to subscribe by visiting
Home Decorating Made Easy.com ~~~~~~~~~~~~~~~~~~~~~~~~~~~~~~~~~~~~~~~~~~~~~~~~~~~~~~~~~~
***********************ACKNOWLEDGEMENT********************


Diversity of creative ideas has always been the
hallmark of home decorating. That's why I've asked
designer, artist, educator and writer, Marney
Makridakis, to share her own unique brand of
decorating advice in our "Ask the Decorator" column. I
think you'll enjoy her wit and original insights.


Submit your questions to Marney by clicking here. ~~~~~~~~~~~~~~~~~~~~~~~~~~~~~~~~~~~~~~~~~~~~~~~~~~~~~~~~~


> TABLE OF CONTENTS


o Featured Article


1) Remember...It's Tools, Not Rules!


o Turning Ideas Into Action!


1) Ask the Decorator
- Marney Makridakis, The DecoDiva, Answers
Your Question About Jumpstarting Your Decorating
Project


o Today's Quote


~~~~~~~~~~~~~~~~~~~~~~~~~~~~~~~~~~~~~~~~~~~~~~~~~~~~~~~~~
~~~~~~~~~~~~~~~~~~~~~~~~~~~~~~~

Hi,
I hope you had a wonderful Labor (Labour) Day! I
certainly did, although it rained a bit here in
usually sunny South Florida. But you can't let a
little rain stop your fun, right? :-)
In any event, I hope you enjoy the feature article
that should inspire you to decorate based on your
personality and preferences rather than following
someone else's rules. I hope you enjoy it.



~~~~~~~~~~~~~~~~~~~~~~~~~~~~~~~~~~~~~~~~~~~~~~~~~~~~~~~~~
~~~~~~~~~~~~~~~~~ FEATURED ARTICLE ~~~~~~~~~~~~~~~~~~~~~~~~~~~~


-------
---1---
-------


Remember...It's Tools, Not Rules!



We've all heard the expression "less is more". Since
I embrace a "tools, not rules" approach to decorating,
I don't believe that "less is more" is the only way to
go when decorating a room.
I do, however, believe that being selective with what
you include in a room will go a long way in creating a
look that is pleasing, effective, and functional.
A room is most effective when the removal of any
single object in the room will make an impact that
will somehow diminish the room. In the living room
shown below, every object – from the furniture to the
knick-knacks to the artwork – plays an important role
in the room's balanced look.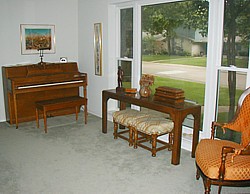 You can tell that if any object were removed,
something would be missing.
For example, if any of the decorative objects were
removed from the console table, the area would look
too sparse. After all, effective decorating depends
on personal decorative objects that give personality
to our homes and make them look interesting, unique,
and comfortable.
But, on the other hand, you can visualize that if the
console table had more objects placed on it, or if
there were multiple knick-knacks on the piano, that
the area could look cluttered.
Especially in today's busy world, the more we can do
to eliminate a cluttered look in our homes, the more
peaceful we will feel.
People often submit questions to the home-decorating-
made-easy.com Web site about how they can make quick
and easy changes to a room that will make a big
difference, but not take a lot of time or money.
One of the best ways to change the way a room looks
and feels is to engage in a process of paring down the
objects in the room to make sure that each one
contributes to the look you want to create.
I'm sure you can see how "downsizing" can open up
opportunities for your space to feel more open, alive,
and appropriate for your lifestyle. But you may be
wondering where to start...
Plan an afternoon where you can focus on downsizing a
particular room, and keep this article handy. What
follows below is an easy-to-follow flowchart that you
can use to evaluate each object in the room.
Keep in mind that every object in the room should be
evaluated. This includes furniture, decorative accents
and knick-knacks, light fixtures, as well as the
extraneous "stuff" that seems to keep finding its way
into a particular space.
Is this item something that is used often in the
room?

If yes: go to #2
If no: go to #6

Is it presented attractively?

If yes: go to #3
If no: go to #4

Is its location in the room pleasing and
functional?

If yes: go to #11
If no: go to #9

Is there something that you can do relatively
easily to improve its appearance?

If yes: go to #16
If no: go to #5

Do you feel that removing the item will somehow
diminish the room's functionality?

If yes: go to #15
If no: go to #17

Does the item contribute to the overall décor and
aesthetic look of the room?

If yes: go to #7
If no: go to #8

Do you feel certain that removing the item would
somehow diminish the room's décor?

If yes: go to #12
If no: go to #8

Does the item have sentimental value?

If yes: go to # 9
If no: go to #17

Is there a room that would be a better home for
this item?

If yes: go to #13
If no: go to #10

Could you rearrange the room to find a better
spot for this item?

If yes: go to #14
If no: go to #17

Is this room the best home for this item?

If yes: go to #12
If no: go to #13

It looks like this object should be a "keeper",
for now. Don't hesitate to reevaluate later, though,
when it might be time to make a change.

If there are items that fall very strongly into this
category, make them your priority when it comes down
to making final decisions.

This item is one to hold on to, but to perhaps
use in another room. Put it aside and reevaluate when
you have gone through the rest of the objects in the
room. Most likely, it will become clear that the best
place for this object is in another room. Luckily,
you now have an easy system to help you downsize the
new room, as well!

This item seems to have a good home in this room,
but perhaps its location within the room can be
changed to make the room flow more effectively or
achieve a better balance. Put it aside for now.

After you have evaluated the entire room, you can look
at what objects you're left with to determine if you
can rearrange to make this item work. As you
rearrange, keep in mind the importance of the
relationship between objects.

For example, if you move several knick-knacks to a
particular bookshelf, you may find that objects
originally on the shelf are no longer appropriate
there, in relationship to the new objects.

Keep experimenting and be patient for the right
solutions to reveal themselves. Try to see this
rearranging as a fun puzzle, rather than a daunting
task.

Since this item can't be improved upon, but you
do feel that you need it in the room, the best choice
is to replace it. Just make sure that the room must
have this object or its equivalent in order to be
effective, attractive, and functional.

You may want to look at some of the questions at the
end of #17 to help make your decision. Often, our
emotional attachments to objects make it difficult to
objectively discern an object's use in a room.

This item needs to be repaired, updated, or
improved in some way in order to keep it in the room.
Plan to make its improvement a priority so that its
presence does not become a drain on your energy.

It may be time to remove this item from this
room, or, perhaps, from your home. If you have a
sentimental attachment to the object, you may want to
store it away for the time being, until you decide for
sure whether you want to keep it or not.

If you have trouble letting go of objects you've had
for a while, you might use these questions as a way
to "tune in" to your feeling as you make your decisions:

"Is this who I am or who I want to be?"

"What memories are there attached to this? Do I want
those memories in my life now?"

"Is there a reason to keep this?"

"What might fill the space (physical and metaphorical)
that I'm opening by letting of this item?"

"What are the drains that that this item potentially
has one more or my family?"

"What does this item symbolize to me?"

"What has my experience been with letting go of things
in the past?"

One more note about downsizing: keep asking yourself
if there is someone else who could get more pleasure,
enjoyment, or use out of an object than you or your
family.

You may find that passing items on to a thrift store,
to charity, or even to a friend or neighbor gives you
tremendous satisfaction, while opening up your home to
a fresh new look and feel.


~~~~~~~~~~~~~~~~~~~~~~~~~~~~~~~~~~~~~~~~~~~~~~~~~~~~~~
~~~~~~~~~~~~~~TURNING IDEAS INTO ACTION!~~~~~~~~~~~~~~~~~~~~~~~



-------
---1---
-------



Ask the Decorator
DecoDiva, Marney Makridakis, Answers Your Question
About Jumpstarting Your Decorating Project



QUESTION: I'm hoping you can help me. I'm getting
new carpet, painting the inside of house, and getting
new drapes. Which do I do first?

ANSWER: You should be sure that you've made your
choices for all three projects before starting on any
of them. Each decision will influence the other
choices. Decide which one is most important to you.

A good technique is to start by deciding the paint
color in each room. From there, you can figure out
carpet and window treatment fabric that matches.

But this isn't always the order in which to approach
these decisions. Perhaps you have your heart set on a
particular fabric pattern that you want to use for the
window treatments.

In our eBook, Awaken Your Interior Designer, we call
this the "Absolute YES pattern", around which you
design the rest of the room. In this case, you'd
start with the fabric and then select the paint and
carpet colors to coordinate.

Or perhaps you've gotten your carpet at a great
discount, and so you're locked in to a particular
color for the carpet. In this case, you'd use the
carpet color to help you determine a color scheme that
will make effective use of the carpet color.

The extent to which the carpet influences your color
scheme depends on the carpet, itself. A neutral
colored carpet will match most color schemes, so your
options will remain very open.

On the other hand, a bolder color will have more of an
affect on the choice of your scheme.

As far as doing the actual work in the house, you
should repaint the interior first. That way, any
spills from paint won't ruin the new carpet.

After the painting is complete, then have the
carpeting installed. Have the new drapes installed
last, to frame the completed room.

It sounds like you have some exciting changes ahead
that will no doubt cause some wonderful shifts in your
life. Have fun!

----------Recommended Resource----------

Get Organized Now!
Before you begin any decorating project,
do yourself a HUGE favor and get clutter
under control. Doing this alone will make
a room appear larger, and you'll feel more
relaxed. The crown jewel is that you'll get
more time back into your day. Click here to
learn more...

http://www.homedecoratingmadeeasy.com/get_org_now.html

------Recommended Resource------

"How to Make Roman Shades"
I reviewed this ebook recently and it's
the best you'll find on how to
easily create roman shades on
your own. Step-by-step diagrams
and easy, yet detailed, instructions
will have you making beautiful roman
shades in no time at all. Even sewing
beginners will find the process easy
to follow. Just think of the money
you'll save!

http://www.homedecoratingmadeeasy.com/sew_roman_shades.html

------Recommended Resource------

~~~~~~~~~~~~~~~~~~~~~~~~~~~~~~~~~~~~~~~~~~~~~~~~~~~~~~~~~~~ ***************** TODAY'S QUOTE ***************************

"When your work speaks for itself, don't interrupt."

-Henry J. Kaiser

*********************************************************** ***********************************************************

Wishing you all the best,

Michael J. Holland - President
Home Decorating Made Easy
Copyright © 2003

P.S. Don't forget your fr*ee chapters of Awaken Your
Interior Designer. You'll get 72 pages, filled with
lots of ideas and photos to put you on the right
decorating path.Click here to download your copy right away

P.P.S. If you're thinking of starting a part-time or
full-time business for crafts or home decorating, be
sure to download our complimentary ebook called From Passion to Cash: How to Make Money With Your Passion of Crafts and Decorating. You'll find lots
of helpful ideas to get you going in the right
direction. ~~~~~~~~~~~~~~~~~~~~~~~~~~~~~~~~~~~~~~~~~~~~~~~~~~~~~~~~~~~