~~~~~~~~~~~~~~~~~~~~~~~~~~~~~~~~~~~~~~~~~~~~~~~~~~~~~~~~~~~
DecoDreams
Your Guide to Creating Beautiful Spaces, FAST!
-----------------
August 18, 2003
Issue #009
~~~~~~~~~~~~~~~~~~~~~~~~~~~~~~~~~~~~~~~~~~~~~~~~~~~~~~~~~~~
THE MISSION...DecoDreams is the home-decorating-made-
easy.com e-zine that delivers interior decorating tips,
ideas, and solutions to enhance all rooms of your home.
Staying on top of what's hot in decorating has never been
so easy or fun!
~~~~~~~~~~~~~~~~~~~~~~~~~~~~~~~~~~~~~~~~~~~~~~~~~~~~~~~~~~~
DON'T FORGET Your Friends!...If you like DecoDreams, please
do a friend and me a huge favor and "pass it along"...


...or ask them to subscribe by visiting
Home Decorating Made Easy.com ~~~~~~~~~~~~~~~~~~~~~~~~~~~~~~~~~~~~~~~~~~~~~~~~~~~~~~~~~~
***********************ACKNOWLEDGEMENT********************


Diversity of creative ideas has always been the
hallmark of home decorating. That's why I've asked
designer, artist, educator and writer, Marney
Makridakis, to share her own unique brand of
decorating advice in our "Ask the Decorator" column. I
think you'll enjoy her wit and original insights.


Submit your questions to Marney by clicking here. ~~~~~~~~~~~~~~~~~~~~~~~~~~~~~~~~~~~~~~~~~~~~~~~~~~~~~~~~~


> TABLE OF CONTENTS


o Featured Article


1) Finally, Color Made Easy!


o Turning Ideas Into Action!


1) Ask the Decorator
- Marney Makridakis, The DecoDiva, Answers
Your Questions About Using Color In Your Home


o Today's Quote


~~~~~~~~~~~~~~~~~~~~~~~~~~~~~~~~~~~~~~~~~~~~~~~~~~~~~~~~~
~~~~~~~~~~~~~~~~~~~~~~~~~~~~~~~

Hi,
Just the other day, I was reviewing the types of
questions that readers have submitted to us over the
last three or four month.
Can you guess which topic was at the top of the list?
Color!
So many people wanted to know which color(s) would
work best in specific rooms and how color can be used
to achieve a certain mood or feeling.
I think color is a great way to dress up a room and
give it a splash of excitement and interest. In fact,
when it comes to redecorating a room, you won't find a
better bang for your buck than painting your walls.
So, I say go for it!
And use the color suggestions in our feature article
to turn your rooms into the warm, inviting oases
you've dreamed about!



~~~~~~~~~~~~~~~~~~~~~~~~~~~~~~~~~~~~~~~~~~~~~~~~~~~~~~~~~
~~~~~~~~~~~~~~~~~ FEATURED ARTICLE ~~~~~~~~~~~~~~~~~~~~~~~~~~~~


-------
---1---
-------


Finally, Color Made Easy!



I've found that many people submit questions on the
Home-decorating-made-easy.com Web site concerning
selecting a color scheme for their décor.
While it may seem daunting, creating a color scheme is
a simple step-by-step process. The trick is to not
get overwhelmed.
It all starts with the key color, which is the main
color around which a complete scheme is created.
Believe it or not, the key color is actually the
toughest one to pick.
This article will share some little-known facts about
the emotional effects of color that may inspire you to
see your home in a new light.
Obviously, you want your key color to be a color that
is pleasing to you and other household members. But
did you know that you can select a color that will
actually support your personal and family goals?
Here's what I mean: colors have a surprisingly
dramatic impact on the way we think, feel, and act.
Research has shown that specific colors can even treat
medical conditions. With a bit of color knowledge,
you can actually influence the way your family acts
and interacts by selecting your key color
strategically.
Colors can be divided into two groups - warm colors
(red, orange, yellow) and cool colors (blue, green,
violet). There are a few general factors that
characterize each group.
Warm colors are just that - warming. They add
coziness and warmth to a room and generally stimulate
the mind and emotions.
Cool colors create a peaceful atmosphere and bring
about a sense of spaciousness and openness.
Now let's take a closer look at some specific colors
and their effects on the mind, emotions, and body.
Red conveys passion and vibrancy. It stimulates the
emotions and ignites a feeling of enthusiasm and vigor.
I suggest red in a formal dining room, or as a
dramatic choice in a romantic, sultry bedroom. Dark
red conveys wealth and sophistication, and is said to
boost self-esteem.
Bright pink is a fun color that inspires playful
conversation and a lively atmosphere. Pale pink is
the most calming and soothing of the warm colors.
It promotes a sweet and joyful mood while relaxing the
body on a deep level. Pinks are effective for
bedrooms and casual rooms such as family rooms and
breakfast nooks.
Orange stimulates both the mind and the appetite. For
this reason, I suggest using shades of orange in
kitchens, dining rooms, and offices. Since orange is
such a "wake up" color, it's usually not a good choice
for bedrooms.
Pale orange (peach) is calming and soothing and
creates a warm, nurturing, maternal environment. It's
a wonderful choice for children's bedrooms and family rooms.
Yellow is uplifting, invigorating, optimistic, and
gives the sense of sunlight indoors. Studies have
shown that yellow rooms are effective in aiding
depression and Seasonal Affective Disorder.
If you live in a cold climate, I highly recommend
trying out a yellow color scheme in a room that your
family frequents. It's a great way to lift everyone's
spirits. You're sure to see a difference.
Pale yellow is sweet and subtle, and invokes a
spiritual mood. If you are hesitant to add a lot of
color to your home, starting with a pale creamy yellow
is a conservative way to break out of the neutral
white walls.
Deeper yellows stimulate the intellect, enlivens the
senses, and awakens the mind. For these reasons, I
highly recommend yellow in kitchens and breakfast
nooks, such as the one shown in this picture.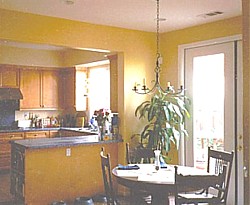 Blue is the most calming and peaceful color to use in
your home.
Though shy baby blue, elegant aquamarine, and sultry
navy are very different shades, they all relax the
mind, promote deep breathing, and slow down the body.
Blue also promotes intimacy and introspection, which
makes it a great choice for bedrooms or other rooms
where you want to relax and connect with yourself or
your loved ones.
Green is a relaxing, centering, balancing color.
Because it is the most neutral color on the color
wheel, our eyes adjust to it very easily, and it can
work in any room to convey a natural, pleasing
environment.
Green is said to heal headaches and reduce anxiety.
If your family has a hectic lifestyle, green will
serve to balance mood swings and instability. Green
is very versatile and can be used in any room, but
because of its neutrality, only the deepest shades
(forest, emerald) will create a successful dramatic
and sophisticated look.
Finally, violet soothes the body and mind at a deep,
spiritual level. Violet in any shade immediately
sets people at ease, which makes it a wonderful choice for
rooms in which you entertain guests.
Violet stirs creativity and imagination and therefore
is a great choice for children's rooms, kitchens, and
hobby rooms.
Once you've selected a key color, there are several
ways to build up a scheme from there. If you'd like
to learn more, our eBook, Awaken Your Interior
Designer, walks you through each method, step by step,
to ensure that you always get your colors right.


~~~~~~~~~~~~~~~~~~~~~~~~~~~~~~~~~~~~~~~~~~~~~~~~~~~~~~
~~~~~~~~~~~~~~TURNING IDEAS INTO ACTION!~~~~~~~~~~~~~~~~~~~~~~~


-------
---1---
-------


Ask the Decorator
DecoDiva, Marney Makridakis, Answers Your Question
About Using Color In Your Home


1. QUESTION: I have a 9 1/2 by 10' third bedroom
that I am turning in a relaxing/meditation/Yoga room
and would like to know what color is best to use for
the walls?
ANSWER: Violet is definitely the most spiritual
color, known for its ability to calm us at the deepest
level. Since the room is for relaxation, I'd suggest
using a pale to medium violet shade to calm the
senses. If the room does not get much natural light,
add pale yellow to bring a sunny feeling into the room.

2. QUESTION: I was wondering if you had any
suggestions of a color scheme for my husband's
reception area. He is a chiropractor, and we want it
to be an inviting and calming space. Any advice would
be greatly appreciated.
ANSWER: I'd suggest using a sage green as the main
color of the room. This shade is inviting, and
promotes a feeling of balance and well-being. Accents
in a deep violet (such as a plum) will work with the
green to make patients feel at ease and welcomed. The
violet also brings about a feeling of professionalism,
which will only make patients feel more secure and
comfortable.

3. QUESTION: I have an old colonial house. I want to
redecorate the sun porch, which is where you enter the
house. It is a small porch, presently painted light
green. What colors do you recommend I paint the walls
to give a warm look?
ANSWER: As mentioned above, the "warm" colors are
red, orange, and yellow. Since the sun porch is the
entrance to your home, I'd suggest a member of the
orange family, since it is the most welcoming,
inviting, and social color. But don't worry - it
needn't be a bright, flamboyant orange. You can get
the same warm, inviting effect with pale orange
shades, such as a medium pumpkin or crisp apricot tones.
4. QUESTION: I am looking for a nice warm, but bright
color to make my new family room. We are converting
our single car Garage into an extra living/family
room. I want a warm color. I was questioning a
salmon color, but not sure. Do you have an idea you
can throw at me?
ANSWER: Salmon is a wonderful, warm color, but if
you're questioning yourself, I always say "listen to
your gut"! I love to use blue in family rooms for an
overall sense of peace, order, freshness, and
intimacy - perfect for gathering as a family. Yes,
blue is technically a "cool" color, but certain shades
can create a very cozy atmosphere.
For example, blue-green jewel tones have a vibrancy to
them that can actually add warmth to a sparse room.
Add a warm accent color, such as mauve or maroon, to
lift the tranquil color scheme for added energy.

-end-
------Recommended Resource------
For those who want to get organized
once and for all...
Checkout the absolute best system for
getting your home cleared and your
life working like clockwork. Your
biggest challenge will be figuring
out what to do with all that extra time?!

http://www.homedecoratingmadeeasy.com/get_org_now.html
------Recommended Resource------
"How to Make Roman Shades"
I reviewed this ebook recently and it's
the best you'll find on how to
easily create roman shades on
your own. Step-by-step diagrams
and easy, yet detailed, instructions
will have you making beautiful roman
shades in no time at all. Even sewing
beginners will find the process easy
to follow. Just think of the money
you'll save!
http://www.homedecoratingmadeeasy.com/sew_roman_shades.html
------Recommended Resource------
~~~~~~~~~~~~~~~~~~~~~~~~~~~~~~~~~~~~~~~~~~~~~~~~~~~~~~~~~~~ ***************** TODAY'S QUOTE ***************************
"Go confidently in the direction of your dreams. Live the life you have imagined."
-Henry David Thoreau
*********************************************************** ***********************************************************
Wishing you all the best,
Michael J. Holland - President
Home Decorating Made Easy
Copyright © 2003
P.S. Don't forget your fr*ee chapters of Awaken Your
Interior Designer. You'll get 72 pages, filled with
lots of ideas and photos to put you on the right
decorating path.Click here to download your copy right away
P.P.S. If you're thinking of starting a part-time or
full-time business for crafts or home decorating, be
sure to download our complimentary ebook called From Passion to Cash: How to Make Money With Your Passion of Crafts and Decorating. You'll find lots
of helpful ideas to get you going in the right
direction. ~~~~~~~~~~~~~~~~~~~~~~~~~~~~~~~~~~~~~~~~~~~~~~~~~~~~~~~~~~~