~~~~~~~~~~~~~~~~~~~~~~~~~~~~~~~~~~~~~~~~~~~~~~~~~~~~~~~~~~~
DecoDreams
Your Guide to Creating Beautiful Spaces, FAST!
-----------------
July 30, 2003
Issue #008
~~~~~~~~~~~~~~~~~~~~~~~~~~~~~~~~~~~~~~~~~~~~~~~~~~~~~~~~~~~
THE MISSION...DecoDreams is the home-decorating-made-
easy.com e-zine that delivers interior decorating tips,
ideas, and solutions to enhance all rooms of your home.
Staying on top of what's hot in decorating has never been
so easy or fun!
~~~~~~~~~~~~~~~~~~~~~~~~~~~~~~~~~~~~~~~~~~~~~~~~~~~~~~~~~~~
DON'T FORGET Your Friends!...If you like DecoDreams, please
do a friend and me a huge favor and "pass it along"...


...or ask them to subscribe by visiting
Home Decorating Made Easy.com ~~~~~~~~~~~~~~~~~~~~~~~~~~~~~~~~~~~~~~~~~~~~~~~~~~~~~~~~~~
***********************ACKNOWLEDGEMENT********************


Diversity of creative ideas has always been the
hallmark of home decorating. That's why I've asked
designer, artist, educator and writer, Marney
Makridakis, to share her own unique brand of
decorating advice in our "Ask the Decorator" column. I
think you'll enjoy her wit and original insights.


Submit your questions to Marney by clicking here. ~~~~~~~~~~~~~~~~~~~~~~~~~~~~~~~~~~~~~~~~~~~~~~~~~~~~~~~~~


> TABLE OF CONTENTS


o Featured Article


1) Easy Storage Solutions!


o Turning Ideas Into Action!


1) Ask the Decorator
- Marney Makridakis, The DecoDiva, Answers
Your Questions About Dealing With Under-The-Stairway Spaces


o Today's Quote


~~~~~~~~~~~~~~~~~~~~~~~~~~~~~~~~~~~~~~~~~~~~~~~~~~~~~~~~~
~~~~~~~~~~~~~~~~~~~~~~~~~~~~~~~

Hi there,
So, tell me the truth? Back in the Spring did you make
a really good effort at organizing and de-cluttering
your home?
If not, you're missing out on one of the easiest ways
to enhance any space.
Eliminating clutter from a room can make it seem
larger, and make YOU feel more relaxed. Try it and
you'll see what I mean.
Of course, if you have children, your job is doubly
tough. And with school starting soon and the holidays
just around the corner, your job isn't going to get
any easier.
If you're finding that there just aren't enough hours
in the day to organize and de-clutter your home, you
need a system.
At the end of this newsletter, you'll find a link to a
helpful organize-your-life resource that I use and
would highly recommend. It's easy to implement and is
a real time-saver. Check it out because it could give
you your life back.
In the meantime, enjoy our feature article on some of
the quick and easy ways that should further help you
get clutter under control.


~~~~~~~~~~~~~~~~~~~~~~~~~~~~~~~~~~~~~~~~~~~~~~~~~~~~~~~~~
~~~~~~~~~~~~~~~~~ FEATURED ARTICLE ~~~~~~~~~~~~~~~~~~~~~~~~~~~~


-------
---1---
-------


Easy Storage Solutions!



One of the challenges of decorating is to create
effective storage solutions that allow you to keep all
of your possessions organized but not distracting from
the overall décor.
In today's busy lifestyle, the last thing you want to
do is to waste time looking for something that you
can't find, or waste energy looking at clutter.
That's is why storage is an important element of
decorating your living space, no matter what size or
shape it is.
There are two basic ways to store your "stuff". The
first is exposed storage.
In exposed storage solutions, the items are visible to
those who enter the room. Items are placed in open
spaces, such as shelves, mantels, and curio cabinets.

Armoires or hutches that have glass doors also come
under this category, since the items within can be
seen through the glass.
Exposed storage is perfect for knick-knacks,
collections, and books. For example, take a look at
the shelving in this bedroom.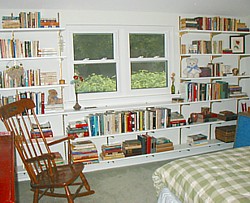 The shelves provide organized storage for a collection
of books, but they also serve as an active décor
element.
Exposed storage solutions are effective when the items
being stored are attractive and match the general
decorating style of the room.
Here, the books are arranged in a pleasing manner (an
easy tip: stand some vertically and stack others
horizontally) and decorative items, such as vases and
collectible boxes, punctuate the arrangement.
The long wall of shelves provides a fine focal point
for the Casual Contemporary style that is created.
It's a perfect example of exposed storage that
eliminates clutter, promotes organization, and also
looks attractive.
It also allows the books to be easily accessible to
those who use them.
Since exposed storage allows you to keep the
frequently-used items close at hand, it's important
not to overlook the potential display value of
everyday objects.
Keep an open mind as you examine the items you use
often. And see if there are items that would make your
display interesting. Here are a few ideas along these
lines:
Gather frequently-used kitchen utensils and
place them in a decorative jar, vase, or decanter that
matches your kitchen's color scheme

Place magazines you're currently reading on a
book stand to display on a side table

Create attractive arrangements of dishes and
glassware in glass cabinets and even on side tables

Cover office supplies and binders in
coordinating fabrics or decorative papers to create a
custom-designed set for your home office

Hang folding chairs on a wall grid in a den or
recreation room to make a stunning contemporary
graphic display

Place toiletries and guest bath linens in an
open basket or vintage suitcase to display them in a
bathroom

Unify kitchen items stored in jars by adding
fabric covers to the lids that match the kitchen
décor. Or, purchase jars in a particular color. You
can also paint the jars in a matching color using
glass paint.

Hang pots and pans from a grid on the ceiling
or wall, or on hooks below cabinets
Which of your everyday items would be great for
display in your home? Think out of the box!
It's also worth noting that if you store items in
boxes or baskets, the storage receptacles themselves
can become decorative elements. You can cover boxes
with fabric, paper or paint.
You can select distinctive baskets that tie-in to your
décor. Or, cover them with fabric that fits in with
your decorating style.
The items themselves remain hidden, but the storage
method itself is exposed and adds to the décor of the
room.
----------Side Bar----------
If you have our eBook, Quick &
Stylish Decorative Crafts,
the Romantic Fabric-Covered
Storage Baskets would be great,
money-saving project for you to
try.
----------Side Bar----------
The other kind of storage is hidden storage, in which
items are encased in furniture, closets, drawers, or
special nooks and can't be seen.
It's a good rule of thumb that every room should have
some kind of hidden storage option, because it allows
you to keep clutter to a minimum.
Displaying only select items in a room, rather than
exposing everything you own, leads to a sense of
openness, order, and balance. Dressers, cabinets, and
armoires are available in any kind of style, from
Rustic to Traditional to Formal Contemporary.
Keep in mind that you can acquire such furniture items
at flea markets and thrift stores. You can paint
and/or refurbish them to match the decorating style
and overall feel of your room.
Hidden storage also allows you to keep the style of a
room consistent.
For example, in formal decorating styles, such as
Traditional or European Country, televisions and
stereo equipment look out of place. They are best
concealed in an armoire or cabinet that reflects the
style of the period.
Even with hidden storage, it's important that the
items remain organized, or it defeats the whole
purpose of storage!
Go the extra mile to make sure that your hidden
storage solution fits your needs.
Remember that the purpose of storage is to make life
easier for you. Don't allow your hidden storage to
become a clutter zone.
For example, if you store your linens in a large bin,
would it be helpful to add simple dividers to make the
items easy to retrieve and replace?
If you have paperwork, bills, and records in a drawer,
would hanging file folders make the drawer more user-
friendly?
Does your "miscellaneous drawer" with batteries,
toothpicks, matches, and extra keys need to have a
divided box that fits snugly in the drawer to ensure
that the items are easy to track down?
For a one-stop resource for organizational supplies
like these, I highly recommend The Container Store
(www.containerstore.com), where you can order storage
organizers for every room in your house.
Take a browse through their Web site to get some ideas
for organizing your things. You can even get some
ideas for storage alternatives that you can create on
your own, with things you have on hand.
One last thing to note about hidden storage is that it
is important that your family is disciplined about
returning items to their storage locations.
Otherwise, clutter and confusion develop, which will
leave you feeling frustrated.
Develop good habits so that your exposed storage
remains on display, and hidden storage remains hidden.


~~~~~~~~~~~~~~~~~~~~~~~~~~~~~~~~~~~~~~~~~~~~~~~~~~~~~~
~~~~~~~~~~~~~~TURNING IDEAS INTO ACTION!~~~~~~~~~~~~~~~~~~~~~~~


-------
---1---
-------


Ask the Decorator
DecoDiva, Marney Makridakis, Answers Your Question
About Dealing With Under-The-Stairway Spaces<


QUESTION: I'm hoping you can help give me some ideas
about what to do with the space that is under my
stairway.
The stairway is located in the corner of the living
room and can be seen from both the living room and the
dining room. They are both painted in a pale olive
green.
Right now that area is painted white and it's just
empty. It's too small for any furniture, but right
now it just sticks out like a sore thumb. What should
I do with the odd, out-of-place space?
ANSWER: First, you should decide whether you want to
try to conceal the space or highlight it. You could
conceal it by painting it the same color as the living
room.
Place a collection of small pieces of artwork in the
space to allow it to flow to the rest of the room.
(Don't place large pieces of artwork there, as that
will only draw attention to the space).
You could also place a curtain or door over the space,
and use it as a hidden storage solution.
In my opinion, though, little nooks and crannies like
this area under your stairwell are wonderful
opportunities to add personality and interest to your
home! It's also a great place for exposed storage.
Install shelves to the area and display an interesting
collection to show it off. The type of shelving you
should use depends on the style of your living and
dining room.
If your style is contemporary, consider adding a grid
of cubicles under your stairwell.
If your style is more traditional, add thin shallow
shelves and display a few treasured items on them.
If your style is casual, add thicker shelves and fill
them with family photographs and knick-knacks.
You can even paint the area in a coordinating color to
bring even more focus to it. This is a very unique
feature in your home, and you can have a lot of fun
showing it off!
-end-
------Recommended Resource------
For those who want to get organized
once and for all...
Checkout the absolute best system for
getting your home cleared and your
life working like clockwork. Your
biggest challenge will be figuring
out what to do with all that extra time?!

http://www.homedecoratingmadeeasy.com/get_org_now.html
------Recommended Resource------
"How to Make Roman Shades"
I reviewed this ebook recently and it's
the best you'll find on how to
easily create roman shades on
your own. Step-by-step diagrams
and easy, yet detailed, instructions
will have you making beautiful roman
shades in no time at all. Even sewing
beginners will find the process easy
to follow. Just think of the money
you'll save!
http://www.homedecoratingmadeeasy.com/sew_roman_shades.html
------Recommended Resource------
~~~~~~~~~~~~~~~~~~~~~~~~~~~~~~~~~~~~~~~~~~~~~~~~~~~~~~~~~~~ ***************** TODAY'S QUOTE ***************************
"People take different roads seeking fulfillment
and happiness. Just because they're not on your road
doesn't mean they've gotten lost."
-H. Jackson Brown, Jr.
*********************************************************** ***********************************************************
Wishing you all the best,
Michael J. Holland - President
Home Decorating Made Easy
Copyright © 2003
P.S. Don't forget your fr*ee chapters of Awaken Your
Interior Designer. You'll get 72 pages, filled with
lots of ideas and photos to put you on the right
decorating path.Click here to download your copy right away
P.P.S. If you're thinking of starting a part-time or
full-time business for crafts or home decorating, be
sure to download our complimentary ebook called From Passion to Cash: How to Make Money With Your Passion of Crafts and Decorating. You'll find lots
of helpful ideas to get you going in the right
direction. ~~~~~~~~~~~~~~~~~~~~~~~~~~~~~~~~~~~~~~~~~~~~~~~~~~~~~~~~~~~